I committed to cooking at @Owossoegger 's cooking event at Owosso's farmer's market on June 15th. My Mom wanted to check out what I'm cooking, but she's going on vacation soon. So I took my small and mini to Mom's house and fired up! I cooked two appetizers first before jacking up the heat for tortilla pizza. On the mini, I cooked Sweet Chicken Bacon Wraps by Paula Deen (recipe available on www.foodnetwork.com). It's cubed chicken breast wrapped in bacon and covered in a mixture of brown sugar and chili powder. It's a great dish and I've done them in the oven a number of times with great success, but this is the first time on the Egg. They were pretty good, but the brown sugar/chili powder coating didn't stick too well. Here's a couple of pix:
On the small, I loaded it up with Magnum Loads by Spring Chicken. I found that recipe in the collection from the 2012 Georgia Mountain Eggfest (Googled it). Basically its sausage stuffed with a cocktail weinie wrapped in ground sausage thats wrapped in bacon. They were good! I had a bit of a grease fire so if I cook these, I'll have to really watch that. My teenaged daughter was taking the pix for me on her ipad because I forgot my camera. We only got one pic of the Magnum Loads.
Now for the tortilla pizzas! I topped off the eggs with lump and opened them up! The toppings were pepperoni, sausage from the Magnum Loads, bell peppers, onion and mozzerella. They were very good. Here's how they looked in the Eggs:
On the mini
On the Small: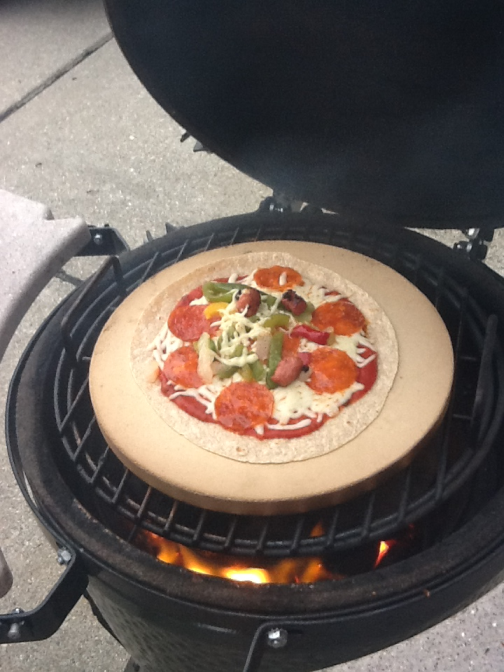 The last menu item was a dessert tortilla pizza. The toppings were Nutella, sliced fresh strawberries and lightly sprinkled with sweetened coconut. By far the most popular thing I cooked. Here's the pix:
On the small:
On the Mini:
The tortilla pizzas were the best things I cooked that day and if I'm cooking one dish at the farmer's market, that will be it. If I need to cook two dishes, then I think I need to keep searching.
Here's the twist I promised. I lit the mini and the small at the same time and the lump was out of the same bag of WG. Both Eggs are equipped with High-Que grates. The mini outperformed the small by a wide margin! The mini heat up faster and I had to really choke down the lower vent while cooking the appetizers to keep it from taking off. The small struggled to go above 450 even with the lower vent wide open. I don't know why it happened.