Chicken, Adana, Kabab, Turkish, Richard Fl.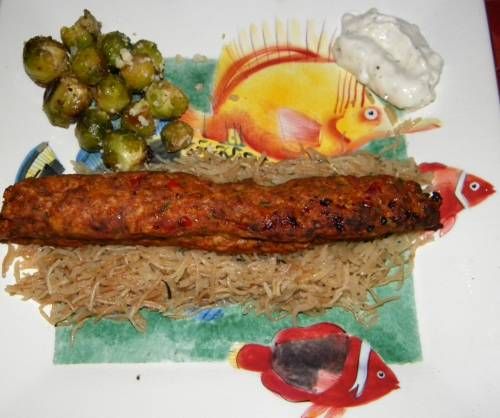 After trying Chicken Adana at the Bosphorous Restaurant in Winter Park, Fl a few times, I decided to attempt to make it myself. This is a combination of 5 or 6 different recipes.
Adana kebab(colloquially known as Kıyma kebabı) is a long, hand-minced meat kebab mounted on a wide iron skewer and grilled on an open mangal filled with burning charcoal. The culinary item is named after Adana, the fifth largest city of Turkey and was originally known as the "Kıyma kebabı" (lit: minced meat kebab) or Kıyma in Adana-Mersin and the southeastern provinces of Turkey.
Will serve with rice pilaf, pita bread and tzatziki sauce. Side of some roasted baby brussel sprouts baked in oven with EVOO. Added parmesan cheese and balsamic vinegar to serve.
INGREDIENTS:
4 Boneless Chicken Breasts, apprx 1/2 lb each, ground lamb can be used also.
2 Small Sweet red bell/jalapeño peppers
15-20 Cloves Garlic
1/2 Medium White Onion
2 Pieces Sour Dough Bread
Seasoning
5-6 Tbs Sera Mild Pepper Paste (Sade Eu Tipi Biber Salcast, Paprika Paste
1 Tbs Alleppo Pepper Flakes, Regular crushed red will do.
2 Tbs Zaatar
2 Tbs Parsley, Fresh
2 Tbs Paprika, Smoked, Turkish if available
Pilaf:
1 Cup Basmati Rice
1 Cup Small vermicelli noodles
PROCEDURE:
1 Grind or chop fine the chicken, garlic, onion and pepper into a fine blend. Used small plate on the Kitchen Aid Grinder. I used the bread to clean the grinder at the end and help add a little binder.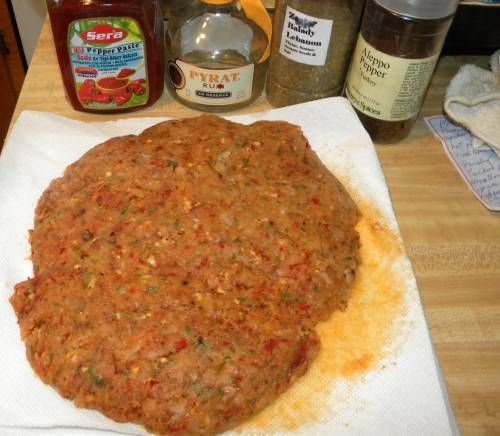 2 Add the seasonings and mix thoroughly. Let sit overnight in the refrigerator, if possible, to blend the flavors.
3 You can either make them into little balls on bamboo skewers or flat skewers.
4 Place on 1/2 inch flat Turkish skewers and cook over hot coals until done, about 4-5 minutes per side. 350°F direct.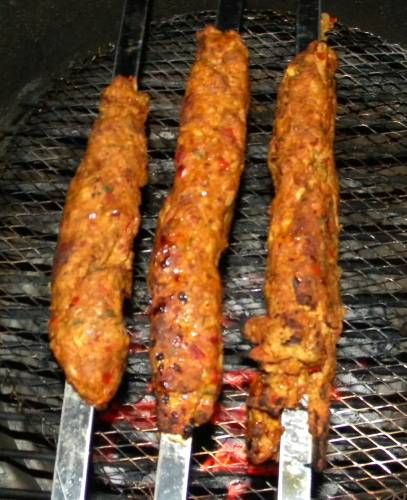 Pilaf:
1 Take the rice and noodles separately and slowly sauté in butter until they pick up a golden color. Do not do on high as they will burn. Mix together and add with 3 cups water or chicken broth to the rice cooker. Takes about 15-18 minutes to cook.
Recipe Type
Main Dish, Poultry