I was a little bumed out not getting to my egg to cook for Mardi Gras. So as I said before about the weather in Oklahoma, the snow that shut down the city just two days before was nowhere to be found today. Working in restaurants growing up made me never want to go out on Valentines day and especially since finding the egg. It is much easier to make better food and stay at home. I decided to start with dessert and work backwards to figure out what to make.
My Valentine like Red Velvet Cake so I decided to hit the web and see what unusual desserts were out there. I saw the normal cake/ cupcake recipes and kept on going. Then I saw a cupcake with a creme brûlée frosting and that got me thinking. So pushing farther, i came across
Red Velvet Creme Brûlée
and decided to go with that.
375° dome temp for 30 minutes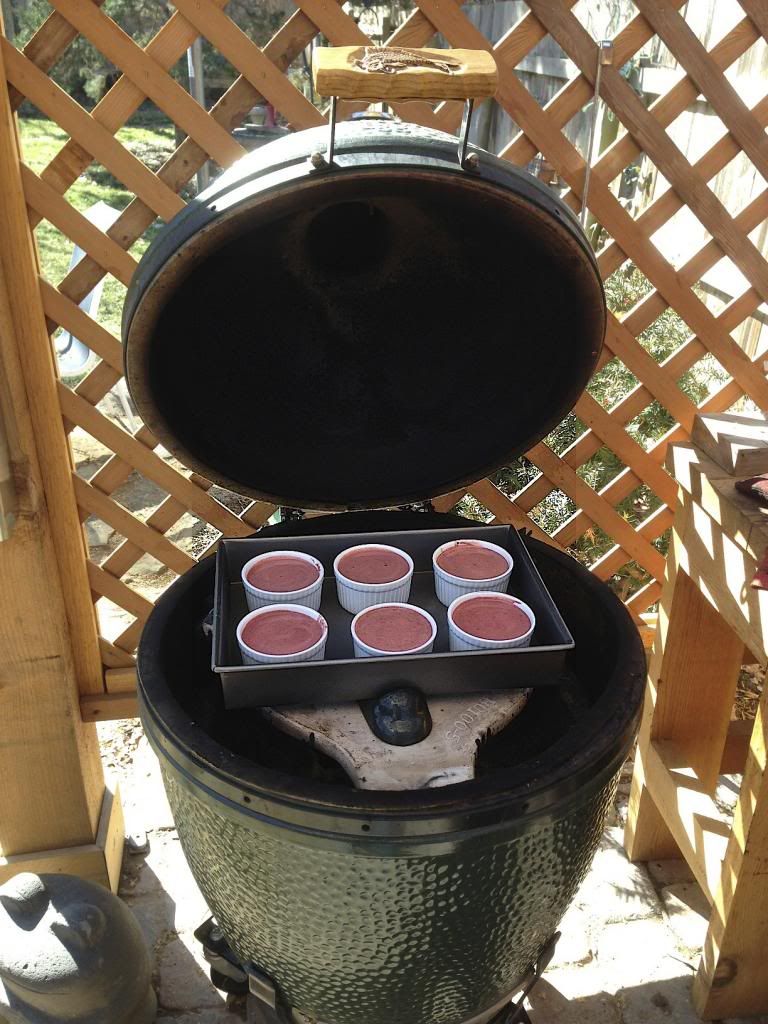 Here they are after cooling on the stove for 30 minutes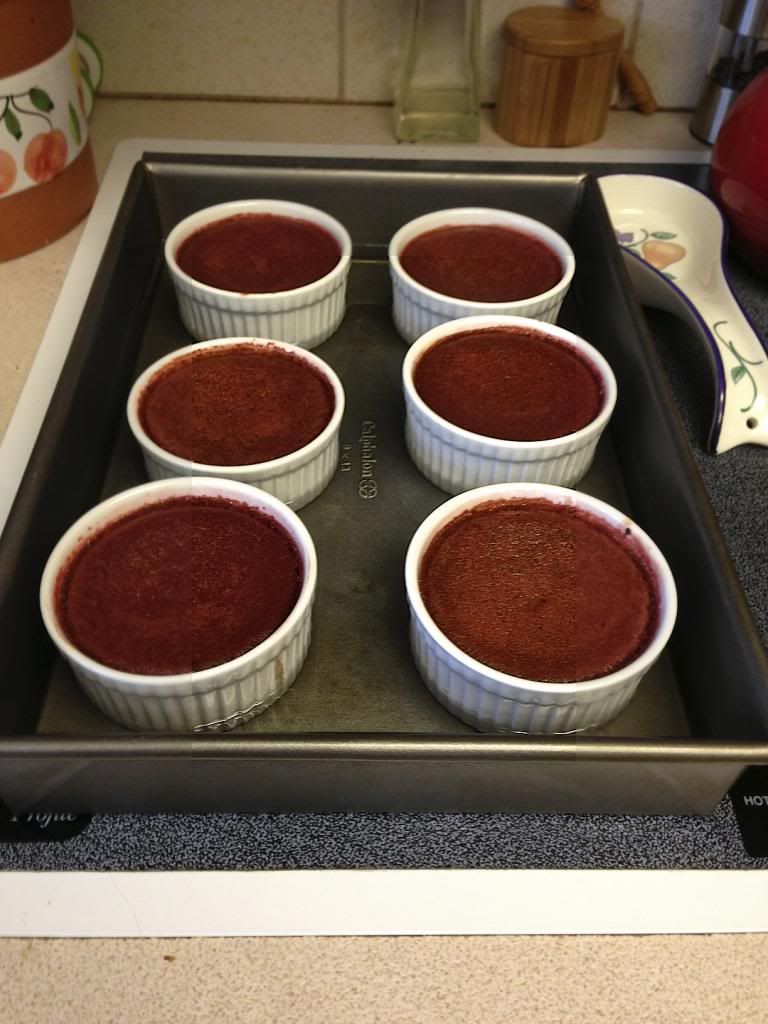 I figured since I made them outside I should torch them outside too and gave the
LooftLighter
a shot.
It had so much airflow and blew the sugar around too much so I just did one like that.
I used my regular propane torch that I use to start the small BGE when I take it to a friends house or go camping. I also added second layer with a brown sugar heart.
I decided to make Guy Fieri's
Cajun Chicken Alfredo
which I had at his place Johnny Garlic's in Santa Rosa last year while traveling for work and was blown away at how good it was. Being Valentines day I decided to go all out and break out the Kitchenaid and make the pasta from scratch too.
I went back to the cookbook shelf and grabbed
Trattoria Cooking
by Biba Caggiano and used her recipe for pasta with 00 flour. Her recipes are not very internet friendly so if anybody wants it I can post it later. I used the Kitchenaid pasta attachment and went through steps 1 to 6 and then used the fettuccine cutter, dusted with flour and made portioned nests and stuck it in the freezer for 30 mins before cooking. After I made the batch of dough for the pasta I got a call and my party of two turned into a party of seven... So I made a slightly smaller portions and was prepared for the extra guests.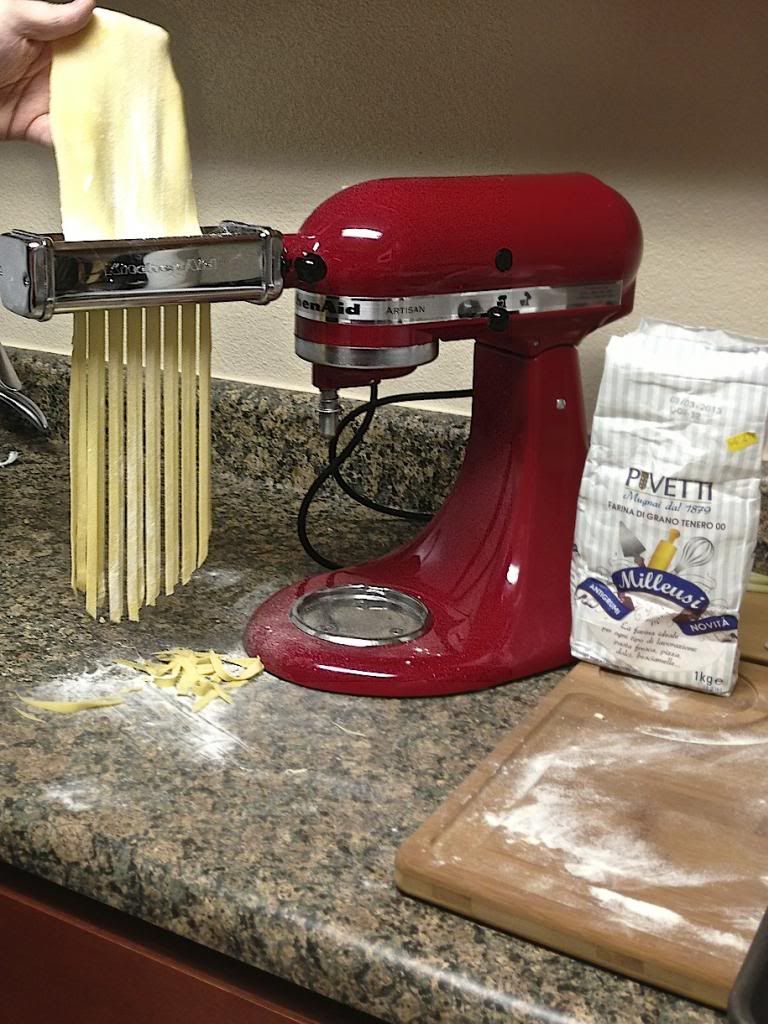 I fired up the Large BGE and used the blackening spice rub Guy used in his recipe. I made the chicken breasts direct at 400° on the CGW
Swing Rack
seared down low and then moved to the top rack to finish cooking.
Sliced on the bias and tossed in the sauce just before serving. I just used the same cutting board so there was some leftover flour from the pasta not the chicken.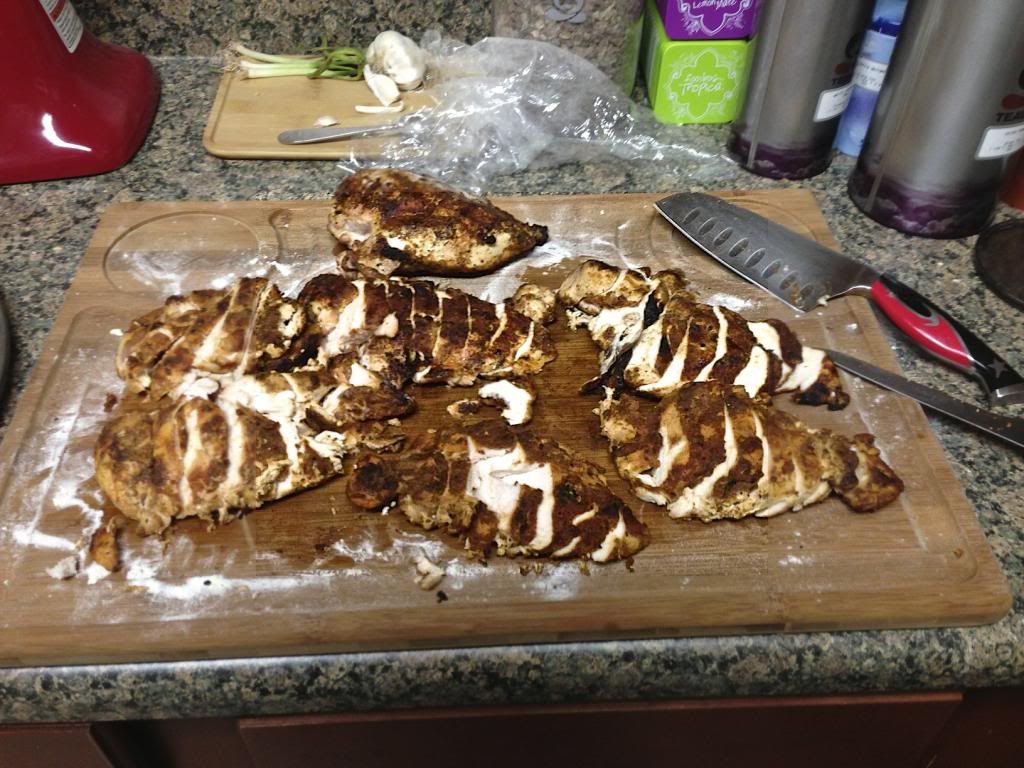 The smell was awesome and everyone started to arrive at this point. The Alfredo was a simple EVOO, garlic, Sauvignon Blanc / heavy cream mixture with sundried tomatoes and parmesan cheese.
It turned out to be much more work than originally planned, but I got to share some time with more friends and some great food.