With all the talk last week about pulled beef, I knew they were going on the menu this weekend. I know its more traditional to make pulled beef sandwiches, but Mrs. G loves tacos (and I'll admit, I'm kinda a fan as well), so we opted to go that route. Rubbed down with canola oil and Bolner's Fiesta brand Fajita Spice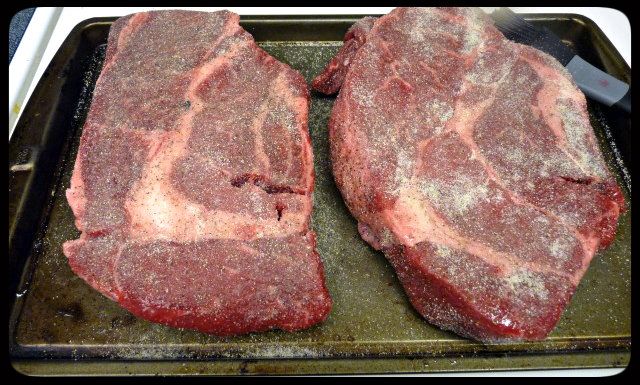 They went on to the Egg at 7:30 am at 250 with a mix of hickory chunks and mesquite chips (I really need to restock my supply of mesquite)
Had to take a lil peak at about 2.5 hours in, also wanted to get a probe into the meat.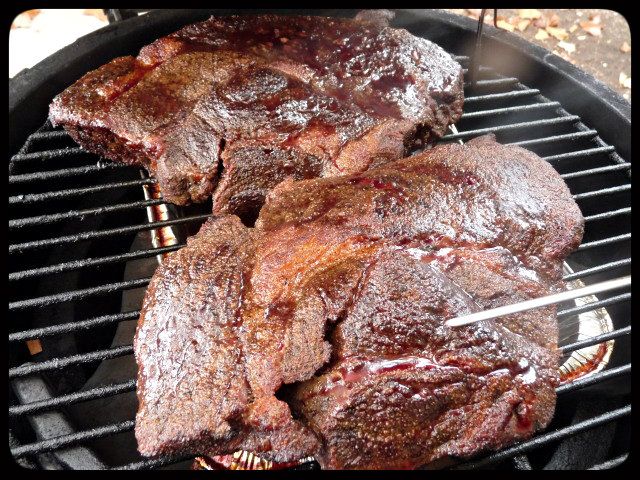 Took them to 165 and then foiled them, no broth or juice or anything at all. That was around 1:30, about 6 hours in. No pictures at that point as I was busy doing "Stuff". They stayed on for another 2.5 hours or so. I'll admit, I got distracted watching some football and went to check on them around 4 and they were at 210. Went into a cooler with some towels as dinner was still a bit off.
Finished. Fall part tender and juicy.
About 8lbs of pulled beef (pre-cooked weight)
Pulled beef tacos, home-made pico de gallo, queso fresco and a side of chips and queso. Mrs. G also whipped up a batch of boracho beans, but I didn't get any pictures of that.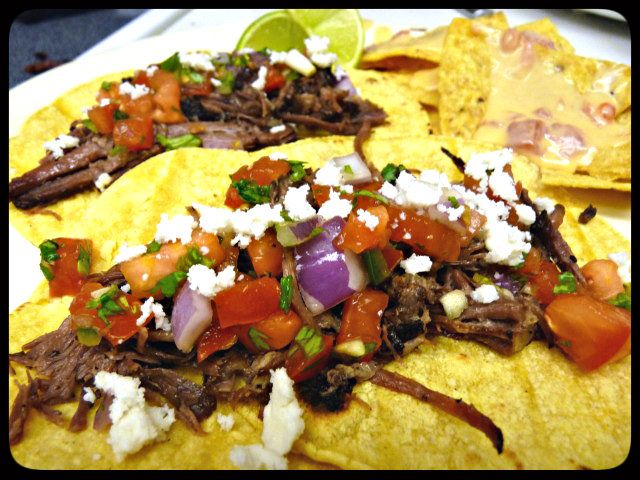 Got a ton of leftovers now. I'll eat on it a bit more the next few days, but the majority will be vac sealed and frozen for weeknight dinners down the road. I can already see enchiladas, nachos and maybe a pizza in my future.
Rowlett, Texas
Griffin's Grub or you can find me on Facebook
The Supreme Potentate, Sovereign Commander and Sultan of Wings