One of the main reasons I added a Small BGE to my egg family was the portability aspect. After seeing what some of my fellow small eggheads were doing and taking it in the car with a seatbelt and carrying it around trying to be careful I decided to get a
EggCARTen
I think this will be perfect. It seems to be a great way to keep it stable and even easier if you have a friend to help carry it.
It even has a built in bottle opener and a engraved production number on it. I'm #19!
I'm taking the small camping next week and have been using it more and more to play with the temp controls and seeing how much you can do with the little guy.
Working in California for most of last year I got my fair share of Tri-tip and really enjoy it. Well here in Oklahoma it is very hard to find or is expensive when you do find it at a butcher shop. So much to my surprise when I was at Target and came across this friday.
Now being that I traveled 300 plus days a year traveling for the FAA I spent lots of time at restaurants and Guy's Diners, Drive-ins, and Dives show was much of my inspiration to help keep my sanity eating out all of the time. I ended up going to 47 DDD spots and I went back to a few of them multiple times. So Guy's recipes are something that I have tried and like so I thought this would be good and it was!
I got the SBGE to 500° and seared it for 4 minutes per side then foiled it and waited for the egg to get down to a touch below 400° then put it back on the grill till the thermapen hit 135°.
As for some sides made some Pioneer Woman's
Crash Potatoes
and they are always a hit. Boil red potatoes until fork tender around 20 mins then crash them down throw on a sheet pan and into a 425° oven for 20 mins then I kick on the broiler for a couple more to brown them up. You could do them on the egg but I just was using the small so I used the oven.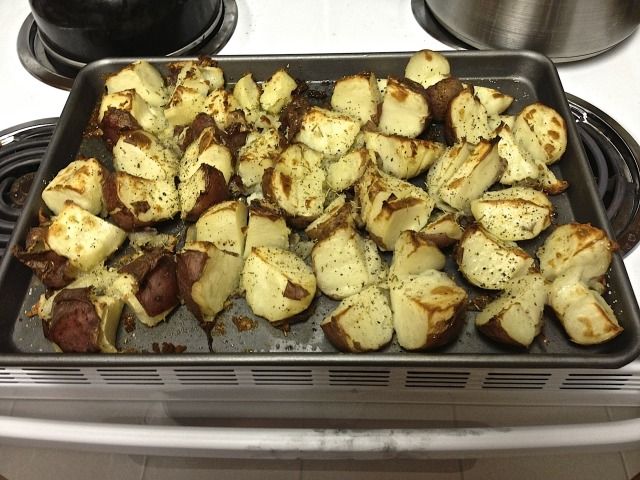 Once the Tri-tip was resting in the kitchen I threw on some fresh green beans coated in olive oil, lemon juice, garlic, and salt and pepper.
Tossed in a Garlic Pull-apart bread from target into the lower rack in the oven while the potatoes were cooking.
It ended up being a great meal and the Tri-tip was delicious!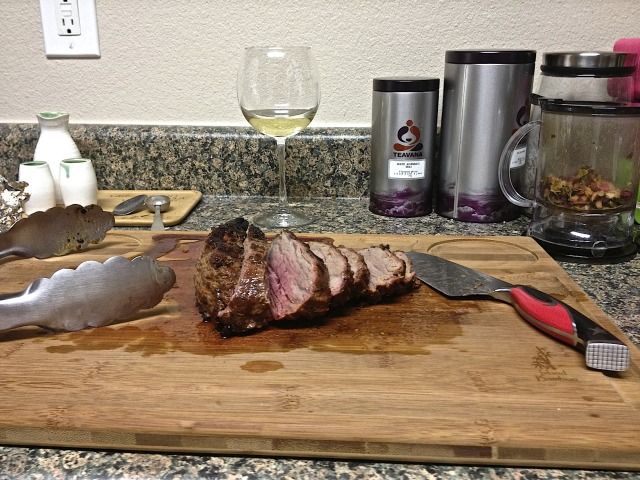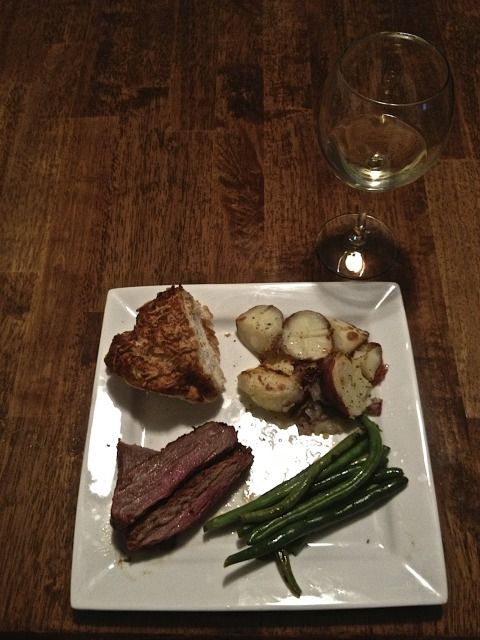 Yesterday we did a Caribbean Jerk marinated Spatchcock chicken with some roasted corn on the LBGE it was perfect simple gameday food!
This might have been the best spatchcock yet!
I totally forgot about the Dizzy Pig sampler pack I got with my swing rack and threw some Pineapple head on some pineapple and tossed it on the egg.
Its been a great weekend so far and the Sooners played great yesterday!
I also found a great way to repurpose the teak shower stool I had to use while recovering from ankle surgery. It even has similar lines to the EggCARTen!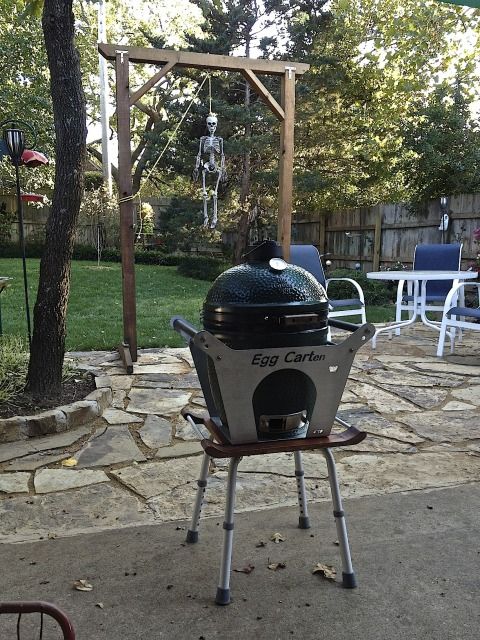 I hope everyone's weekend is going as good as ours!
Large & Small
BGE
, CGW Two-Tier Swing Rack for
BOTH EGGS
, Spider for the Wok, eggCARTen & and Cedar Pergola my
Eggs
call home in Edmond, OK.