This weekend we decided to head to Missouri for some camping, kayaking, and egging! We have stayed at the
Meramec State Park
 before and loved it, they have a very nice campground with lots of upkeep, super clean facilities, and great friendly people working there. We just got the small egg added to the collection the week before and have had a couple of cooks on it to learn temperature controls and the little differences between it and the LBGE. The small rode in the backseat with a seatbelt keeping it safe. Here we are getting all set up. 
 There was six of us camping so for dinner on Friday night we did a spatchcock chicken rubbed with
Cowtown Squeal
 on a raised grid using the
Small Woo
 at 375° for just under a hour. I used my new
Green Thermapen
 to check for 180° in the thigh and 160° in the breast.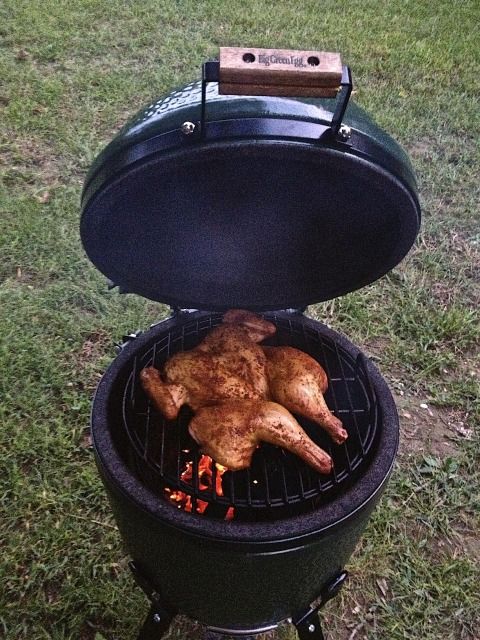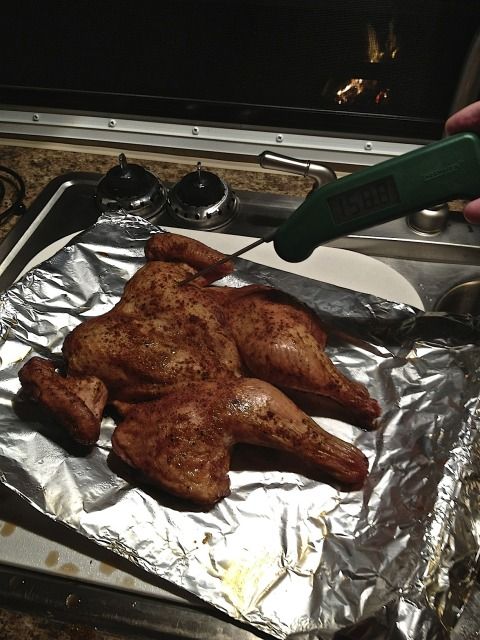 While the chicken was resting I threw on some fresh green beans coated in olive oil, minced garlic, fresh lemon juice, salt, pepper, & some veggie rub I found in the camper.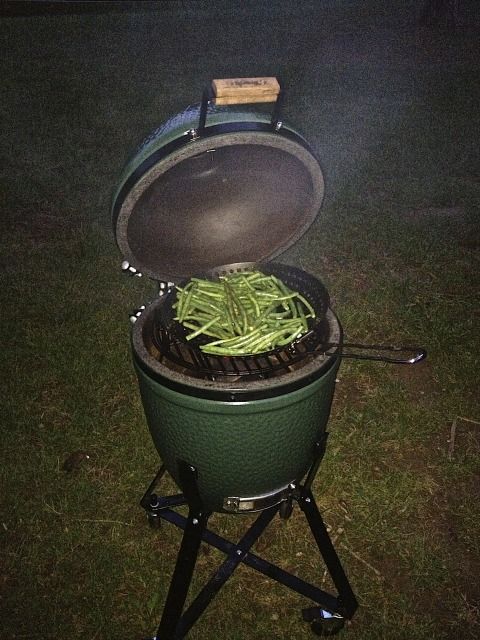 My relatives we so impressed with the chicken I think next time we head to Missouri there will be a big green egg on his deck. 
We decided to finish off the night with some s'mores around the campfire. 
The next day we headed out for a 7.5 mile float down the Meramec River. It was a great float with lots of bluffs and a couple caves to explore along the water. 
After a day on the water it was time to fire up the SBGE again.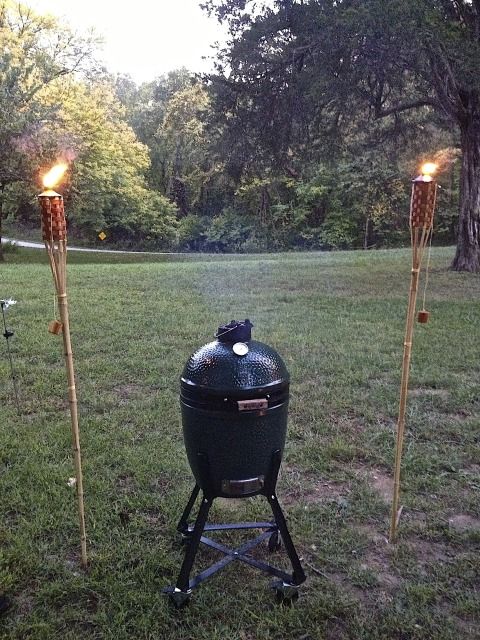 We decided to make salmon with a
Brown Sugar and Mustard Glaze
 this is a Bobby Flay recipe from one of his first shows on the food network back in 1999. My dad has been making this for years and it has always been a hit. We used the woo for raised direct but covered the grid with foil and punched a bunch of holes in the foil. With the Egg stablized at 325° skin side down with the glaze on the top side it cooked for around 40 minutes to 145° 
We also had some corn with butter, salt, and pepper wrapped in foil on a small charcoal grill. 
The finished plate.
Save a little bit of the glaze to drizzle over top after cooking. My uncle and cousin who lived in Alaska for years said it was the best salmon they have ever had! Not bad for camping!! 
The next day we did 10 miles on the river and my dad decided to stay at the campground. When we got back it was already dark but he had some gumbo cooking away and the entire campground smelled delicious! It was cooked on the stovetop and even though I didn't get any pictures it did happen! Here is the kitchen.
 It was the perfect way to end a long day on the river. Two great floats on the river, three great meals and lots of fun. It was a great weekend and really glad I got a small egg to share great meals with friends and family! 
Large & Small
BGE
, CGW Two-Tier Swing Rack for
BOTH EGGS
, Spider for the Wok, eggCARTen & and Cedar Pergola my
Eggs
call home in Edmond, OK.