Started some ribs today. Anyone remember when ribs were cheap trash food and didn't cost as much as lobster?
Also started a Bresaola, a heavily herbed, cured, air-dried hunk of very lean beef (eye-round, in this case).
Here it is after I trimmed the fat off it, and any silver skin or hanging tags. Upper left is 25g kosher salt, 30g white sugar, 4g of #2 Cure, then sprigs of thyme, couple sprigs of rosemary, some sage, about 10 juniper berries, and 6 to 8 g cracked pepper
grind it all fine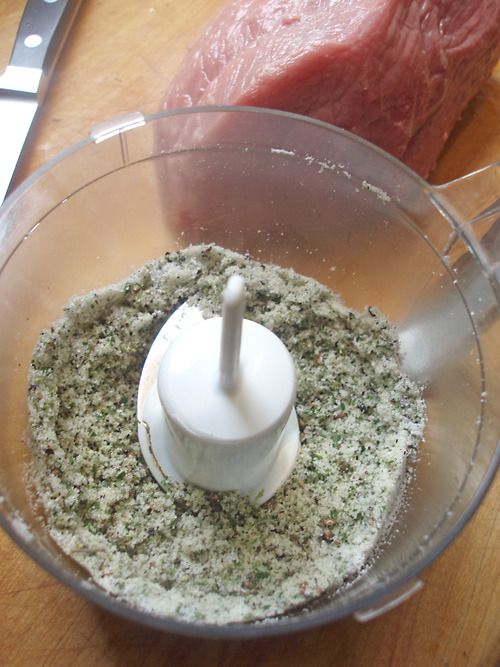 then the meat into a ziploc with HALF the cure. reserve the other half. flip flop turn for a week in the fridge. then pour off the liquid after a week, add the reserved cure, fridge for a further week. rinse, dry, tie, hang three weeks (plus minus)
here it is in the bag.
after drying, you slice it thin as possible, and eat straight. a buddy of mine made a pizza with some, and has since started making his own.
here's a very bad pic (iPhone 3!) of the last of my bresaola from this winter.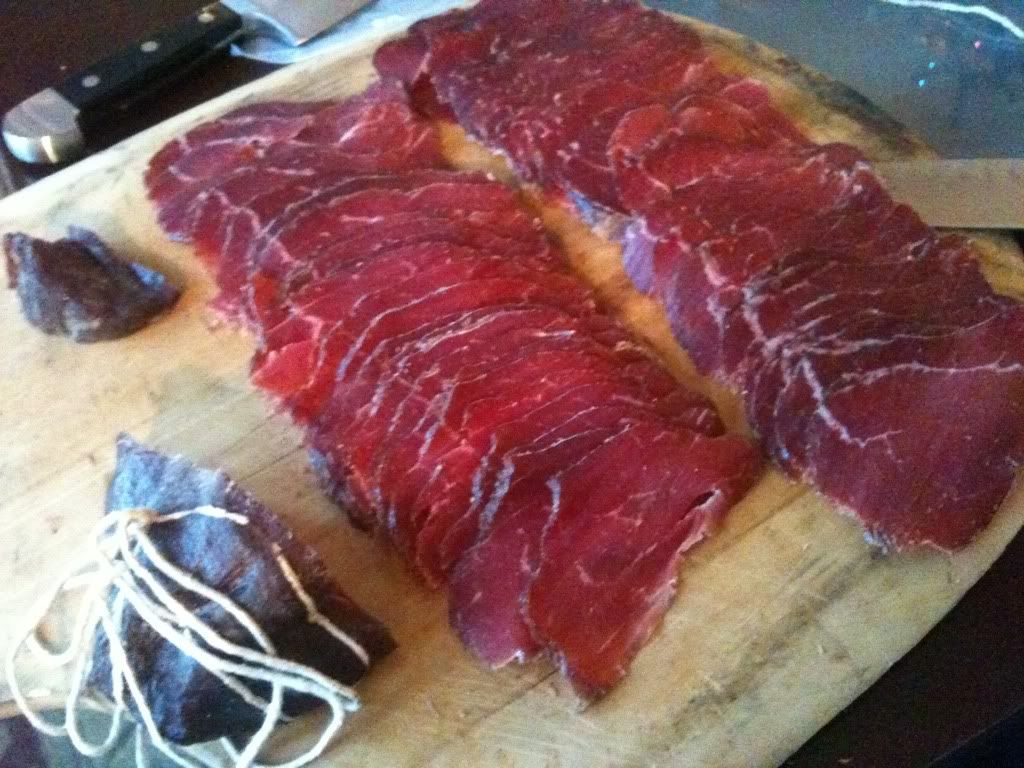 also started a Lamb Ham (fenalaar). this stuff is wonderful. favorite at easter. the cure involves lavender, coriander, allspice, herb de provences, cracked pepper, brown sugar, and thyme.
it can be done with a whole leg of lamb, but i use a small portion, boneless.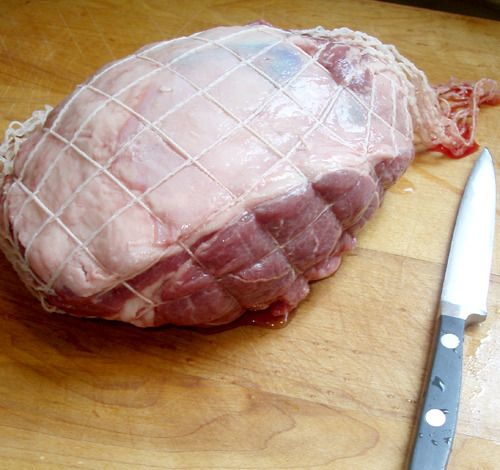 trim off the membranous fat layer. you'll feel the difference once you find the little edge/border of it on the fat.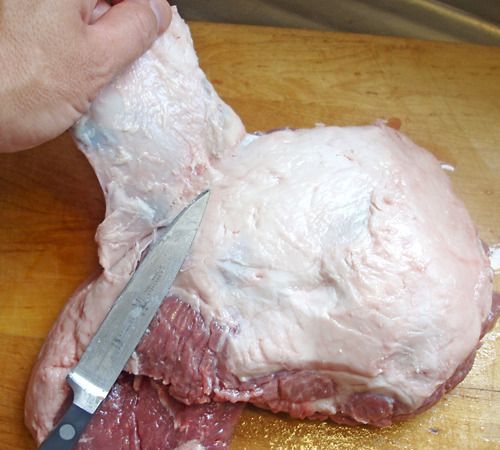 then trim the fat layer to about half thickness. i leave this on. some remove all fat entirely. i think it gives it a nice border when served, and the flavor is milder and more cured/firm anyway (not 'raw') after curing. i had a small baggie of left over cure from the last time i made it. not sure why. because it was not as fragrant, this time i augmented it with some mint from the garden. the flowers strip right off and went into the cure. the leaves and stems got roughly chopped, and added to the bag with the cure. the lavender leaves had mellowed (in the cure) so i'm hoping this will add back some fragrance. ...note the minimal trimmings in back
in the bag with the entirety of the cure. two weeks if bone -in, maybe 8 to 10 days boneless.
when it's done, i'll lightly hot-smoke it with lilac wood (this was from last easter) til about 135 internal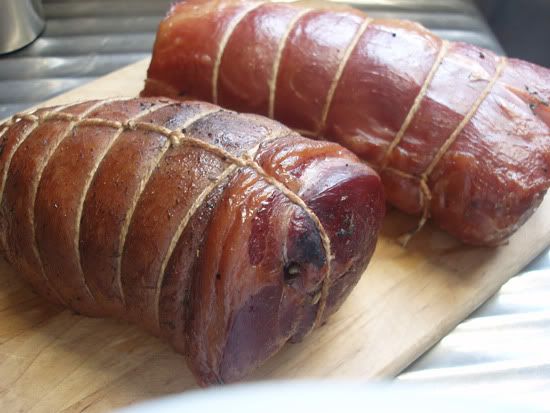 here's another pic, served cold as an appetizer, from last easter, with a little heavy cream mixed into dijon mustard
it also makes a fantastic sandwich with a lettuce horseradish, crusty bread, dijon, and lettuce or greens
found some other pics in my camera. here is a pair of pics of the 'horrible' cowboy lump you always hear about. twenty pound bags have been suspiciously heavy lately. last was 25 pounds, previous two were 22 and 24. here's one of them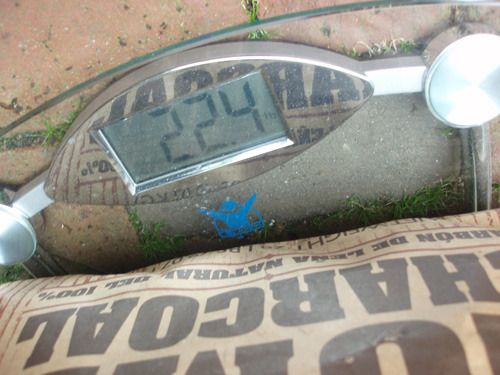 i honestly think that because it is so much denser than their previous sources, the guys in the yard are filling the bags visually to the previous standard 'full' level. because they have all been over. (...this is why i tend to laugh at the idea that a rock in a bag is a ripoff).
here's the lump itself. not too big (i don't like 'huge' chunks), and no worrisome amount of chips either.
also found this pic, from a trip in june. Rare sighting of the species Ebrietas Canadensis (dwarf variant)