Since Easter or so, haven't been doing much other than standard fare, your basic typical cooks. so when we hosted 'Essexcounty' (erstwhile forum member) and his wife Saturday, we decided to try something a little different.
Essexco and his wife are both monster cooks. She's a former caterer, and both cooked at the first two NH fests. it's always a great time when we have dinner at their place. but this was our turn.
about a month ago we were given SIX slabs of striper (bass) that a friend of a friend had caught. almost 15 pounds of fresh caught fish. we had some that night, but I had to freeze five of them, regrettably. they froze well though.
decided to cook some of that. this was one side (slab), cut into four decent chunks, and the tail (for leftovers)
witness the 'foodsaver' texture on them.
what else do we have around here? aha. something i have been waiting a long time to cook with.
the Guanciale... in front. this was hung to dry in March
zippy (old-forum denizen) cooked a fantastic pasta dinner with some of this when we were in georgia for the GA Mtn Fest. but i hadn't cooked with it yet myself. so i had to find a way to introduce it.
I sliced it up
rendered the slices on low in the cast iron (stove top). but they were cooking before rendering, so i pulled them and chopped the slices
back in to render more quickly, before it would have crisped up too much. got it just between 'crisp' and 'chewy'
not a lot of pics for what was next. That's below if you want to read it.
here's the dinner, plated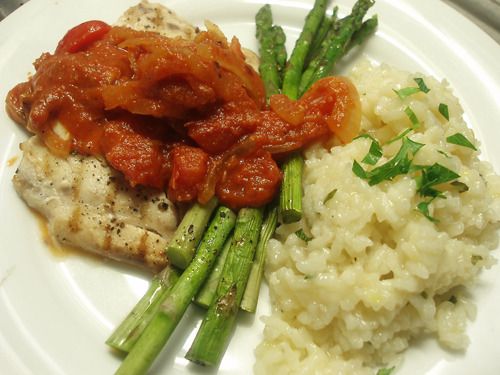 made a Lemon Risotto as a side dish. I was leery, but it sounded light, and lemon would be good with the fish, right? It was fantastic. simple blanched then grilled asparagus. would have liked more grill/smoke on it, but hey, asparagus is always good.
here's how we did the fish:
render the guanciale, set aside and keep the fat in the cast iron pan.
fry/sear the bass in the fat on one side for about 4 minutes. flip, sear about a minute on the other side. take it off and set aside.
thin sliced onion and garlic goes into the pan til translucent, then
crush a few tomatoes whole, maybe add some sauce or a can of tomatoes if need be. cook down (in the same pan/fat). add back in most of the guanciale (about a third of a cup total). season, add a decent three-finger pinch of pecorino cheese, stir to melt and to bring it together. keep some cheese for serving, too.
as the sauce is coming together, put the bass on the hot grill (the lesser-cooked side down), with a little smoke (oak, in my case). give it some grill marks, about three minutes or so. plate it grill marks up, lay some of the sauce across it, top with more cheese. sprinkle remaining guanciale bits/crisps on the sauce
the sauce was really good. i kept wanting to add herbs or something, thinking it wouldn't have 'enough' but my wife convinced me to just follow the recipe. she was right. the guanciale flavor came thru surprisingly.
the guanciale is a cross between bacon and pancetta. i think it may be the most flavorful part of the pig. but it's a lot of fat. not to be served to your cardiologist