When I was out in Delaware last weekend for a Home Theater forum Get-Together, a guy named "Deacon" prepared his infamous "Bacon Explosion". Deacon is an actual deacon in his church in Georgia (iirc) and during the week he runs a barbeque business called
Deacon Blues Barbeque
(which is the coolest name evar!) :thu: :cool:
Anyway, it starts with a woven mat of bacon strips, 8 x 8 slices: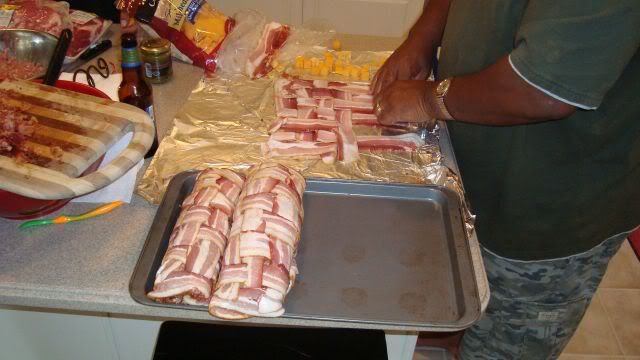 He then spreads a layer of raw pork sausage onto the mat, about 1/2~3/4" thick. He then sprinkles it liberally with his homemade pork rub, and then covers the rub with fried, chopped bacon. The sausage layer is then rolled up, and the raw bacon mat rolled around it (Deacon says the raw bacon doesn't cook thru if its rolled up together, jelly-roll style).
He made three, and added cubed cheese to the second one, and a drizzle of maple syrup to the third one. They're then cooked on the grill, slowly, until it gets to an internal temperature of 140 degrees: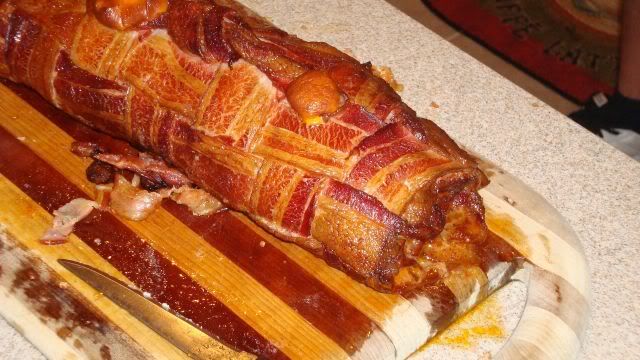 Its then sliced crossways and put on round rolls. I expected it to be fairly greasy, but cooking it slowly over a grill let all the fat render out, and I had to eat a second sammich,
damn
it was tasty!
Disclaimer: these
were
cooked on a gas grill, but we all know they'd be even better on an Egg; I posted this just for the recipe idea.
_____________________________________________
Live fast, die young, and leave a well-marbled corpse.
Ogden, Utard.