Sometimes my little brain-pea just takes off on its own and every now and then hits on a thought which leads to an idea which leads to trying it out.
So here I am watching pizza dough rise while getting all the bits and pieces of 'stuff' ready to put on top. There must have been 19 or 15 different things I found in the refrigerator and other places.
Every now and then I would eat a few Cheetos and take a swig of Diet Dr Pepper, a good combination if there ever was one.
PRANGGGGGGG!!!!! (That's what it sounds like when my pea runs into a thought)
[Picture eye looking up, chin in hand, lip curled upward in corner, glowing light bulb over head]
I like pizza and I like Cheetos, so why don't I just make a Cheeto Pizza Surpreme
, I internally said to myself.
I internally replied,
Yea, do it!
Next thing I know is I'm adding a few Cheetos to the already piled high pizza ingredients. I only put them on a small area because Spring Hen might not take kindly to me thinking while cooking.
So off to a waiting Lily Large to get 'er done.
And here's the outcome...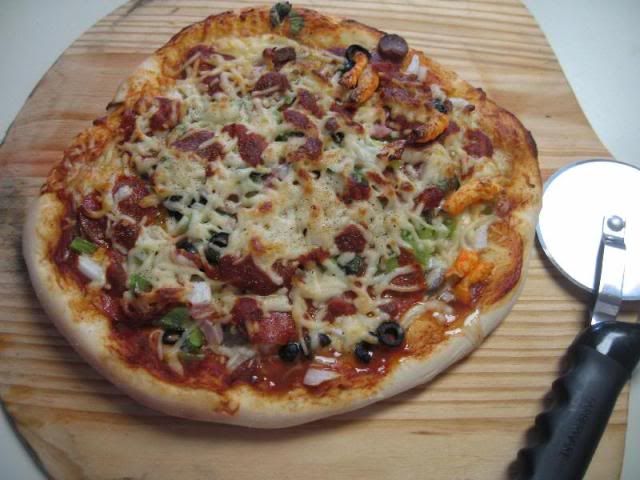 Yes, the Cheetos did take on a different flavor and it wasn't bad. Just not enough Cheetos for my pleasure. I'll definitely come up with a recipe for this pizza and pass it on. Oh wait! Just add Cheetos to your Pizza ingredients. I think you can remember that.
You're welcome.
Spring "Some Things Need Serious Pea Movement" Chicken
Spring Texas USA