My egg must be sending out subliminal messages to roast peppers. This weekend I got a surprise package from Hoss. I was almost afraid to open the package because I could smell the peppers emanating from the box. :evil: When I opened the box there were all types of beautiful fresh peppers. Then on Saturday, while shopping at Jungle Jim's, Bitslammer brought my attention to the fact that there was a special on poblanos. 99cents a lb. How could I resist? I put 12 lbs in my cart. Victim of another impuse buy.
Hoss' peppers with 12 lbs of poblanos: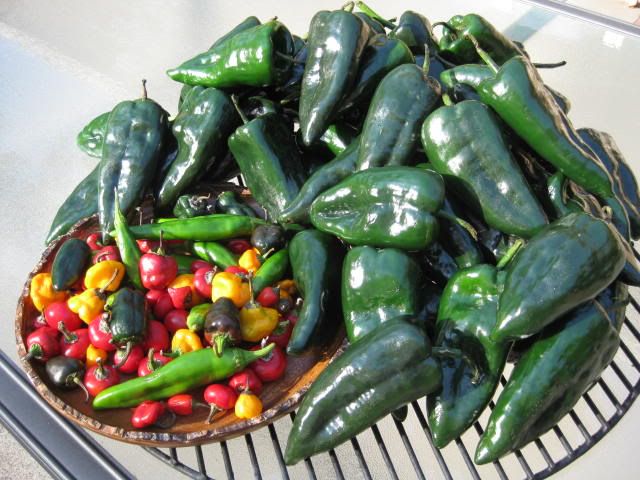 Roasted the poblanos in 2 batches:
The poblanos were then peeled and deseeded and vacuum packed. These are destined mainly for Chili verde and scrambled eggs.
Roasting Hoss' peppers on a screen. I just love the bright red, green, and yellow colors.
I've never put up small peppers before, so I really didn't know what I was doing. One thing I figured out is that you can't peel the small peppers, especially the habernos. I cored the peppers and put some aside to cook with and I froze the others. I might make a sauce later. I got to thinking that I probably just should have made a sauce with roasting the peppers. One thing I noticed, after the pepper prep as I was typing this post on my keyboard my finger tips were burning. The heat from my computer which I had left on all day must have synergized the capsaicin oils remaining on my fingers. My fingers were burning so bad I had to quit typing.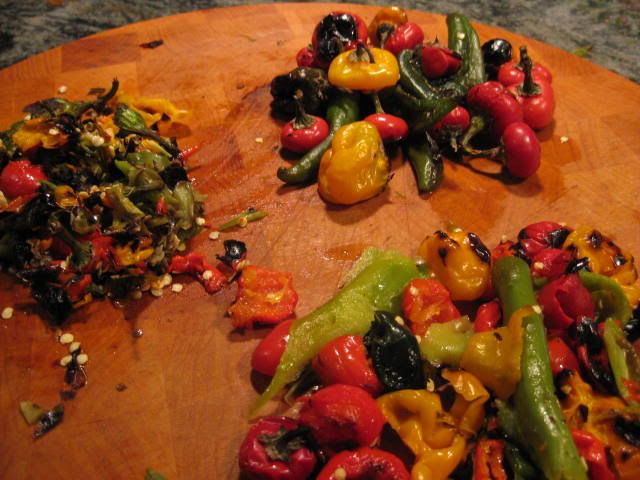 How do you put up peppers?