Smoking another batch of cheese this morning. Got people that want to buy some this week and also have family coming for Easter, so this is it.
Time to SMOKE!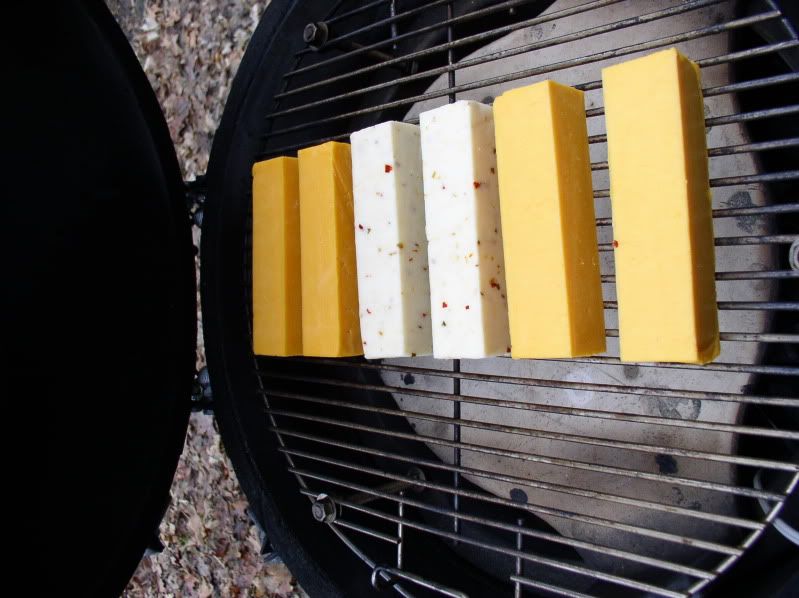 Once the cheese was off the grid, I got the smoker out and started with a good cleaning of the Egg getting ready for a day of cooking.
Then, it was full steam ahead doing stuffed Jalapeño pepper appetizers for the first go-round.
STUFFED JALAPEÑO PEPPERS
North Portage Smoke-Shack
From JB
1 lb. Country Style pork sausage
8 oz. cream cheese
1 C. Parmesan or Romano cheese, grated
22 (or there about) Jalapeño peppers
1)) Wash the peppers, and cut in half lengthwise. Remove the seeds.
2)) In a skillet over high heat, brown the sausage, scraping and mashing to make for a fine product. Drain any resulting fat.
3)) Over Med. low heat, blend together the browned sausage, cream cheese and grated cheese.
4)) Fill the cavity of each pepper and bake at 425 F. for about 15 minutes on the Egg: Indirect on the grid or on a slatted pan.
I tried out my new grill pan...It worked real well. Thought I had a pic, either on the Egg or finished...But I can't find it, so here's one prepped and ready.
Then for dinner: Two meats (beef and chicken), sliced and hammered well, then into two marinades. By the way, both of these need at least two hours in the marinade.
Didn't do Little Steven's this go-round because of the timeframe. So I tried out a new one (I twisted it some) for the chicken...It was good, fast and EZ. I will do it again!
CHICKEN MARINADE:
Adapted from Giada DeLaurentiis
(This is enough for 4 to 5 lbs. of meat)
1/2 C. balsamic vinegar
1/2 C. dark brown sugar
1/4 C. honey
1/4 C. soy sauce
1 t. (maybe a bit more, dependent upon your taste) crushed red pepper
5 cloves garlic, crushed
5 sprigs fresh Rosemary (rub / roll it some to break it up)
I reserve the marinade, boil it into a thick sauce and then brush some on the chicken, just before taking it off the grid..
The BEEF MARINADE is my "go to" from years ago...almost 40 now!!! Sorry, I have NO measurements! Just a slug, a dash or two, a few twists and a glop, shake or a plop of: Soy, Wooster, fresh ground pepper and garlic to taste.
Kitchen help: Dylan, Rae and Toni.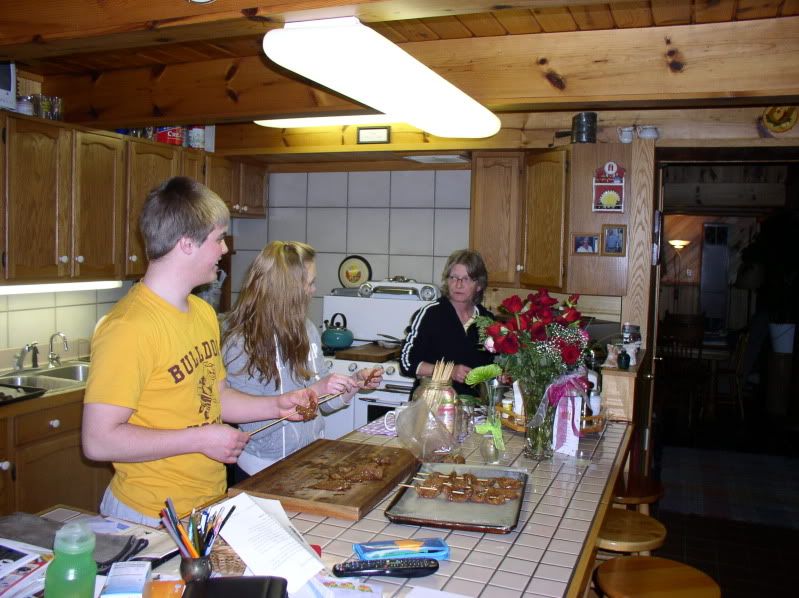 Skewered chicken tenders and beef loin K-Bobs with onion, peppers and mushrooms..
Served it all up with roasted veggies, squash and potatoes! Sorry, it all went WAY too fast to get a platted pic!
Maybe next time! Maybe I need to hire a photographer!!??