Ok, forum members.... It is time to vote:
Votes should be submitted to
[email protected]
In your email, please include ONLY the number of the submission you are voting for. 1 vote per member only, please. As this is a significant change, please understand, you are voting by Email. You are not voting in the Forum (votes posted in the forum will NOT be counted!). Email your vote to
[email protected]
Voting will close promptly at 9:00 PM (Eastern Time) Sunday night. The Voting email will be accepting votes as soon as the entries are posted on the forum. Entries will be posted for viewing and voting early Sunday morning. Judging should be based on Creativity and Presentation of the Final Plate.
The winner will be announced Sunday evening, on the Forum, as soon as results are tallied. Remember, voting closes at 9:00 PM (ET), so vote early!
#1:
#1: Garlic Roasted Tenderloin and Pineapple Kabobs with a Sweet Chili Garlic Sauce
Fried Green Tomatoes with Thai Sweet Chili Remoulade and Pineapple with a Sweet Chili Garlic Sauce
Fresh Picked Hosui Pear
Fresh Lemon Thyme was added to the pork marinade of soy, fish sauce, and garlic marinade and also to the remoulade. Some added kick of Sriracha Sauce was also added to the remoulade which added to the contrast in texture and flavor between the crunchy cornmeal crust and warm semi-soft encrusted fruit.
#2:
#2: I decided that I wanted an oriental flair. Took a pork tenderloin and ground it, mixed with Jimmy Dean Hot sausage cooked on BGE with some onions, thyme, some freshly chopped mango, chopped waterchestnuts, garlic chives and mung bean cellophane noodles. When cool took some squid and stuffed them. Rolled in very fine cornmeal and placed in a steamer on the wok for 25 minutes at 325F. Had some white wine and water in wok for steam.
For the sauce took some of my homemade BBQ sauce added some spicy soy base dipping sauce we use and then a cup of freshly picked and peeled mangos, placed in blender and pureed it.
#3:
#3: Stuffed Loin braised in Wine with Fresh Black Plumb sauce, served with Fried Summer Squash, Roasted Potatos, and Broccoli
Loin "S" cut, stuffed with a mix of corn, carrot, spinach, onion, garlic, fresh herbs (Thyme, Sage and Parsley) and cheese, then rolled and tied. Egg set up as an oven, it's time to braise. The wine is added along with chopped black plums, a bit of onion and a garni of a sage leaf and a thyme sprig. Potatoes on the top and cornmeal battered summer squash (I thought I took a picture of the squash in the pan, but in the heat of battle, I didn't) rounds browning in my favorite CI pan, With the roast sliced, the braising liquid (I smashed the plums, but it needed nothing else added) ready to serve as the sauce...She's on the plate! First, I just topped the squash with the plum sauce, but the sauce was sooo tasty I ended up topping the roast with sauce too.
#4: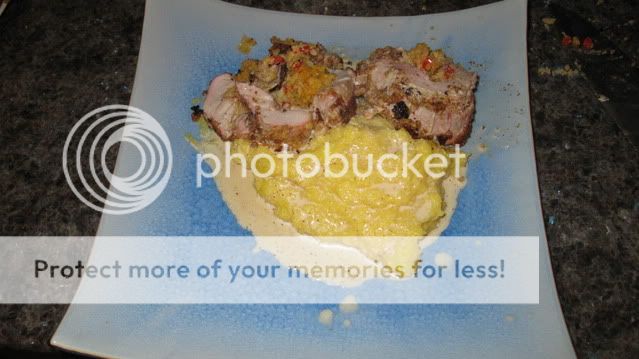 #4: Walnut crusted, Apple, onion and thyme stuffed pork tenderloin. On Polenta with Calvados cream sauce. A bit of an categgrophe it was too hot to properly stir the Polenta on the egg, so I had to finish it on the stove, have to say the egg gave it a nice taste.
It tasted far better than it looks.
#5:
#5: Grilled Pork Medallions with Pineapple Pancakes and Caribbean Sauce. Medallions of pork tenderloin - marinated with fresh thyme.
Pineapple infused cornbread pancakes. Fruit and Vegetable Sauce overlay. Side of additional sauce in a stuffed red pepper. Cilantro garnish.
#6:
#6: Cuban Mojo Pork Tenderloin with arepas, grilled mini bananas, and grilled avocado, red bell pepper, and mozzarella cheese garnished with lime wedges.
Marinated the pork overnight in a mojo marinade sauce. Reduced the marinade ingredients by half on the SBGE. Seared the tenderloin close to the lump (removed firering) at 600 dome. Roasted the tenderloin on a raised grid at 400 while searing a red bell pepper and grilling an avocado. Grilled some mini bananas – fruit down for five minutes, and skin down for ten minutes. Meanwhile - formed the arepas and started them on the mini. Pulled the tenderloin at 140 internal and foiled with some mojo sauce. Finished the arepas on the SBGE. Plated – mojo sauce on the tenderloin, Balinese sauce under the grilled bananas, and olive oil on the salad. Summary: Cuban mojo pork tenderloin, arepas, and grilled mini bananas with a Balinese sauce.
#7:
#7: Thyme-rubbed Pork Tenderloin and Manchego Cheese sauce wrapped in Cornmeal Crepes topped with Grilled Peach Barbecue Sauce
Rubbed tenderloin with evoo, s&p and fresh thyme, grilled direct @ 375F. Crepes were made with yellow cornmeal and flour, done on Egg in nonstick pan. Peach sauce used fresh peaches and common bbq sauce ingredients, mashed peaches after cooking. Cheese sauce started with roux, added chicken stock, half-n-half and then cheese until melted, used some fresh thyme in this as well.
#8:
#8: Peach Stuffed Pork Tenderloin with Thyme Polenta and Peach Pepper Sauce. Cooking Thyme Polenta on the Mini - Never again unless we have a power outage. Baking the Polenta on the Mini - Not nearly as bad as cooking it. Tenderloin Stuffed with Peaches, Apple, Onion, Herbed Goat Cheese and of course some thyme and rosemary. Finishing up on the Medium Egg, Sauce is pureed peaches, maple syrup, butter and a couple red jalapenos for a kick. I let it rduce on the egg to a syrup like consistency. Went direct at the end with the pork and polenta to crisp up the bacon and get some charring on the polenta.
Plated with a little thyme garnish.
#9:
#9: A Homemade Cornmeal Thyme Pizza Crust topped with Caribbean BBQ sauce, fried pork loin slices, fresh pineapple, fresh thyme, and havarti cheese.
#10:
#10: Stuffing for the loin, Craisins, fresh ginger, thyme, orange zest and parmigiana reggiano. Loins getting some color, with s/p, thyme and stuffed. Corn cakes with orange zest, fried thyme and gr. onions. Stirring in texture of peaches and homegrown roasted jalaps. Peaches pureed, seasoned with fried thyme and d.p. p.h. Thinned with mandarin vodka for my sauce. My side salad with fried thyme.
#11:
#11: Pork & Apple Ragout with a corn meal crust
Process – First brown bite-sized pieces of pork tenderloin in the Dutch Oven on the egg. After browning meat, remove and set aside while you brown the onions. Remove onions and leave about 3 tablespoons of rendered fat in bottom of pan, add some flour and one 12oz. beer to make a sauce. When sauce is smooth add shredded apples, plus thyme, sage, rosemary and oregano. Put meat and onions into sauce and mix together. Put mixture into pie plate and bake at 300 covered for 90 minutes. While that is cooking prepare the corn meal dough for the crust. After 90 minutes, remove from heat and add sliced apples to top of mixture and then put crust on top. Bake at 400 until crust is browned.
#12:
#12: Pork tenderloin roulade marinated in peaches, soy and ginger, stuffed with goat cheese, roasted figs and honey. Rubbed with ancho and corn meal. Accompanied by blue cornmeal thyme biscuit and Huaracondo pisco sauce, with a second peach sauce drizzle and roasted peach and figs.
#13:
#13: Country Pork Stew with Cornmeal Dumplings and for dessert, Baked Apples with a Honey Butter Sauce. A sauce was made for the baked apples and fresh thyme went into the stew. Here is the summary of each dish. The tenderloin was cubed, seasoned and dredged in cornmeal, then flour, and sauteed in a Dutch oven on the large Egg. Sauteed onion, garlic and squash, some water and broth, potatoes, carrots and tomatoes rounded out the base for the stew. A bundle of fresh thyme, tarragon and parsley were added about halfway through the cook. While the stew was resting, I made a cornmeal dough for the dumplings, and spooned them into a CI skillet on the Small Egg, allowing them to bake for about 5 minutes. They would then be transferred to the Dutch oven to steam atop the stew before plating. The apples were cored and filled with raisins and seasoned with cinnamon and nutmeg, then baked in the large Egg. A cup of sauce was cooked alongside the apples. The sauce contained cinnamon, apple juice and water. When it reduced by 1/2, honey, butter and more apple juice was added and reduced by 1/2 again, then spooned over the apples when served.
#14:
#14: Simmered pork loin and bone in loin chops with Tequila, lime , jalapeno, cilantro and garlic. Roasted poblanos, jalapeno, red & orange peppers, onions and added these to the pork and stock. Papaya, mango and thyme was used as a reduction of the fruits to make my sauce. Fresh Masa tortillas in CI skillet on the BGE, Shredded pork and fried on CI Skillet..Peurco frito. Served on friolles negro with red onion, served with the fresh Masa Tortillas.
#15:
#15: For throwdown #3 I decided to prepare - Bacon wrapped pork tenderloin medallions paired with sweet thyme cornbread mini muffins, fried tart apples (similar to Cracker Barrel fried apples), sauteed mushroom sauce and grilled asparagus with grated parmesan cheese.