It's been over a year and I am not sure how much over 400# of lump.
Here is a quick Grandpas Grup Tip...
Are your eggmates and handle ugly like mine?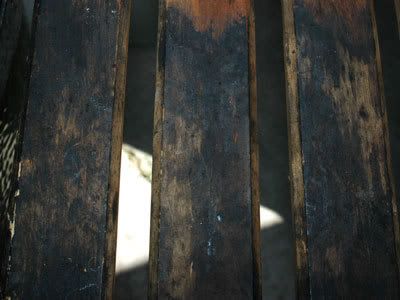 With very little effort..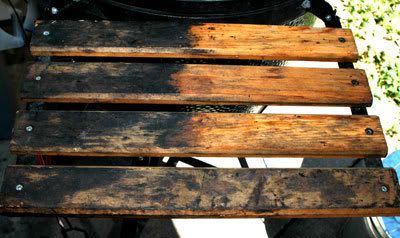 They can look like this or better without sanding or any other hard work...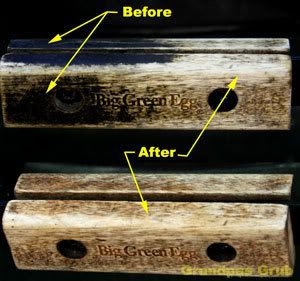 Eggmate cleaning, version 1.0.
For a long time I have wanted to get my eggmates so they were not so dirty from lump dust, food and other unknown substances.
I had been thinking of buying the new style mates, using my power tools, or buying new wood.
I could not believe how easy it was to lift off all that black crud. I tried several different methods and this is what seems to work the best.
I grabbed some paper towels and 91% rubbing alcohol. Soaked the paper towel and began rubbing.
1/2 sheet of paper towel, soak with alcohol. Work on 1/2 slat at a time. Rub the alcohol on the board back and forth, light pressure at first just to get it wet then a little harder, tough scrubbing please.
When the towel gets black turn the towel. When dirty turn inside out or move to a clean surface. It is important not to over dirty the towel surface or you will not be removing the crud.
Change to a new towel and keep working that 1/2 slat until you get it clean. It is pretty easy to see when the towel surface has been worked too much and needs turning.
On the second side of the mates I decided to pre-soak the slats - WRONG, don't do it!!! Work 1/2 slat at a time.
It seems that pre-soaking allowed the crud to mix with the alcohol and has a tendency to seap into the wood. I couldn't get the pre-soaked slats as clean as with working 1/2 slat at a time.
It took no effort and cleaned quicker than I expected.
Typing this I wonder if acetone would cut the crud quicker. Someone one needs to try using acetone and let us know. Maybe we can make this Eggmate cleaning version 2.
It sure is nice to see some wood on those well used eggmates.
Hope this helps some of you out there.
GG