Welcome to the EGGhead Forum - a great place to visit and packed with tips and EGGspert advice! You can also join the conversation and get more information and amazing kamado recipes by following Big Green Egg at:
Facebook  |  Twitter  |  Instagram  |  Pinterest  |  Youtube  |  Vimeo
Share your photos by tagging us and using the hashtag #EGGhead4Life.
In Atlanta? Come visit Big Green Egg headquarters, including our retail showroom, the History of the EGG Museum and 
Culinary Center
!  3786 DeKalb Technology Parkway, Atlanta, GA 30340.
Salmon
Had some Alaskan Wild Salmon on Friday. Used the recipe below. Really tasty. If you like Salmon you should give this a go.
Next time I would pull at 145 however.[p]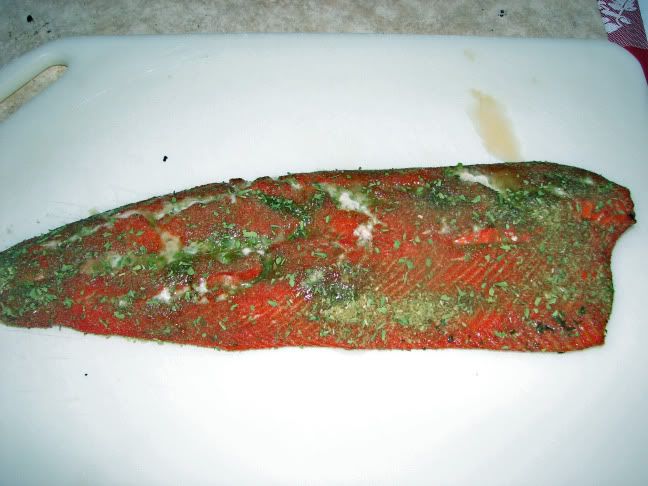 [p]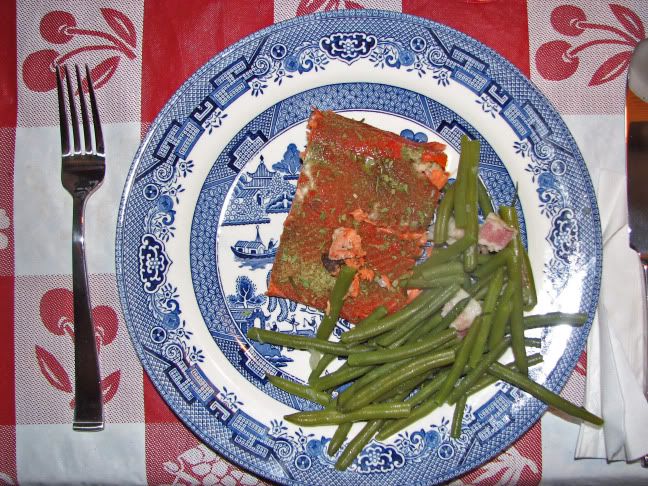 [p]accompanied with some woked green beans.[p]Cheers, Bob
***********************************
Car Dogs' Award-Winning Salmon[p]Jim Minion and Jack Rogers hail from Washington State and compete as the Car Dogs Barbecue Team. In 2002, they won third overall, and placed second in salmon (with this recipe) at the Pacific Northwest Regional Championships, at the Red Hook Brewery in Woodinville, Wash. In 1999, they won a Reserve Champion ribbon at the Canadian BBQ Championship at New Westminster, British Columbia, with this salmon recipe.[p]3 pounds fresh fillet of salmon (preferably sockeye or king), boned[p]First rub
1 cup light brown or turbinado sugar
½ cup non-iodized salt
6 tablespoons garlic salt
6 tablespoons onion salt
1 tablespoon dried dill weed
1 tablespoon dried summer savory
2 teaspoons dried tarragon[p]Second rub
¼ cup light brown or turninado sugar
1 tablespoon granulated garlic
1 tablespoon granulated onion
1 teaspoon dried summer savory
1 teaspoon dried tarragon[p]Bone the salmon fillet using tweezers or needle-nose pliers. Do not remove the skin. Place in a glass
or stainless-steel pan.[p]Mix all the first rub ingredients in a small bowl and pack them on the flesh side of the fillet.
Do not rub them in. Let the fillet rest for 3 hours. You will see how the rub has drawn out liquid
from the fillet. Rinse the fillet in cool, clean water to remove the dry rub and pat the fish dry.
Allow it to dry for about 30 minutes in a small bowl and set it aside.[p]Mix up the second rub in a small bowl and set it aside.[p]Heat your barbecue grill to medium or medium high (300° to 400°F). On a charcoal grill, sprinkle
wood chips on the coals just before you put the fish on the grill. If using gas, you can put an
aluminum foil packet containing fruitwood, in which you've poked holes, on the burners to add smoke flavor to the grilled fish.[p]Sprinkle the finishing rub on both sides of the fillet (twice what you would use if you were heavily
salting and peppering). Place on a well-oiled grill and cook with the barbecue lid closed until the temperature in the thickest part of the fillet reaches 155°F (about 10 minutes).[p]Serves 4[p]Recipe courtesy of "Grilling America" by Rick Browne/ReganBooks, an imprint of Harper Collins
© 2003 Rick Browne, Wishing Wells Productions. All Rights Reserved.