Welcome to the EGGhead Forum - a great place to visit and packed with tips and EGGspert advice! You can also join the conversation and get more information and amazing kamado recipes by following Big Green Egg to Experience our World of Flavor™ at:
Want to see how the EGG is made?
Click to Watch
Dizzy Pig pork belly recipe...
Morning All:
I was able to get a 15.3# pork belly earlier this week...my initial plans were to use some of it (5 to 6 pounds) for pork belly burnt ends for a party next weekend, but didn't have any specific plans for the rest of it...I did some searching & found this recipe on the Dizzy Pig site (Succulent Roasted Pork Belly with Crispy Crackling... 
Succulent Roasted Pork Belly with Crispy Crackling - Dizzy Pig Craft Seasonings (dizzypigbbq.com)
 ...so decided to give it a try...I cut a piece of about 3.5# to use...I pretty much followed the recipe to the letter...after poking the holes in the skin it sat overnight in the fridge with DP Peking rub on the meat side...today before putting it on the Egg (indirect at 350) I added some 5-spice powder...
Next was the salt layer on the skin side & onto the Egg...
After about 80 minutes & internal temps between 160 to 165 I pulled it off & removed the salt plus poked more holes in the skin...ready to go back on at the higher dome temp (420)...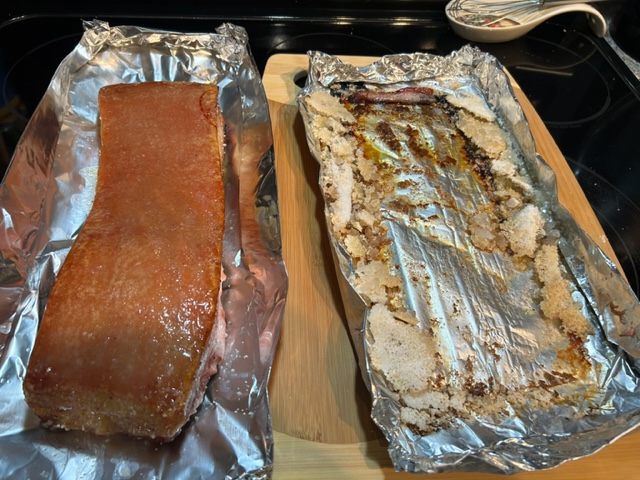 It took about another 45 minutes for the skin to look "done"...just off the Egg...
Added some rice & pickled cucumbers for the sides...my plate...
The skin was VERY crispy, but I probably could have rendered a bit more fat, though it was DELICIOUS.
I also will use one section of the belly for porchetta soon & really looking forward to that.
Have a GREAT day!
   Jay
Brandon, FL
Comments