Welcome to the EGGhead Forum - a great place to visit and packed with tips and EGGspert advice! You can also join the conversation and get more information and amazing kamado recipes by following Big Green Egg to Experience our World of Flavor™ at:
Want to see how the EGG is made?
Click to Watch
New interview with Aaron Franklin
Interview posted 4 days ago with a barbeque expert in Great Britain: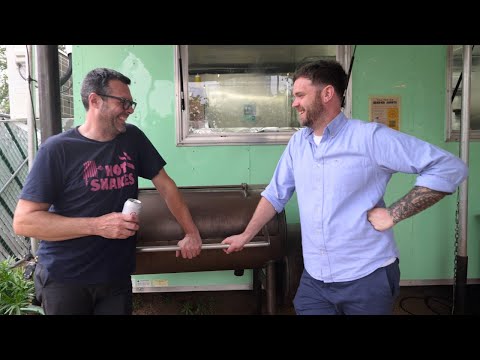 https://youtu.be/SEDJpn40mB4
Three interesting main topics: how he "tuned" the hardware of his for-sale "family-sized" offset smoker, and how you can't perfectly replicate larger smokers, they have to be "tuned" individually.  Two sentences on why a BGE can't get as good a bark, and it makes sense.  (I seem to remember that folks here who own both, claimed the stick burners gave better smoke flavor, not better bark; comments welcome) 
Second topic: his new book (oddly its on Amazoid but not on his own website yet):
https://www.amazon.com/Franklin-Smoke-Wood-Fire-Cookbook/dp/1984860488/ref=sr_1_1?crid=2XFT86CU17S8L&keywords=aaron+franklin&qid=1685747147&s=books&sprefix=aaron+franklin%2Cstripbooks%2C125&sr=1-1
When COVID hit, he started concentrating on cooking one hunk of meat, for his family, after spending years concentrating on cooking pasture-loads of brisket every day, so this book may be the best of his three for us home cooks.  He also said he'd updated many of the recipes from his first two books because of... 
The Third Topic:  There is not, nor ever can be, the "ultimate" barbeque recipe, because things are constantly changing.  He said that his restaurant is 
constantly
tweaking their rubs, cook temps, hold times, etc to respond to how the beef itself is changing.  I remember someone on this forum wrote down his cook temps from the newspaper/magazine articles lining the walls, while waiting in line, and the temps were always changing.  I figured Aaron just didn't want to give up his "magic number", but maybe he 
had
been tweaking it over the years.  Makes sense.  And with climate changes' more severe weather (worse winter blizzards, summer droughts, and major rivers dying in the West) those changes in beef can only accelerate.   
Anyhoo, it was 15 minutes well-spent, for me.  I don't think I've cooked a single brisket since retiring, as I'm now cooking just for myself (need to look into feeding the local FDs like
@lousubcap
does).  I also don't have any of Mr Franklin's books, but will be reading the reviews on his new 3rd book, that may be the one.  
____________________________________________
So, two dyslexics walk into a bra...
Comments