Welcome to the EGGhead Forum - a great place to visit and packed with tips and EGGspert advice! You can also join the conversation and get more information and amazing kamado recipes by following Big Green Egg to Experience our World of Flavor™ at:
Want to see how the EGG is made?
Click to Watch
Setup Advice for Turkey on Egg
Hello all!
I was hoping to get your advice on my setup which needs to be modified from previous years on account of the local farm only having bigger birds despite ordering my usual 14#.  I wound up getting an 18# and have a large egg.
I was planning to spatchcock the bird and will be using Mad Max Turkey Seasoning as a dry brine and then following his recipe other than stuffing the cavity.
My first question is whether it's OK to "drape" the spatched 18# bird over an upside down roasting rack inside the pan?
But my real question is whether my setup will be OK as seen in the photos.  Namely, here's what I have:
the mulit-tier rack upside down with a pizza stone on top so it's indirect.  With this, the TOP of the stone is two inches above the fire box so i'd guess the BOTTOM is one inch
Then I have a large roasting pan which JUST fits but it's sitting on top of the inner ceramic ring (so essentially resting on the wire of the multi-tier rack which sits on the upper ring above the fire box).  This places the BOTTOM of the roasting pan about 3.25 inches above the top of the pizza stone but the top of the roasting pan is below the felt line.
Hopefully the pictures do a better job explaining than me
Using this setup, should I include a BGE round foil pan filled with water on top of the pizza stone and below the roasting pan?  I'm hesitant to do this because I don't want to steam the bird but want to make sure my temp won't be too hot.  I can also put a thermo probe lower in the roasting pan to monitor temp as I imagine the dome temp would be very different from temp closer to the bird's undercarriage.
Any issues using the spatchcock method like this and draping over the rack?  The only possible issue I see is that the breast would sit higher in the dome than the legs/thighs.  The roasting pan is intended to help me catch the juices so I can make a gravy.
I suppose the other idea is to just set a roasting pan inside the ring, on top of ceramic feet sitting on the pizza stone and just lay the bird on the grate?
Help!  Really appreciate the guidance as the curveball of the larger bird has me scrambling!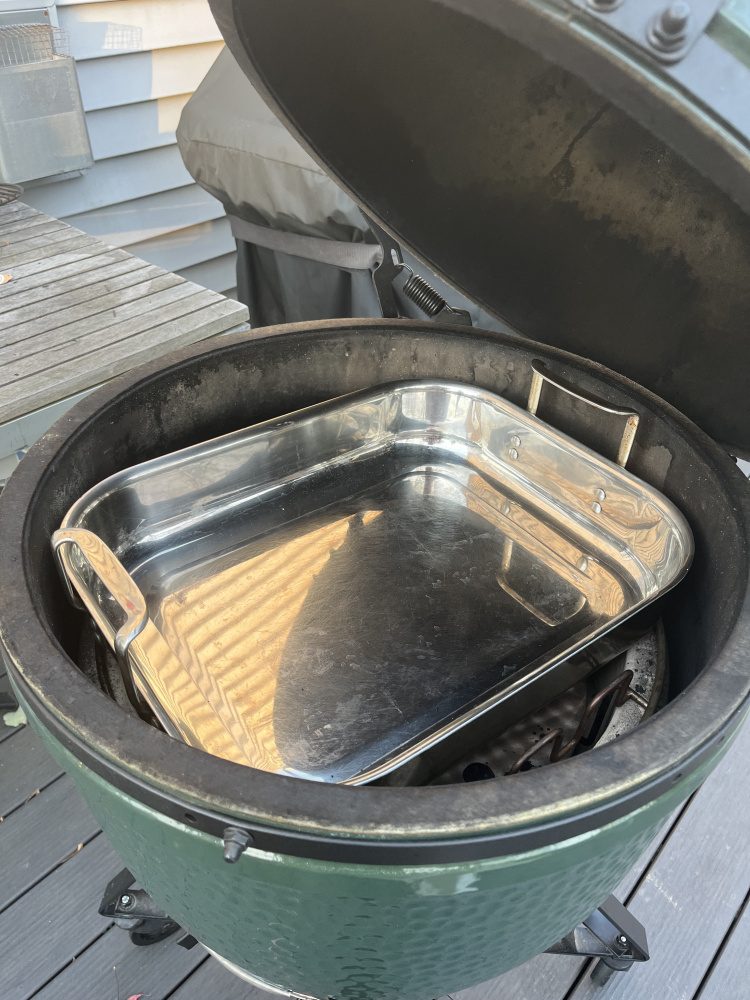 Comments