Welcome to the EGGhead Forum - a great place to visit and packed with tips and EGGspert advice! You can also join the conversation and get more information and amazing kamado recipes by following Big Green Egg to Experience our World of Flavor™ at:
Want to see how the EGG is made?
Click to Watch
Band/hinge adjustment help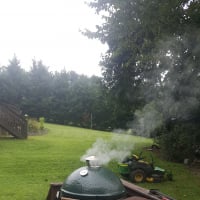 I've searched the forum and read every thread I can find related to this topic. In addition, I have watched too many YouTube videos to count.  Unfortunately, I have been unable to successfully adjust and align my dome.

I have an XL and for 4+ years, I have had no band adjustment issues.  Recently, I have experienced difficulty in opening and closing the dome.  The dome would open several inches, then it would hang up as if it were binding.  Upon examining the numerous acorn nuts surrounding the bands, it appeared as if two on the right hand side had shifted.  I concluded this based on absence of paint on band where nuts had shifted.  The threads and videos that I watched pointed out many different possibilities.  

I tried unsuccessfully to loosen the bands and acorn nuts around the bands.  By attempting to realign the dome, using the wear marks on the gaskets, I was able to shift the dome.  Unfortunately, after tightening everything back up, the dome lifted a little better but the dollar bill test failed miserably.  Tight in the front, but way too loose in back and sides.  Frustrated, I stopped to re-think the mechanics of the set-up. 

I now think that I over did it with loosening the bands and every acorn nut.  I now believe that I need to start all over as if I were assembling it like the dealer did when I purchased it.  I also believe that now would be a great time to replace the gasket with the Rutland gasket I purchased from Ron.  I suspect that I need to align the bottom band and make sure it is right below the gasket, uniformly around the entire egg.  I then think I need to align the top band using the two stops in the front as a guide all the way around the dome.  Lastly, I think I need to remove the Smokewear cap and place something like perhaps a 2"x10" or something across the hole.  With assistance of another person, after aligning the dome with the base, place downward pressure on the dome and tighten the hinges and acorn nuts.  I read somewhere that the wood could help apply equal downward pressure.  Can anyone offer any advice?  I was so frustrated that I needed to walk away and take a break before I did something I would regret.  Any suggestions are greatly appreciated.
Answers