It's was a sad day last Wednesday when I sold my XL and Small Big Green Egg. My Mini will also head to Craigslist sooner than later. My Good One Smoker offset that I just recently restored and my Big Steel Keg will follow the Mini's departure. It feels like the Barrett Jackson of grills around here.
Don't you all go jumping for joy and think I'm leaving here!
The XL didn't get used very often and I had two smalls. (The small I sold was brand new. I bought it 2.5 years ago on clearance for $300. I never found a need for two small eggs at the same time. So it just sat collecting dust) I still have my Large, Small, and newer Mini egg. I'll be rocking a green grill as long as I have two feet on this ground. I just needed to sell off a few grills to justify my new toy.
My wife wanted a picture of all the Big Green Eggs before a few of them found new homes.
So why did I sell off some of the Big Green Egg family? An opportunity came knocking. I'm a BBQ nerd and like to check Craigslist every few days for BBQ related items. I came across a Lang stick burner a few weeks ago that peeked my interest. I read the Craigslist ad but I didn't think too much of it. It did excite me a little as a stick burner is a whole different animal when it comes to smoking. I own 10 grills but they work similar to one another. A stick burner is a whole new challenge. I can't just go out and buy a Lang offset smoker to try out. I'd need to start small and work my way up to a nicer stick burner like a Lang over time. A few days later I go back to Craigslist to look at BBQ related items. I ran across the Lang smoker once again. I took another look at the ad but I couldn't justify a purchase of a Lang offset smoker. I move on and don't think much of it. However, I couldn't help but think how much fun it would be to feed a live fire.
A few days later I do the typical bbq search on Craigslist. Then it happens. Something that I thought I'd never see come up for sale here in Minnesota. I think I may have even let out an "oh sh*t" when reading the ad. Remember how I said earlier that I couldn't just go out and buy a Lang stick burner to start out on? Let me throw that whole theory out the window. It's a little different when you come across a used Shirley Fabrication Patio smoker! This doesn't happen here in Minnesota. I don't think it happens much anywhere with a Shirley. I was shocked, stunned, confused, but I couldn't click on the Shirley ad fast enough. There she was, a used Shirley smoker that I knew absolutely nothing about! I didn't email on it. I couldn't. I've never used a stick burner and couldn't justify the cost. So I passed on it. Well that feeling lasted a few hours. The next thing I know I'm emailing the seller and asking a few questions about it. I had to email. Even if I didn't buy it. I can say I at least made a feeble attempt. Now how do I tell my wife I just emailed on a smoker? Well it really wasn't that hard. I have 10 grills so it wasn't much of a surprise. What did take her off guard was that I would need to sell some of my other grills to get this smoker. This was the only way I could justify the purchase. I couldn't afford to go out and blow money on a new/used smoker but I did feel comfortable selling off some grills that I don't use. So I was looking at it more as a trade than a financial purchase. I was still nervous to say the least.
The next morning I get an email from the seller and he said it's still available. He said he's had some interest but wasn't looking for low ball offers. I knew he was going to get what he was asking. His other requirement was that it goes to a person who was going to use it and appreciate it. I sent an email back and asked if 10 grills would get my foot in the door?
I explained to him that I was new to stick burners but I knew all about Shirley Fabrication. (I enjoy their Youtube videos) I think he knew that I knew the quality of the smoker and enjoyment I'd get out of it. I made him my best offer and what I'd come close to selling my other grills for. He was happy that it was going to a good home and dropped the price for me. The next day when picking the smoker up he had four calls wanting to purchase it. I knew I'd be kicking myself down the road if I didn't at least make an attempt to contact the seller. I'm glad I emailed when I did.
The seller Jeremy was a great guy. He went over everything with me and took the time to explain how the smoker works and different tips and tricks. I could tell the smoker meant a lot to him. You could tell he didn't necessarily want to sell it but knew it was time. He watched the smoker leave on the trailer as if it were an old muscle car and seeing it one last time. It was sad. I know he could have sold it for what he was asking and I made sure when leaving and in text later that night that he knew he could come over or even borrow the smoker if ever needed it for a party or event. I think he appreciated the offer.
Trailered and making it's way to its new home.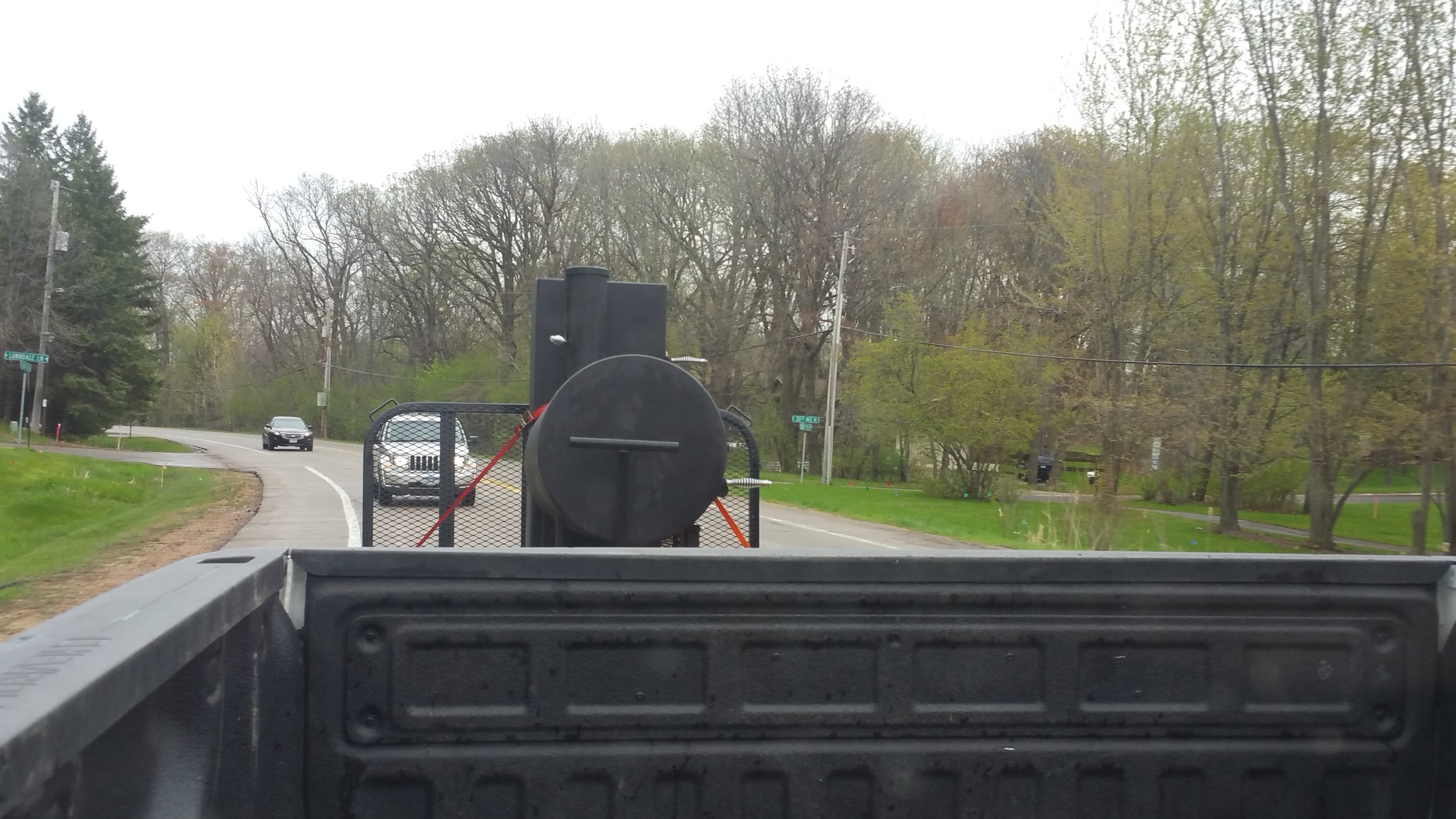 Picture of it being built by Paul.
Previous owner pictures.
I lit it for the first time this afternoon. Just to play around with temps.
I got it to stay around 250 which I'm happy with. I still need to work on how to fire this bad boy up. I don't want to use a bag of charcoal to light it up everytime so I used straight wood. I'm going to need a wood splitter and some oak trees before I know it! It should get easier as I learn more along the way. I'm excited nonetheless. 
Sitting back and drinking a beer.
This smoker is way more than my wife and I will ever need. What I want to do is add a baffle between the firebox and warmer to make the warming box into a vertical smoker. That will become the next project. Kind of sad when you spend 30 hours on my other smoker restoration and only gets one cook on it. Already wanting to start another project with this one. When will I learn!?
If you made it this far thanks for looking! If anyone has some tips or tricks I'm all ears. Thanks!!!
"The pig is an amazing animal. You feed a pig an apple and it makes bacon. Let's see Michael Phelps do that" - Jim Gaffigan

Minnesota