All of the talk recently on the forum about Pastrami has made me want to make some. I used a modified version of the Montreal Smoked Meat recipe.
I went to Walmart and bought 2 packer briskets. They only had 1 Choice one and the rest were all Select. All were $3.68/pound and they had a lot to choose from. I bought the Choice one at about 14 pounds and a 12 pound select.
Trimmed the hard fat off both. My wife likes to make an oven brisket once in a while, so I cut off a chunk of the flat from the choice one and froze it.
Here is the remaining choice brisket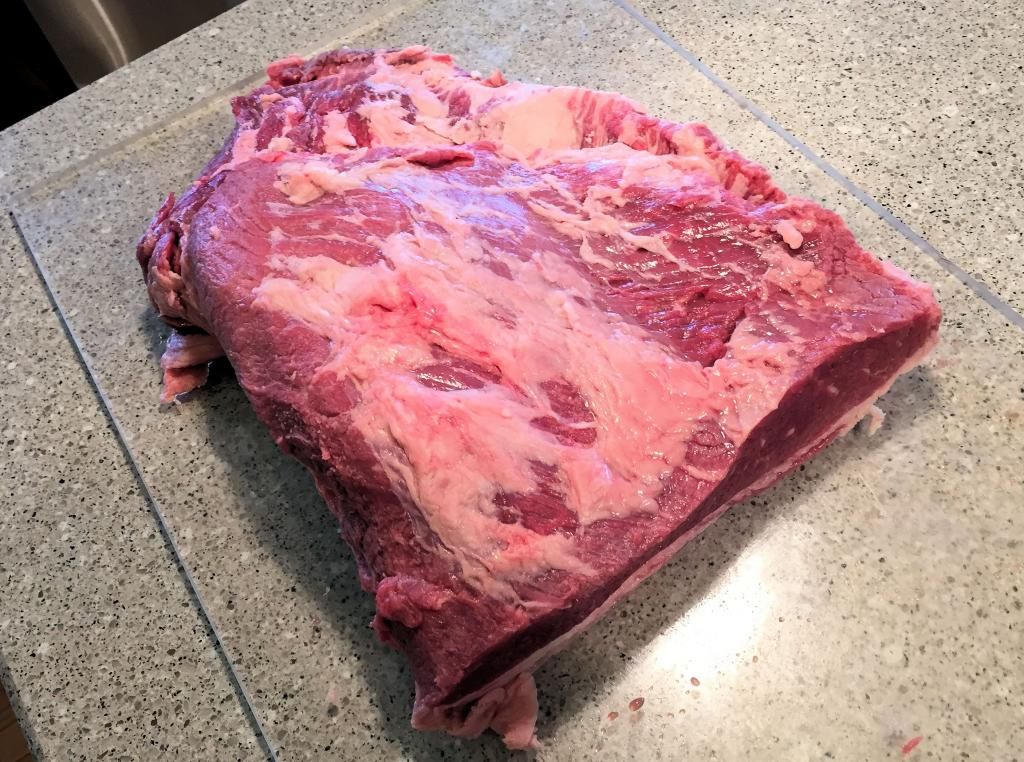 Here is the trimmed Select brisket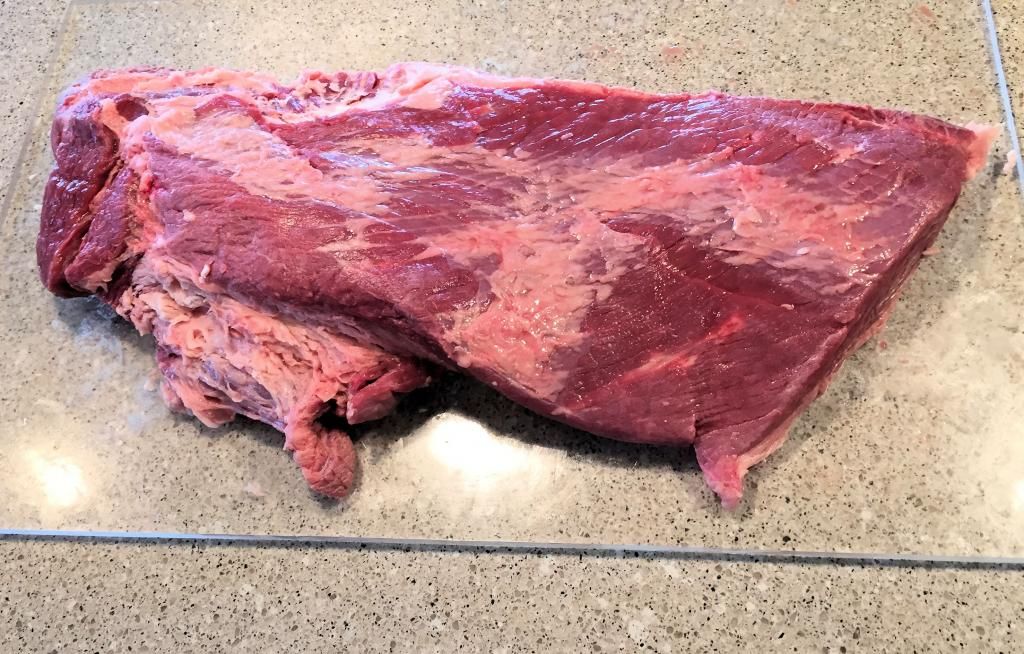 I use a dry cure and this is my mixture:
• 4 TBSP peppercorn, ground
• 4 TBSP coriander seed, ground
• 1 ½ TBSP bay leaf powder
• 10 TBSP Tender Quick (3/4 TBSP per pound of meat)
• ½ cup Pickling Spice
This is enough for about 12-14 pounds of meat, so scale according to your needs.
Here is the Select brisket covered with dry cure
I pack the meat in ziplock bags (2 gallon size) and put it in a plastic tub in the refrigerator. The bags are turned twice per day for 9 days.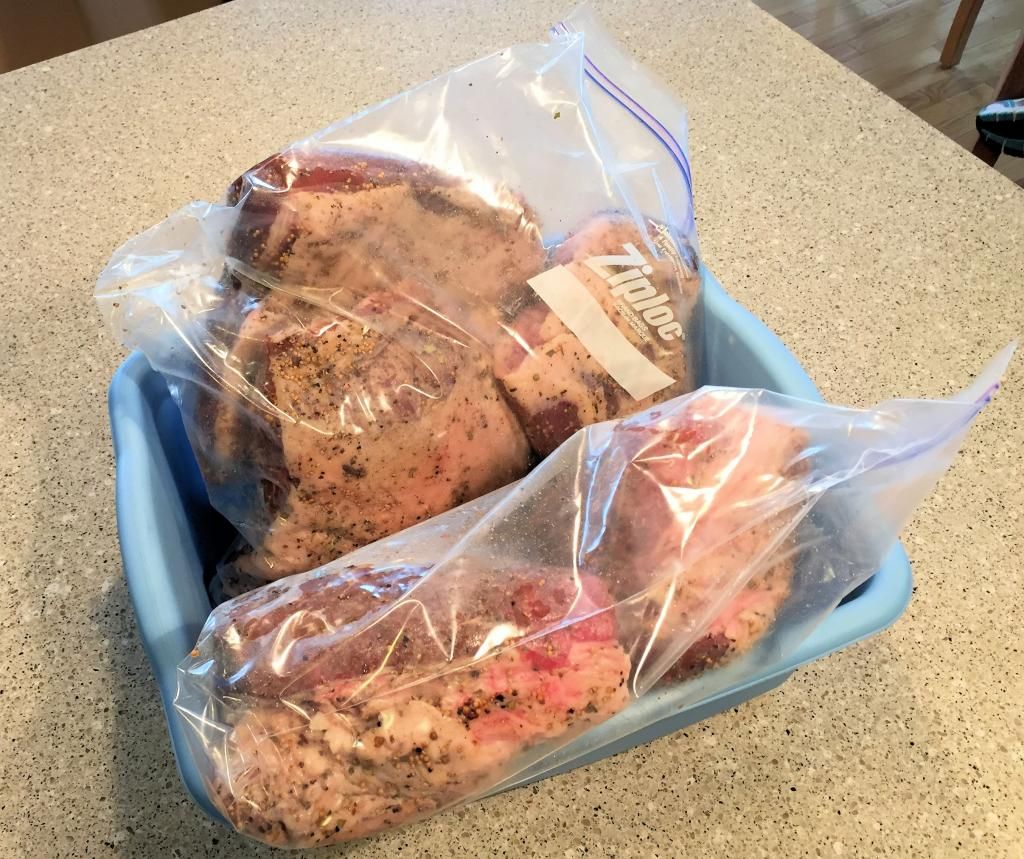 At the end of the 9 days, I wash the spices off and then soak for 4 hours in water which is changed every half hour or so. This removes quite a bit of the salt.
I then coat it with my chosen rub (I use a homemade one), cover it in plastic and leave in the refrigerator overnight.
Next morning, I setup the BGE with the platesetter, drip pan on top of that, and grill on top of that. I use a few chunks of Almond wood (very similar to Pecan). Set it for 250 and pile the meat onto a V rack. I've never done 2 large briskets like this before, so the meat is piled pretty thick. It is going to be interesting to see how well it cooks. Here is a picture of the brisket stack: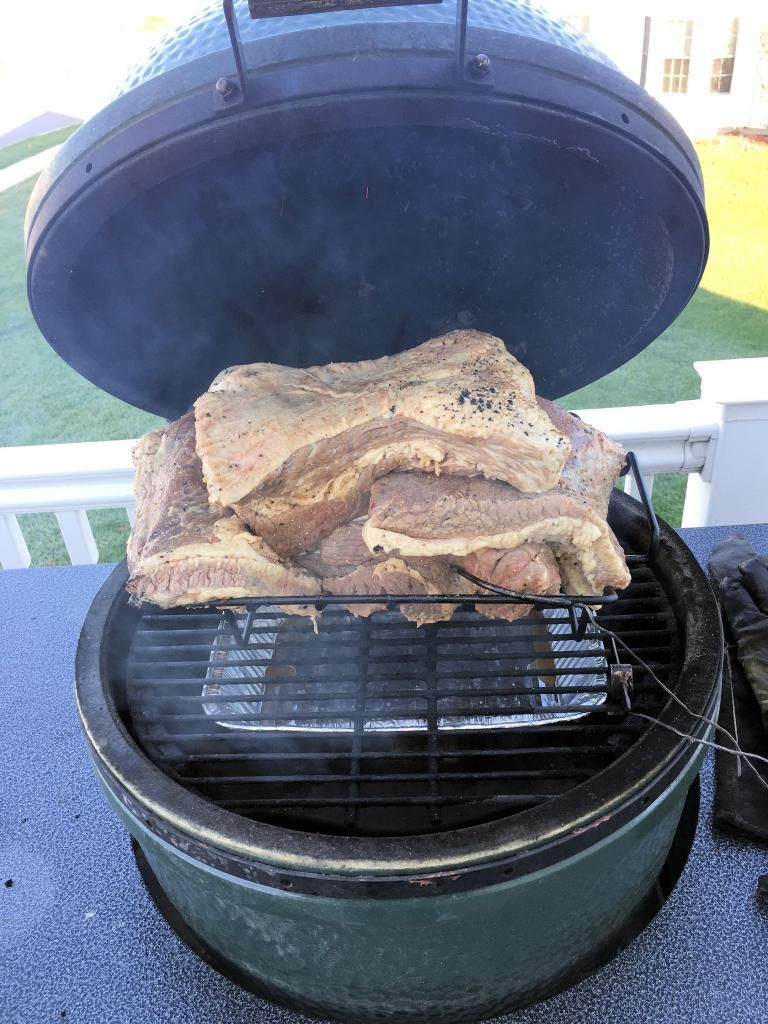 At 2 ½ hours into the cook, I decided it would be best if I switched around the meat a little to even out the cooking. Here it is after the switch: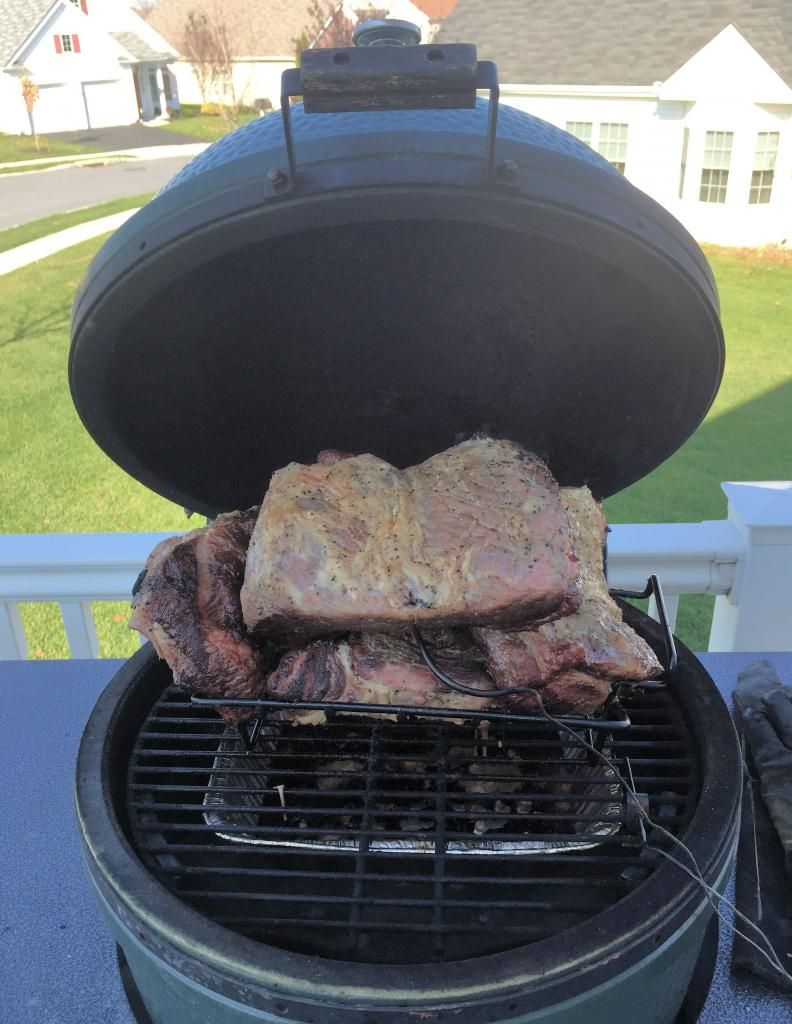 At 4 ½ hours into the cook with an internal temperature around 150, I wrapped the pastrami in foil along with some chicken broth. I did taste a small burnt end and it was tough, as expected, but the flavor was very good.
I don't mind using the foil crutch with Pastrami since I'm not too concerned about a crunchy bark.
Here is a picture of the foil packages:
About 5 hours later, I removed the foil packages from the BGE and opened 1 of them to see what it looks and tastes like. Here is one of the pieces: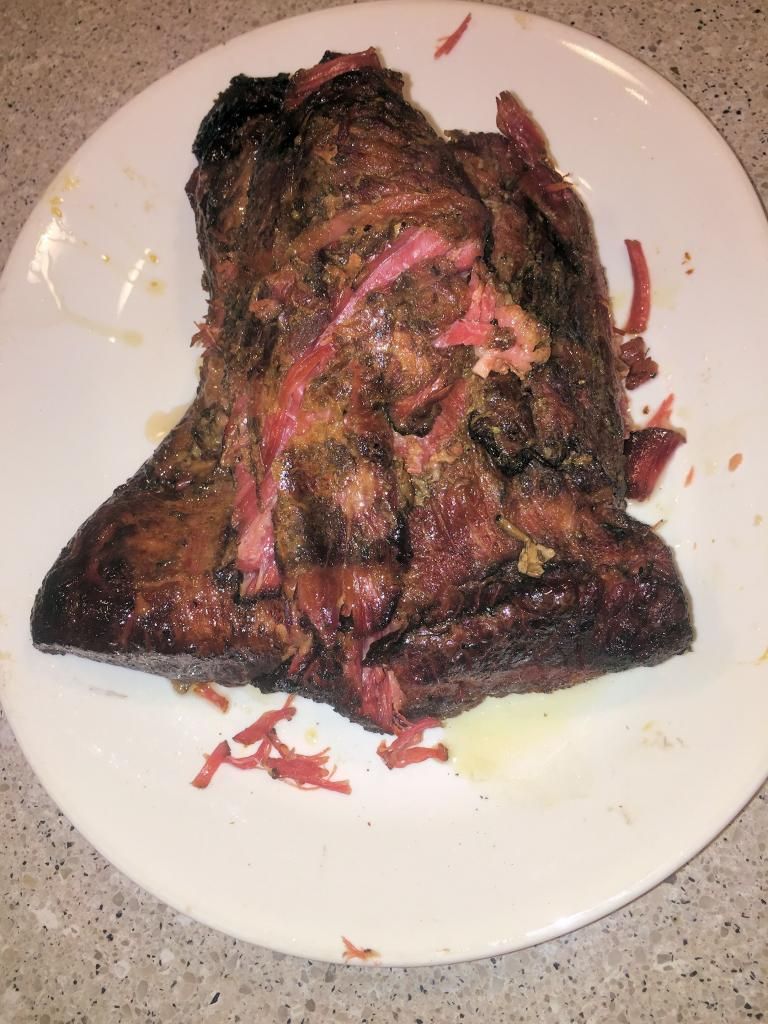 It tasted great and was very tender. Even though it had been wrapped in foil it still had some nice burnt ends. Here is a picture of that piece with a few slices cut: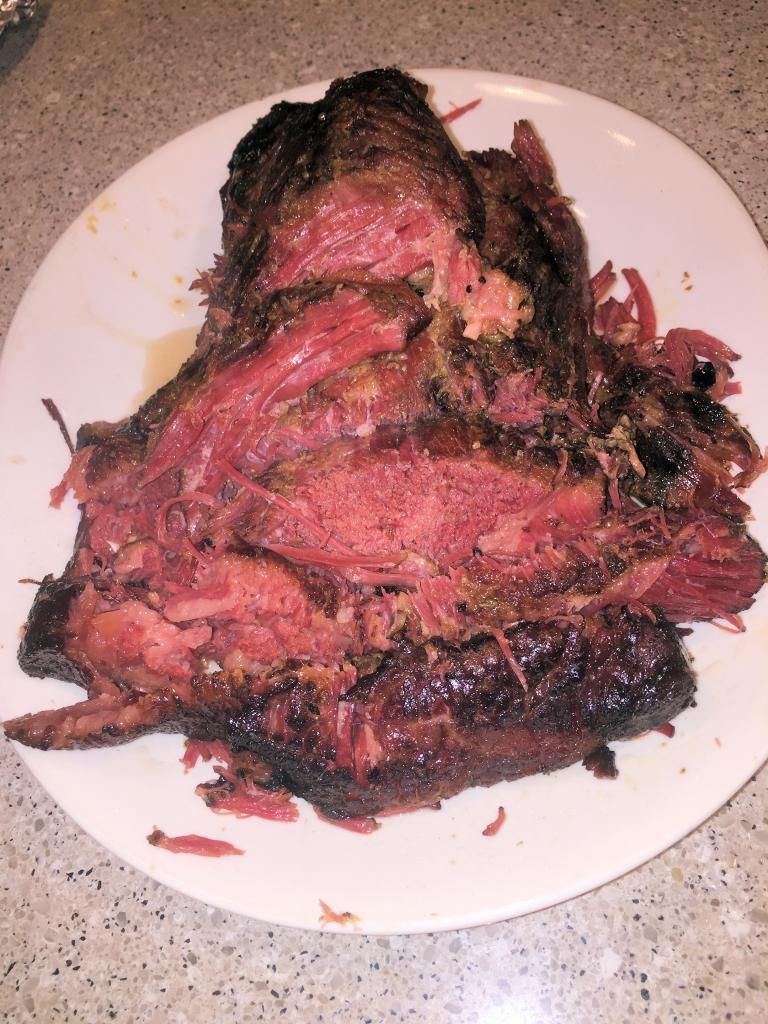 And finally the pastrami plated for eating with some cooked cabbage and homemade rye bread which I baked while waiting for the pastrami to finish:
It was a very successful cook. I had my doubts when I had to pile up the meat to get all to fit inside the BGE, but it worked out very well. I didn't notice much difference between the Choice and Select briskets.