I stopped in Harbor Freight to just waste some time but also keep my eye out for a possible item to use, maybe with modifications, to remove a hot platesetter from my Large. Up until now I'd been using some leather welding gloves, but they burn a little deeper each time I use them and one of these days it'll burn into flesh, I'll drop and break the platesetter, and say a bad word or something. I have a great idea for a simple, easy-to-use tool but I don't have the tools (yet) to build it.
Then I came across this, an 8" deep-throat C-clamp, $9.95: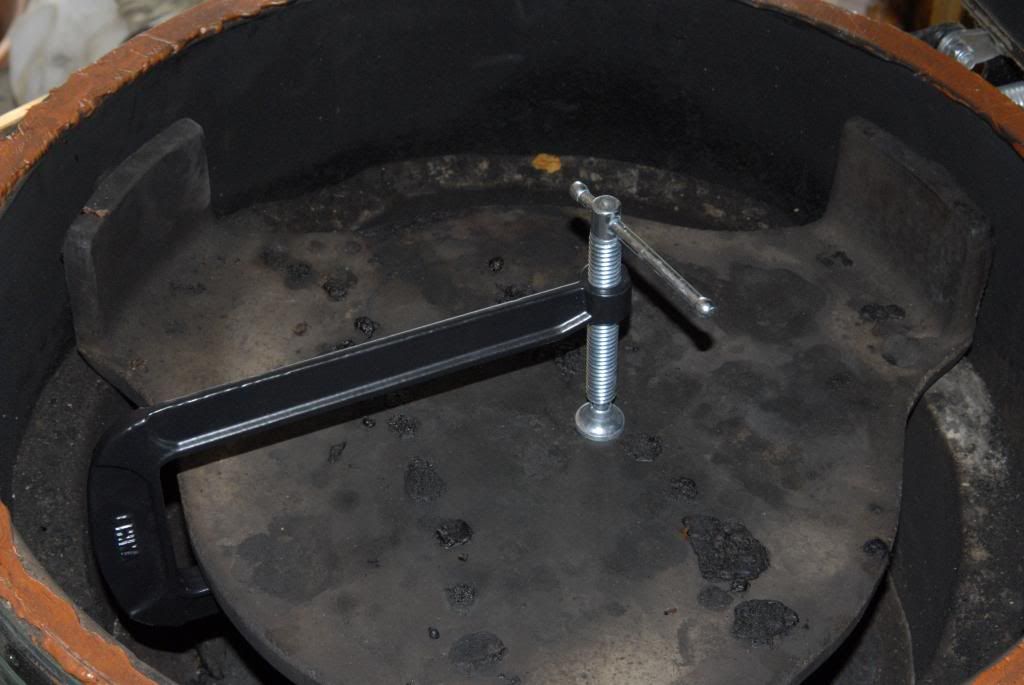 When I got home, it slid right in, even in the worst-case situation above (legs up); a few quick twists of the screw and it was secure, and the body of the clamp made a very comfortable handle to lift it. A 7" clamp would be perfect, putting the clamping point in the exact center of the PS (I may have a buddy weld a 3" "T" bar to the bottom pad of the clamp, just for a bit more stability).
This is still fussier than the idea I have, or the flat strap-steel lifter that's been discussed here (a bit more pricey, especially with shipping) but I'm happy not having to use the gloves anymore, and the price was right (plus, the clamp will come in handy for certain woodworking tasks occasionally).
_____________________________________________
Live fast, die young, and leave a well-marbled corpse.
Ogden, Utard.