First I would like to introduce myself. Im Adam from La Crosse, WI. I haven't had an egg before but, have wanted one for years. After my father bought one last year on a whim...... I had to get one.
Ill start out by saying I sit behind a desk all day and I am not very handy. So this project has taken 3 times as long and im over budget but, its all worth it. I've had my LBGE for about 3 months. Its still in its box waiting for me to get done with my table.
First off after 6 months of planning I decided to build the frame out of steel. I am putting this on my deck and so no to block for the base and I work in Insurance so no wood for me (Too many fires). Here is a couple of photos of the frame being built. Thank god for friends who can weld. I took a turn but, I also enjoyed watching him work.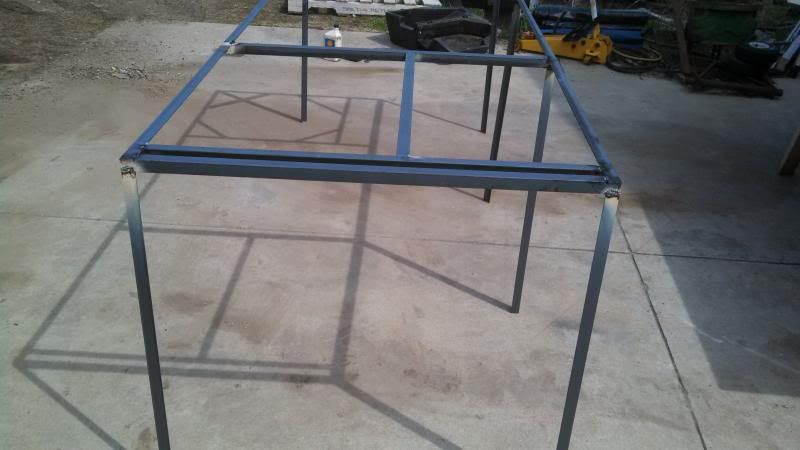 I didn't get a photo of it done but, There is no way this thing is going to move. It is 1x1 1/8" steel. As you can tell the octogan area is where the Egg is going. The other end is where my Gasser is going. I know this is Taboo but, My wife really likes our Holland Grill. So I had to buy the built in one that shiny stainless steel....
The egg will sit on a piece of decorative porch support from the 50's-70's that is 1x1 boxed steel so it wont be going anywhere.
Next will be the facing of the island. I choose a stacked stone that I thought looked awesome for the front and side that will be exposed. ( The Back and other Side will be butted up to a deck railing so a simple Stucco for this. To keep it water proof.) This is the first time I have done any type of stone work. Thanks to the help of more friends who are masons they guided me along the way. They had me do the end panel on my sawhorses. Sticking stones on that horizontally was alot easier for my first time than doing it vertically. Here is a photo of the stone work done be me.
Once this was done I had to get this up and onto the deck and hold it into place for me to attach to the steel frame. This was a chore.... 10 lbs per sq ft. 3x3 sheet and you get the picture. Towards the bottom there is a 3"x8" vent for the island. Since Im piping nat gas into this thing. I didn't need a bomb.....
Next was to start facing the rest of the stone while it is sitting on the deck. Lots of placing on, Tearing off, falling off, and swearing going on while the stone is being set vertically. This is an art and I have a new appreciation for people who do this for a living. It's not hard to get the concept down but, extremely hard to get it done correctly and to look great. It is a true art. Here are two more photos of this. I got the corners and part of the face done in one night. I had to cut an opening for my bottom vent so I could access that.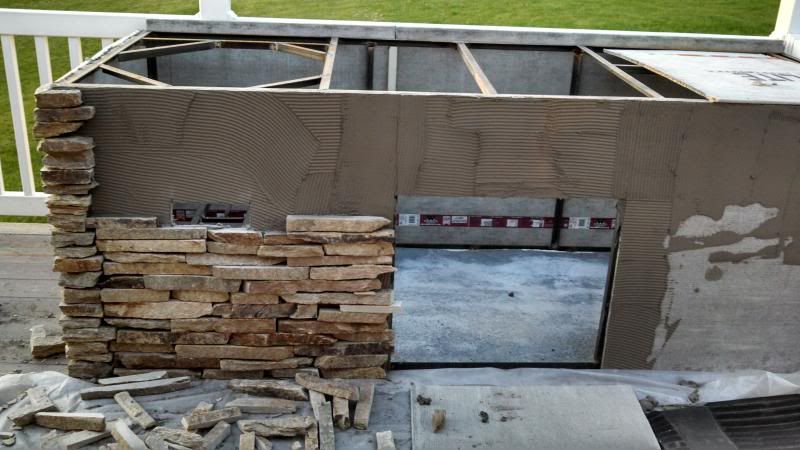 The opening in the middle is where I got access to the inside with a stainless door. The area to the right of that also is another stainless door without any thinset on it. Here are a couple of photos with a door set in there so my wife could see where they were going. Doors are 27" from BBQ guys. made out of 304 stainless.
So there is my progress. I haven't taken any photos or done much work on it in the past 2 weeks. Excuses, Work and family obligations are getting in the way of finishing but, this weekend will be a huge push to finish it.
Stats and materials used. Island Size: Frame 3'x3'x8'. Aprox weight. 1200 lbs. 250 lbs for the grills. about 70lbs for the steel. 270 for the cement board about 400 lbs of stone. 150 lbs of thin set. 40 lbs for the Porceliann Tile. I am using a Porcelain Tile top with a rectified edge. 1/16" of an Acrylic grout to stand up to the Wisconsin Winters also to keep grease out of the grout. I'm having a local business cut my tile for me for around my egg. I havent found a good way other than them using thier waterjet table for cutting a round circle. I have 18" tiles for the top so will be needing to cut 4 tiles. Table edges will the Rondec Edges from Schluter Systems
Thanks for looking through my rambling and project, any hints or suggestion would be great.
Thanks,
Adam