Did some prime rib steaks, stuffed shrooms, boiled corn, broccoli, chilled sliced tomatoes and key lime pie. Too busy to take plated picture
Appetizer, Mushrooms, Stuffed, Richard Fl.
INGREDIENTS:
12 Whole Mushrooms, White or Portobello
1/4 Chopped White Onion, Chopped
4-7 Whole Garlic Clove, Chopped
1/2 Can Water Chestnuts, Chopped
4-6 Stems Scallions, Sliced finely
2 Cans, Small Crab or Clam chopped medium fine
1 8 Ozs Pkg Cream Cheese
Hot sauce and Black Pepper to taste.
PROCEDURE:
1. Take the stems and gills from mushrooms and finely chop. Do same with garlic, onions (except Scallions), Water Chestnuts. Add in a frying pan with some butter and slowly cook until all the liquid is gone. Cool.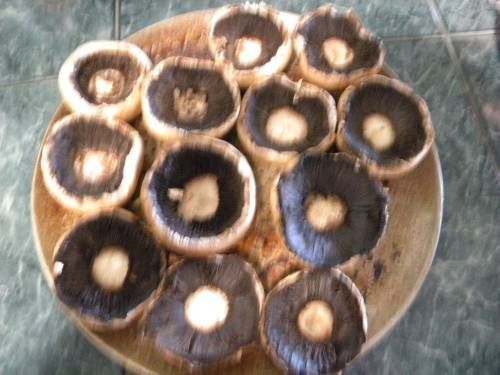 2. Take the cream cheese, softened, crabs or clams, uncooked scallions and seasonings and mix. Add the shroom stems and rest of pot. Stir until evenly mixed. Pipe into mushroom caps and place on bakiing tray, BGE indirect or oven 350F for 15 minutes or so. Goal is to get the shrooms softened. May want to add some parmesan cheese to the mix and/or some bread crumbs to firm up.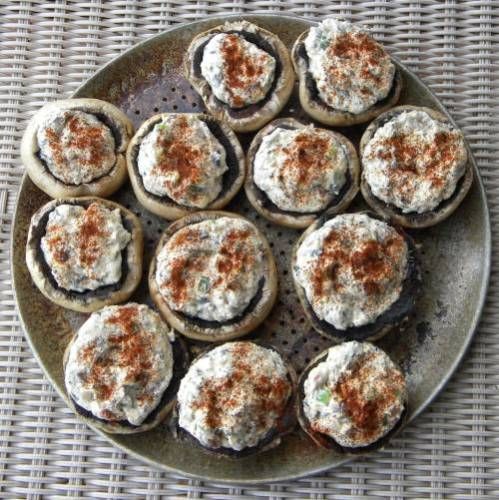 3. Serve Hot!
Recipe Type: Appetizer
Source
Source: BGE Forum, Richard Fl, 2013/06/03