Hope everyone is having a safe and happy Memorial Day weekend. Did some Oriental cooks recently.
Noodles, Pork Char Sui, Kung Pao, Richard Fl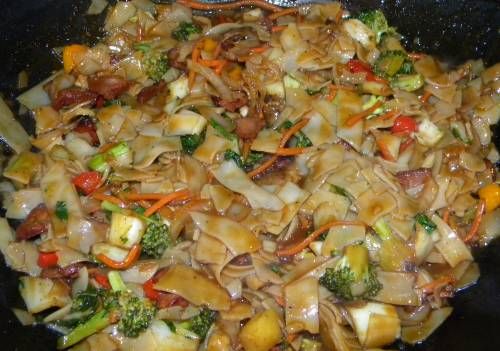 INGREDIENTS:
Kung Pao Sauce.
1 Tbs Oyster Sauce
1 Tbs Sugar
1 tsp Salt
1 Tbs Mushroom Soy
1 Tbs Sesame Oil
1/2 tsp Hot Chili Oil
Peanuts or Cashews to taste
MAIN INGREDIENTS:
Char Sui Pork, Cut into small pieces or slices
Bok Choy
Broccoil Florettes
Carrot Strips
Oyster Mushrooms, sliced
Red/Yellow Sweet Small Peppers
Bean Sprouts
Onion, White, Vidalia -- cut into thin wedges
Extra Wide Rice Flour Noodles.
Scallion Greens, thinly sliced
PROCEDURE:
SAUCE:
1. Make the sauce and add a little cornstarch w/water slurry to tighten up the sauce. Do This at the end when all the other ingredients have been heated and mixed and set aside. Do sauce and then add back the goodies.
Noodles:
1. Take some rice flour noodles, I prefer extra wide for this dish, Get a pot of water boiling, turn off heat and place the dry noodles in the pot for 10-15 minutes
Main Ingredients:
1. In no particular order. I just like to do the firmer vegetables first as they usually take the longest.
2. Bok Choy, Broccoli: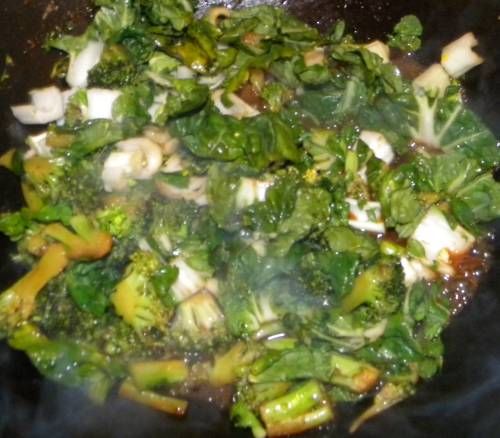 3. Char Sui Pork, Red/Yellow Sweet Peppers, Onions:
4. Carrots, Oyster Mushrooms:
5. Noodles, Extra Wide, Rice Flour:
6. Mix all and add sliced scallions on top:
Recipe Type: Asian, Main Dish, Meat, Noodles