been wanting carnitas lately so i read up on the subject. i eventually got here:
http://www.seriouseats.com/2010/07/the-food-lab-how-to-make-crisp-and-juicy-carnitas-without-a-bucket-of-lard.html
so i decided on adding lard to my boston butt pieces and covering it tightly, as i had leftover lard from hot smoking bacon this week.
pork pieces with seasonings:
smeared with bacon lard and the boston butt fat cap placed on top for extra drippings:

In the egg for 4 hours at 250f. completely sealed with new maverick temp probes so i can watch the temp as i sit inside now! It took 2 hours to reach 200f and then i kept it there another 2 hours, in that time it raised to 214, which next time i will try to avoid and keep it closer to 200-208.
here it is after resting for 20mins... fat cap still not gone, maybe longer next time? i drained the fat and juices and got rid of the fat cap.
pulled..this wasn't the whole thing, i removed some in a bowl to fry outside. this is leftovers that got vacuum sealed.
on the baking steel! steel temp was 330f, the dome was about 350.
more griddle action
all done and ready to be in taco heaven
on homemade tortillas before adding cheese and sour cream..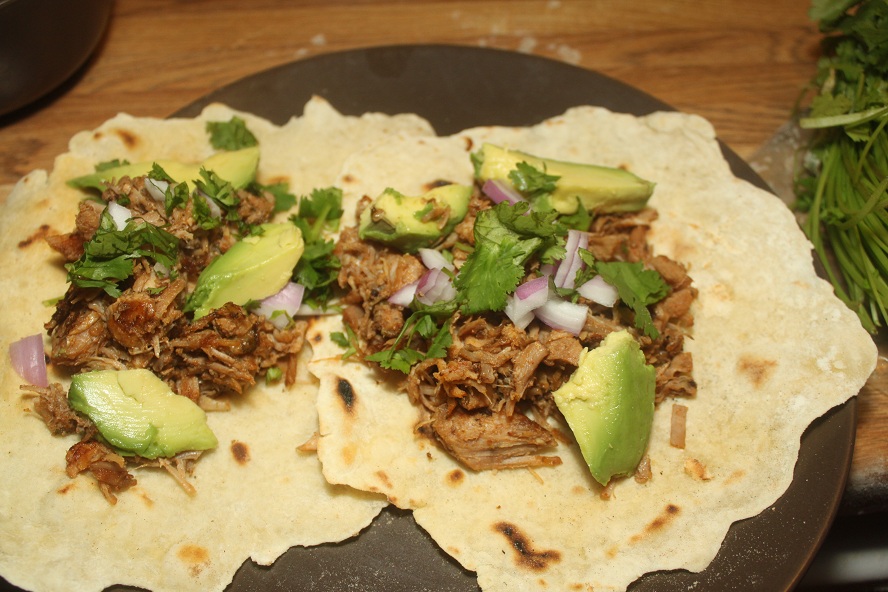 today for lunch im cooking up leftovers and i think i will fry the carnitas a little longer, i was just afraid of drying it out but other than that it ruled!