Welcome to the EGGhead Forum - a great place to visit and packed with tips and EGGspert advice! You can also join the conversation and get more information and amazing kamado recipes by following Big Green Egg to Experience our World of Flavor™ at:
Want to see how the EGG is made?
Click to Watch
Apple Smoked Maple Syrup Baked Beans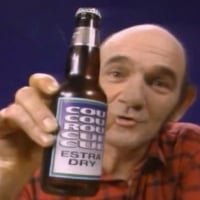 2 pounds (4 cups / 907 grams / 1 bag) White Navy Beans
Water (10 cups + 6 cups = 16 cups)
1 pound Salted Pork Belly cut in thick slices or small cubes
2 Onions cut in half

2 cups Maple Syrup
1/2 cup Molasse
1/2 cup Chili Sauce
3 teaspoons Dry Mustard Powder
Soak the beans overnight at room temperature in a plastic container with 10 cups of cold water.
Drain and discard the water.  Rinse the beans with clear water.
Transfer the beans to a dutch oven and add 6 cups of cold water.  Bring to boil over medium-high heat, reduce the heat  to low and let simmer for 30-45 minutes until the beans are tender (uncovered).
Mix the remaining ingredients and transfer to the dutch oven with the beans.
Place the cover on the dutch oven and bake on the egg @ 250F for 3 hours.  Remove the cover from the dutch oven and continue baking @ 250F for ~4 more hours adding wood chips to the fire.
Enjoy!
____________________
Entrepreneurs are simply those who understand that there is little difference between obstacle and opportunity and are able to turn both to their advantage. •Niccolo Machiavelli
Comments