Cooked a nice sirloin the other night and thought some wok food was good for the leftovers.
Beef, Sirloin, Mixed Vegetables
INGREDIENTS:
Beef, Sliced
2-3 Tbs Oil for cooking Beef
Veggies:
Bok Choy, Sliced
Broccoli, Small Pieces
Carrots, Sliced
Baby Corn, Pieces
Water Chestnuts, Sliced
Snow Peas
Bamboo Shoots, Sliced
Straw Mushrooms
Dark Sauce:
1 Tsp Salt
1/2 Tsp Sugar
1/4 Tsp Wine
1/4 Tsp Vinegar, Rice
1 Tbs Mushroom Soy Sauce
1 Tbs Oyster Sauce
1/4 Tsp Hot Sauce
Cornstarch Paste:
2-3 Tbs Cornstarch
2-3 Tbs Water
Procedure:
1 Sear beef in hot oil in wok, remove and strain, sear veggies and then remove. Make sauce, thicken as necessary with cornstarch paste, and then add veggies and beef back into wok.
2 Serve over cooked rice or rice on the side.
Recipe Type
Beef, Main Dish, Wok
Cooking Tips
FOR SZECHUAN add a few small red peppers.
Recipe Source
Source: Egg Foo Looey's, Richard Howe, 1994/05/25
Veggies: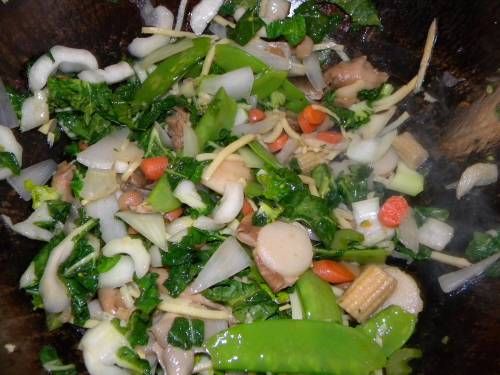 Took a care package to a senior citizen friend of ours with some white rice on the side.
Was in the grocery store 2 days ago and the button mushrooms normally $1.89 per 8 oz pkg were on sale, ended up being $1.00/lb so got 3 lbs and did some more Burgundy shrooms. Had some today reheated with white baguettes and chipotle gouda cheese. Great snack.
Into the crock pot: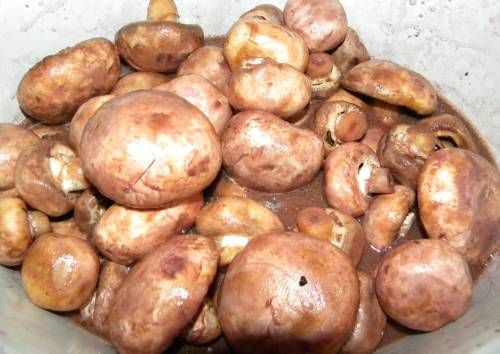 12 hours later on high these things are addictive- Goodby crack hello shrooms.
---
Richard Melbooooring Fl.
"KING OF LONEY", SELF APPOINTED!!!!!
IF YOU WANT TO DRINK ALL DAY, YOU HAVE TO START IN THE MORNING!!