Well, some last minute family plan changes left my core family (wife and kids) alone on Thanksgiving. With three kids under the age of 7, nobody but the wife and I really like the traditional Turkey Day dishes. So, we decided it wasn't worth going through the hassle of making a real Thanksgiving dinner only for the kids to complain and beg for nuggets. We wanted a laid-back fun Thanksgiving given the change in family plans.....and so we decided to try pizza for the first time.
This being my first time baking pizza on the egg, I cheated with pre-made dough from a company called "Brooklyn Pizza Dough" and the family's favorite pre-made sauce from Don Pepino (has a great fresh ripe / sweet flavor). I used the plate setter legs up, followed by the grate and then the pizza stone. My goal was to let the egg run around 500 for about an hour before cooking. Well, that was the plan. When I came back out to put on the first of my four pies, the egg was sitting around 600. Oh, did I mention the whole time I was fretting the idea of burning my original gasket (2 month old egg).
I threw the first pie on and it cooked wicked quick. The bottom of the pie had too much flour from the pizza peel. I used too much flour to prevent the pie from sticking. That excess flour burnt up a bit. I corrected that mistake on the three other pies. Overall, I was really pleased with the results. I got that brick oven pizzeria flavor I love so much. I made pizzas for several years throughout high school and college. So, it was a walk down memory lane to slap some dough and toss it in the air.
I intended to take lots of pics of each pie, but the night got busy quick. So, I only snapped a pic of the first pie. Lessons learned: I need to get the stone higher in the dome. Next time I'll rig something to get the stone higher to catch the heat from the dome. I may try corn meal next time on the pizza peel. I suspect it won't burn. Anyone use corn meal?
The dough I used...which I recommend. I got it from Harris Teeter.
The Veggies (sweet peppers and onions) for the veggie pizza I forgot to take a pic of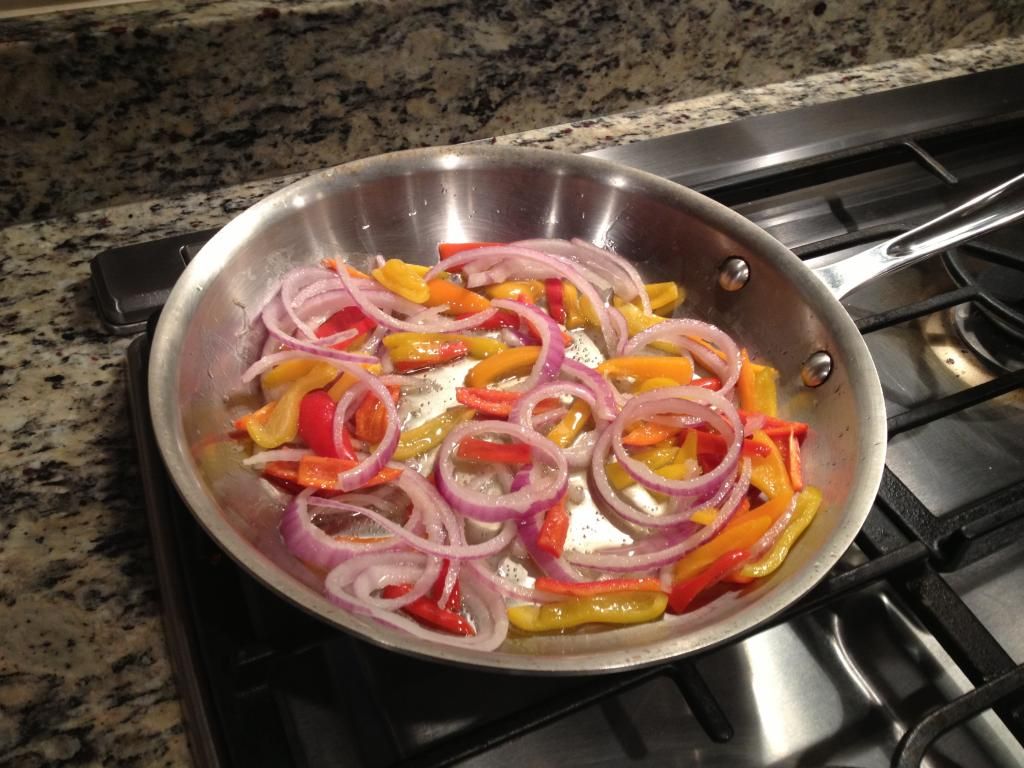 The first and only pizza I took a picture of.