Decided to make some Short Ribs today. This has always been one of the best things I cook, at least according to my family. However, I had never made them on the Egg. So, I got out the Dutch Oven and went to work. The recipe I use is Asian-inspired and is a great way to make this cut of meat.
Here are the ingredients for the sauce. Soy, Rice Vinegar, Sriracha, Crushed Red Pepper, Brown Sugar, Ginger, garlic, lemon, scallions and lemongrass.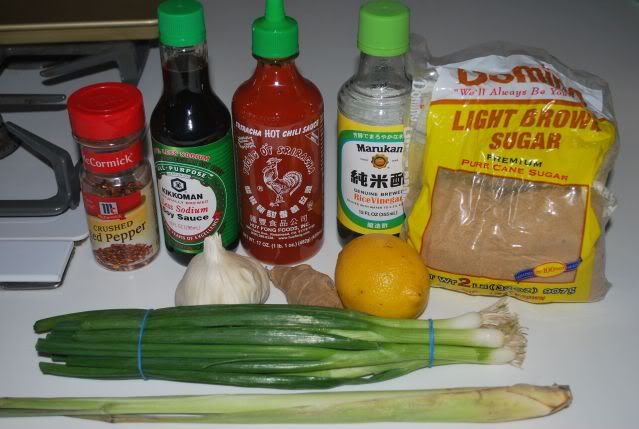 Here are the Short Ribs. My butcher sells them both regular and boneless and while I normally prefer bone-in for any cut of meat, for some reason, these are even better with the boneless.
I set up the Egg for 350 and seared the ribs to brown them on all sides
After searing, I reset the Egg to Indirect with the Platesetter in legs up. I also decided to set up the DigiQ to help maintain the temp. I put the grid on top of the legs and threw everything in the Dutch Oven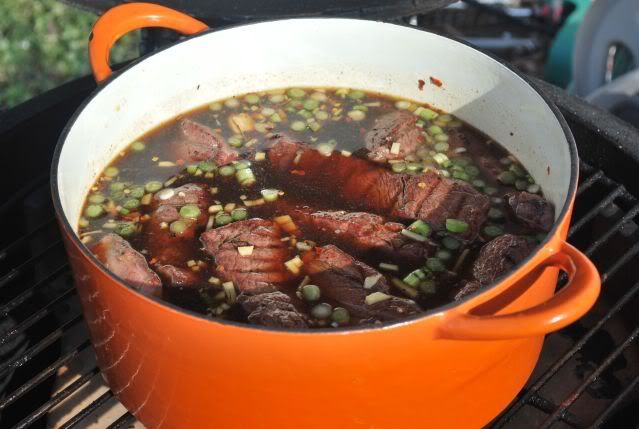 I let them cook for about 3 hours. You then take out the meat and strain the sauce. You reduce it by about 2/3 after adding hoisin sauce and Orange Juice and put back on the Egg now at 425 degrees and let the sauce glaze on the meat. Takes about 10-15 minutes and then they are ready to eat.
We served them up with some Brown Rice and Broccoli. So good.
While I thought my Short Ribs were good before, doing them on the Egg took them to the next level. I decided not to add any wood but the meat and sauce still retained enough smoke flavor from the lump to make them taste great. This will be my go-to way of cooking these from now on.