Was a bit bummed when I heard that Marc Cardinali wasn't going to make it down for the Plano Eggfest. For those that don't know him, he's the guy responsible for Cluck and Squeal Rubs. I was fortunate to be able to cook next to him last year at the fest and he's a heck of a guy. So these ones are for him.
One of Mrs. G's best friends has been in town this week for work. Mrs. G mentioned that she might come by one night for dinner and to hang out after work. I was planning on doing a spatchcock chicken, but when I got to the store, they didn't have any whole chickens! I was a bit surprised by this, but rolled along with it and picked up some quarters instead.
Got home and trimmed off some of the excess fat, applied some Cluck and Squeal and threw them in the fridge to air dry for a few hours.

By 5:30 we still hadn't heard a word from her friend. I figured we weren't going to hear from her and that she wasn't coming over, so I got the Egg going and stabilized at 400F using my BGE Grate Extender (I'm gonna be so happy when we upgrade to an AR). Tossed in some Jack Daniels wood chips for smoke and the chicken went on around 6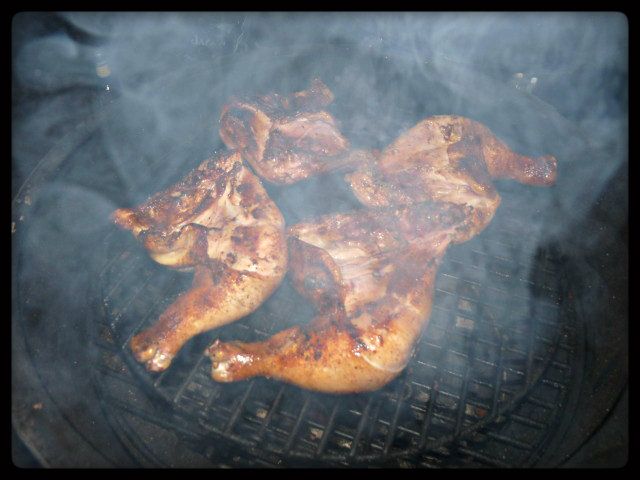 Of course, you know how this is gonna go...about the time I'm ready to pull off the chicken, her friend calls and Mrs. G has to leave to go pick her up from her hotel.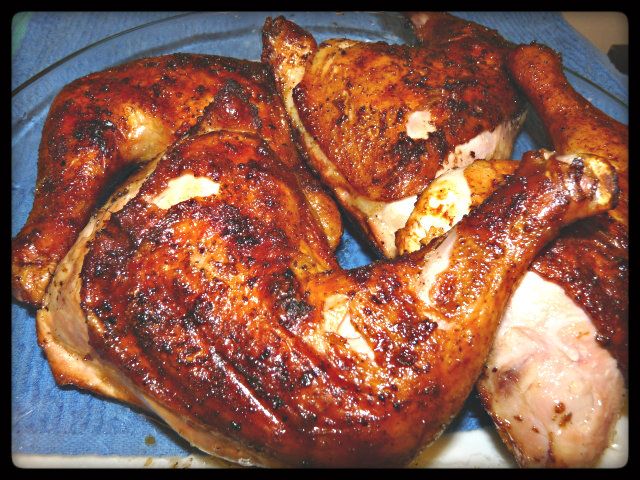 Chicken got wrapped in some foil and stuck in the oven while I waited on them. In the meantime, I prepped some asparagus to grill when they got home and whipped up some of The Pioneer Woman's Fettuccini Alfredo. If you haven't tried this, its super easy and pretty darn tasty. I've never made an alfredo sauce and was worried I might screw it up, but this was so easy even I couldn't manage that. Unfortunately, by that time it was already 7:30 and I was hungry, so no pics of plated pics this time.
The Cluck and Squeal was really good, as always. Seems like lately it has fallen out of rotation here (as well as at my house). Doesn't get mentioned as often as it used to. I'm moving it forward on my spice rack after last night. I forgot how good it can be.
Oh yeah...got one extra left over for lunch. Pretty excited about that.
Rowlett, Texas
Griffin's Grub or you can find me on Facebook
The Supreme Potentate, Sovereign Commander and Sultan of Wings