for coming up with this wonderful maple bourbon baked ham recipe.
Friend of ours recently passed and he loved these hams during the holidays, so as a goodby to him I cooked this am for his sister and BIL who arrived from Germany today.
Started with a 10 pounder spiral cut:
Marinated it overnight in the frig, I like to use spiral cut as they are easier to marinate, take less time to cook and are easier to serve:
Cooked indirect on my small for 3 1/2 hours at 250F with 3-4 medium chunks apple wood for smoke, then added some turbindo sugar, maple syrup, more bourbon and ground cinnamon and opened the egg to 450 for 20 minutes to sear it. Internal was between 135 and 145 depending where I stuck the thermapen. Total time just under 4 hours.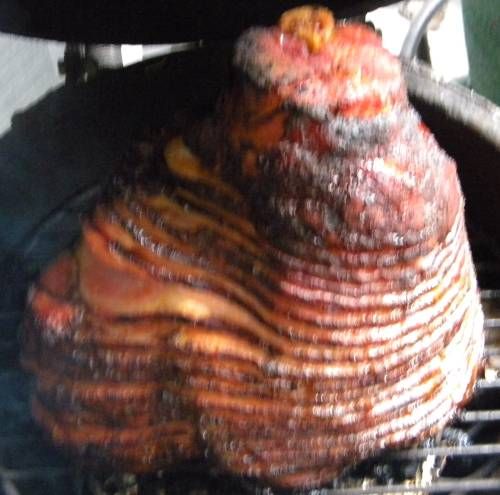 Don't forget this is a wonderfully easy addition to the holiday meals and the bone is to die for soups.
Thanks for looking.
---
Richard Melbooooring Fl.