I got my LGE on Memorial Day weekend and have been following this forum almost daily ever since. I am eager to try everything on it. So far ive cooked a butt, baby backs 2x, steaks, pork chops, and now smoked meatloaf. I love meatloaf! who doesnt? Butt i have never been satisfied with the results in the oven. "What am i doing wrong or why isnt it like mom's." I pretty much had given up.
Well all the meatloaf talk on here lately has had my mouth drooling (thx user "onelikearock").. so i decided yesterday was the day and I was even going to wing it a little with the ingredients because i trust my new pretty egg isnt going to do me wrong.
This is what i used: 1.5 lb chuck, .75 lb Italian sausage, medium onion, fresh cilantro, 6 oz shredded sharp cheddar, 1/2 cup milk, 2 eggs, 1 cup Panko Bread crumbs, tbsp kosher salt, tbsp ground pepper. For the topping I used Onelikearock's:
Tbls mustard, 1/4 cup ketchup, 1/4 cup brown sugar.
I was completely out of any wood chips, but i had some hickory chunk so i found the smallest pieces in the bag for my smoke. probably about 8 pieces the size of a match box. I fired up the egg and when it hit 200 I threw in the chunks and put the place setter with the legs up and drip pan. I had prepped the loaf on the standard grate on the patio table nearby and kept it there until the grill was ready. It was 97 degrees outside and the egg sure didnt want to stay low (hovering at 285-290 with bottom door almost shut and dw at 1/2 open). I was able to get some shade on the egg with an outdoor umbrella, I didnt know if it would help much, but dropped the temp 7-10 degrees in 1-2 mins. I waited a little longer until it finally stabilized at 260-270 and placed the grid and loaf on the egg.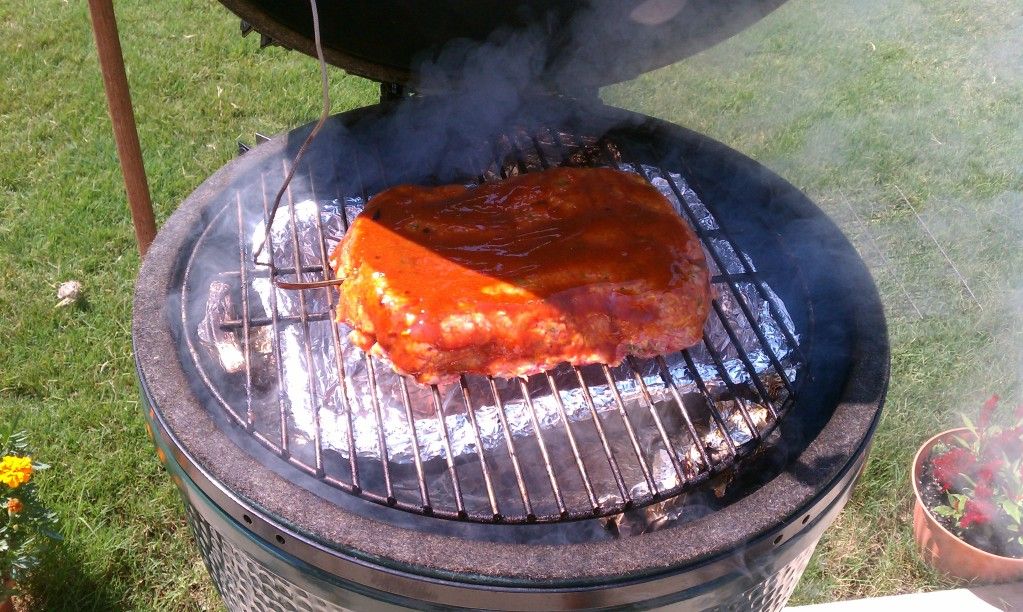 It smoked mildly for about 30-45 mins. i had the bottom door at about a key width open, dw about 1/2 open for rest of the cook. Temp checked with maverick. I put loaf on grill at 4:30, off at 8:45 or so. The loaf did plateau at 151 for a good hour, then slowly started moving back up. The smell coming from the grill was amazing. I pulled it right at 160 and let it rest for 15 very long minutes.
Served with Mashed Potatoes and green beans. Once it was done resting it looked amazing and juicy. I thought we would need to baste with leftover sauce, but it was oozing with sauce and juice so I decided against it because I didnt want to have the raw sauce flavor mix with the smoked flavors. The meatloaf was amazing. We were so hungry and drooling i forgot to take plating pics..thats a good sign! My quote was, "i finally have a meatloaf recipe, and I'll never cook one in the oven again."
Lastly, my neighbor a restaurant chef, had been very interested all afternoon with how this would turn out. I gave him a slice later when we were done and you should have seen his grin. "mmmm... when are you making this again, lets make 2", he said. -- love my egg!
thx all!