There have been many new wok owners recently so I thought I would ramble.
These thoughts have come from a few "Q" forums and fellow EGGheads and I thank all the contributors.
Went to a garage sale today and picked up a 12" and a 14", wood
handles, 2 aluminum tops and a 7 1/2" blade length Chinese cleaver, ALL
for $4.
But they needed to be cleaned.
Before: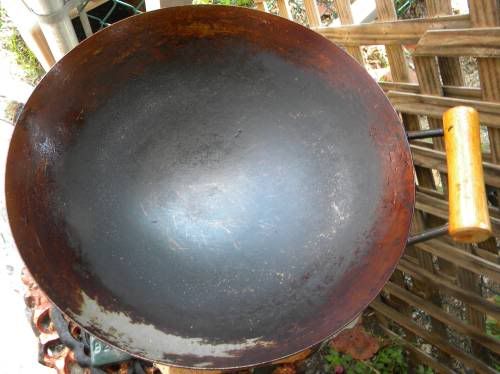 After heavy cleaning with oven cleaner:
WOK TIPS:
Assuming that you have your wok seasoned and ready to cook, let's wok & woll!
1.Mis En Place:
Is to have all of your ingredients chopped up, and put in separate
bowls (meat/poultry, veggies, sauce or ingredients for same). In order
of how they go in the wok. The cook is so fast, you don't have time to
look for something.
2.Put wok on hot BGE 450F-600F, heat and let sit 30-60 seconds.
Some like to use a spider up or down position depending on what is
cooking. With EGGsperience you will get comfortable doing it your way.
There is not a good or bad method.
You know when the wok is ready when a drop of water dances.
3.Now you are ready to add a tablespoon or so of oil. I use peanut
oil (for the higher burning point), but some like grape seed or canola.
Don't pour your oil into a cold wok or your food will stick. Let the
oil get hot, a minutes or so, test by adding a piece of meat/poultry.
When it sizzles I add the rest of the meat. Swirling the oil around the
wok to get the oil on the sides, at least high enough to where the food
is going to be.
4.Depending on how much you are cooking you may do this in batches.
I add just enough food to cover the metal surface halfway up the sides.
IMHO this allows maximum surface contact for rapid searing. When done
remove to a separate bowl.
5.Next do the vegetables, Cut your veggies on the diagonal so there is more surface area. Depending on what is being cooked.
I may do the veggies separately or a few at a time. If steaming, you
just need a lid for the wok. Again the goal is to cook, but not
OVERCOOK. Remove them to the bowl with the first batch.
6.Unless you are trying to sear meat, keep the ingredients moving
with a spatula at all times. This will allow even cooking and sealing of
nutrients.
7.At this point some will add everything back into the wok and add
the pre-made sauce. I prefer to make the sauce in the wok and then add
everything else back into the wok and stir to coat. This also keeps the
meal from getting over cooked.
8.If you do not have a surface that will take hot woks without doing
damage, buy a wok ring and keep it right next to your egg. It will
keep your hot wok from burning the table surface after removing the wok
from the egg.
Unless you are using a wok with a wooden handle, a proper set of high heat gloves is highly recommended.
Happy Wokking!