Often there is questions about getting the egg too hot then trying to cool it down for a cook.
You will see below that if an egg is taken too hot it is going to take a long time to cool down. A nervous user can make many vent changes and eventually completely kill the lump without realizing. And the egg will still be hot. The brisket was about 40° to 45° when it went of the grate.
Here is a graph showing a brisket cook I had. I got the egg too hot but had to get the brisket on for cooking.
This is the stoker log recording the cook. I got the egg to 270° dome (red/pit line) and put the packer on the grate (green line). Probe in the point and flat. Vertical lines at the bottom are fan duty cycle.
Even with the cold Packer on the grate it took almost 8 hours for the egg to cool down from enough to demand air blown into lump bed. 270° down to 250°. There was a short fan on time at 2:15 hrs. but that's it.
The DigiQ blower will allow free air to pass through the blower into the lump. However, the Stoker's blower has a flapper door that pretty much eliminates air passing through the blower.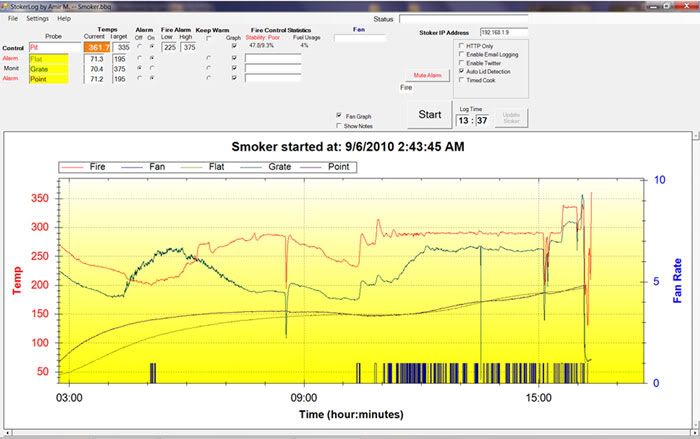 This is why folks will say get your egg stable before putting the meat on.
GG