As I said yesterday, my wife had found a leg of lamb in the freezer that I had stashed in there after Easter and she wanted to try it out. After much research and suggestions, I decided on following The Nakid Whiz's recipe for stuffed leg of lamb with spinach, tomato basil feta cheese and toasted pine nuts.
The wife caught some shots of me in action.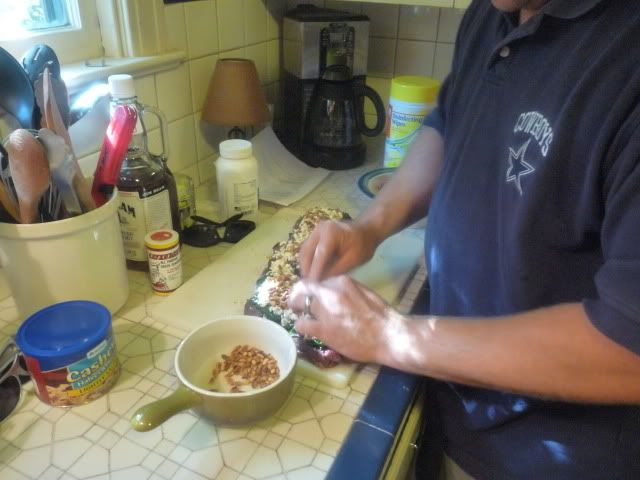 Ready to roll up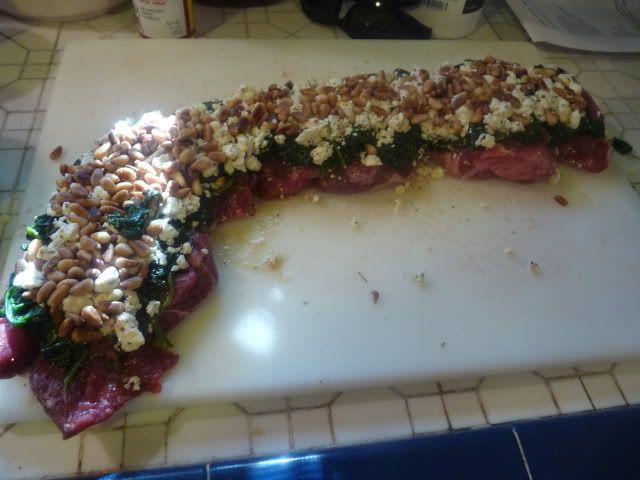 Rolling it up, this part was messy and I didn't do such a great job. Think I had too much stuffing going on.
The recipe did call for DP Tsunami Spin, but since I don't have any, I subbed in Cavendar's Greek seasoning. Told you it was messy.
Onto the egg at 350 direct with a raised grate and some apple wood chips for a hint of smokey flavor.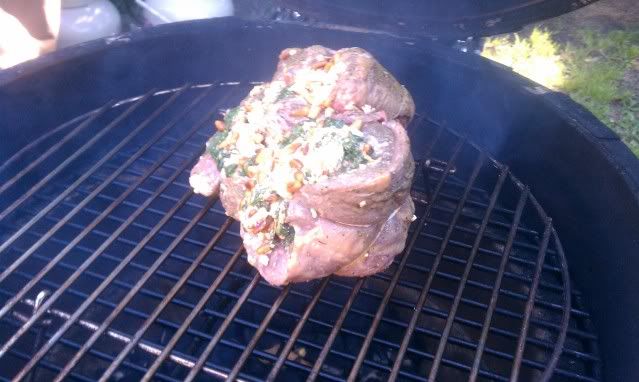 I didn't pay any attention to time. I forgot to look at a clock when I put it on, so I have no idea how long it took. When my Thermapen registered 135, I pulled it off and let it rest. Here it is sliced up, nice and medium rare.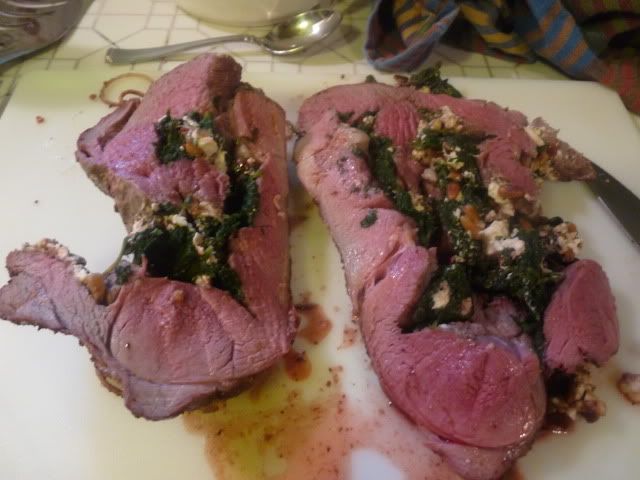 Plated up with some mushroom couscous and a little salad. Had a nice glass of red wine to go along with it as well.
The wife and I thought this was a big hit. I think next time I might let it go a little bit longer and if I use Cavendar's again, I think I would apply a bit more as I really couldn't taste it. I think I would also use a bigger leg of lamb. This one was only 2.1 lbs and it made it kind of challenging trying to stuff it and roll it up. Might have been better to cut it into pieces and grill it up another way, but we wanted to try this recipe. We will definitely do it again and have people over. Kinda has that "Wow" factor that would impress.
Thanks for looking and a big thanks to The Nakid Whiz!
Rowlett, Texas
Griffin's Grub or you can find me on Facebook
The Supreme Potentate, Sovereign Commander and Sultan of Wings