Well Guys...as a new Egghead that is addicted to this cooker, food and forum, I felt the need to seek out some custom BBQ tools...Did I really need them, No, but I like to have some cool accessories to go with the Egg! I spent a few days searching the internet for some custom manufacturers and after a few strike outs I came across Bob and Rosie Lewis with Dusty Mustang Leather. I was searching www.etsy.com and found a Steer Head Meat Turner and had to have it! After sending some messages to the shop owners I found out they make an entire line of BBQ tools that are hand forged and the handles are covered in hand braided leather including a fork, turner, and spatula. I inquired if they would make a bottle opener to go with the set and they agreed to do so and "whipped" one up the next day! After seeing the quick work I had a thought...perhaps they could make a "wiggle rod". I sent a few email links with the specs on a few wigglers and Bob went to work in the forge to make a sweet tool!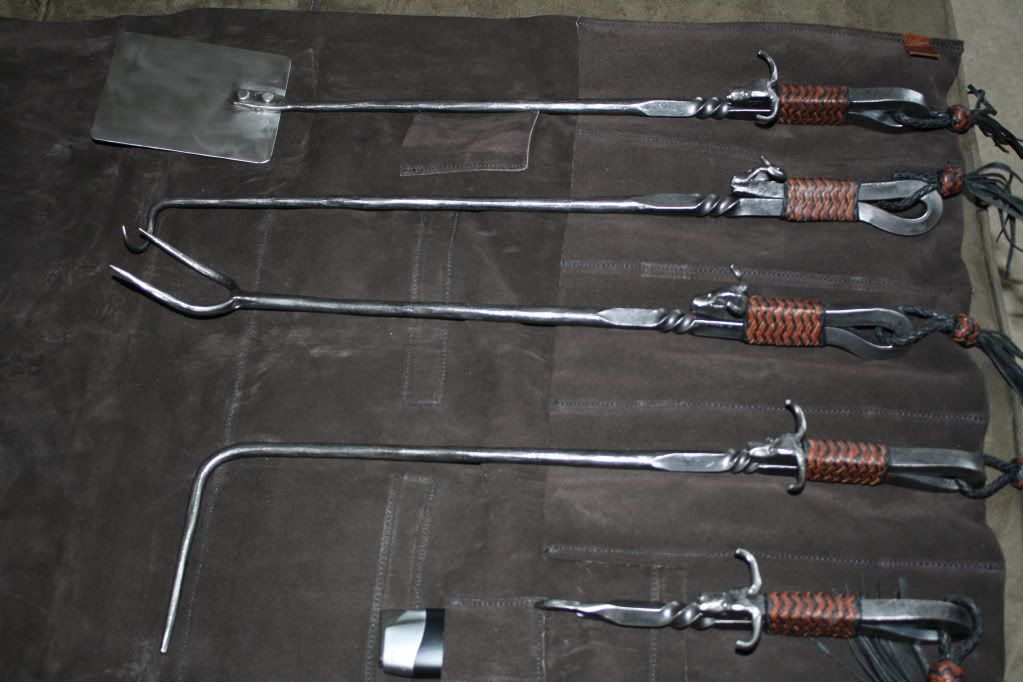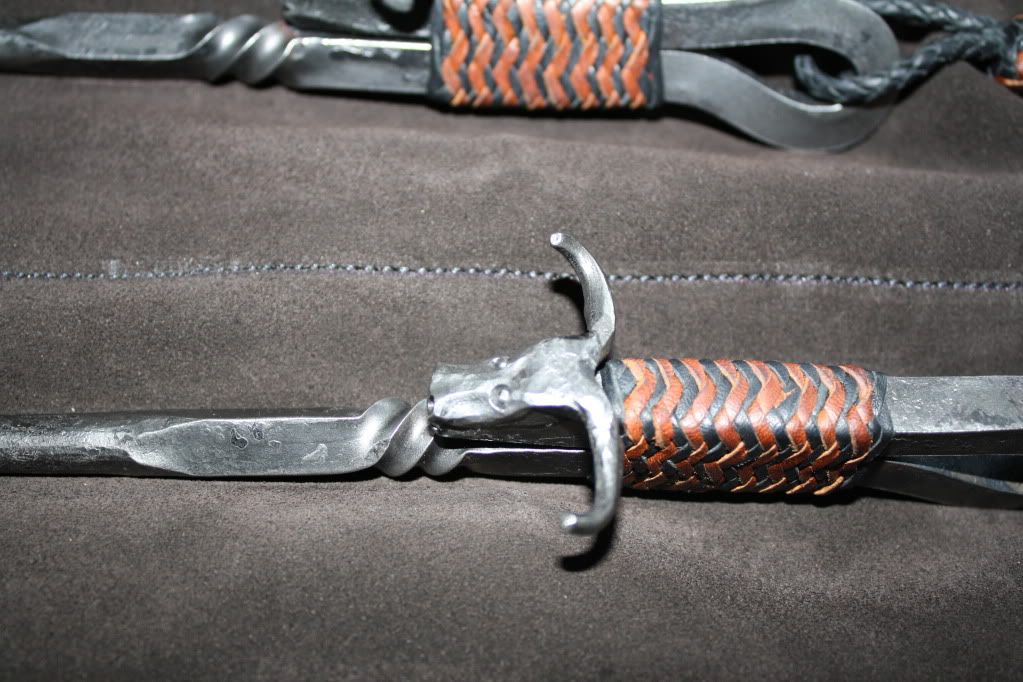 Once the tools were complete I needed a place to put the tools. After reviewing their online store and shop in ETSY, I saw that they did leather work as well. I asked if they had ever made a BBQ tool "roll." They hadn't but thought it made sense to do so! Rosie went to work designing a roll made in canvas as a mock up for the suede to follow. After a few modifications per my request we came up with a roll that would hold all five tools, a stem thermometer, butane lighter, and Leatherman tool. I was able to get exactly what I wanted made to order! So amazing!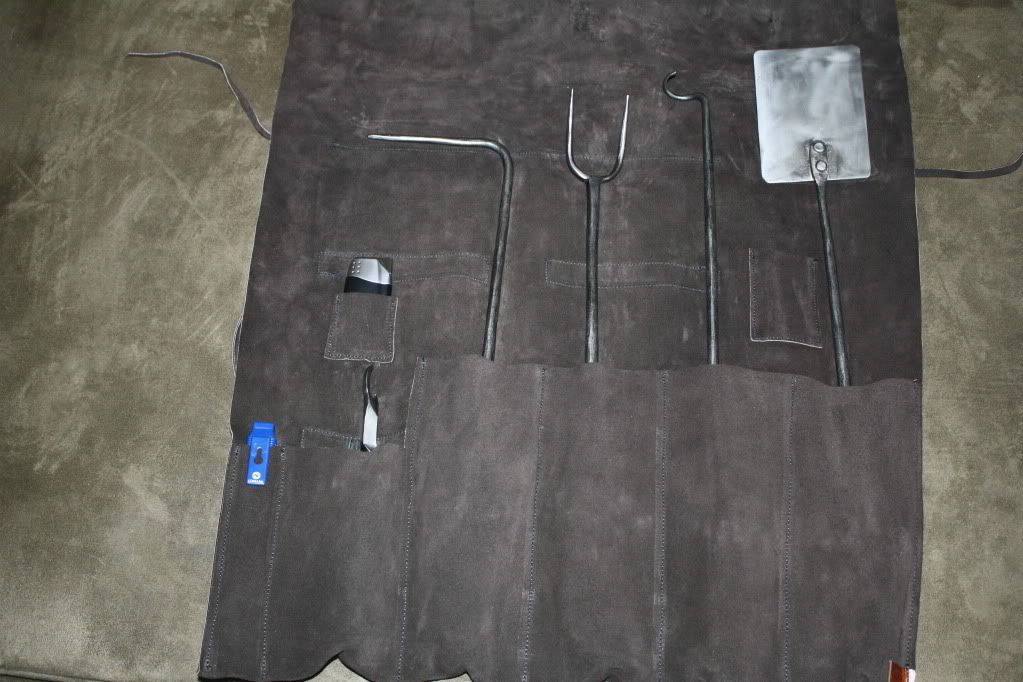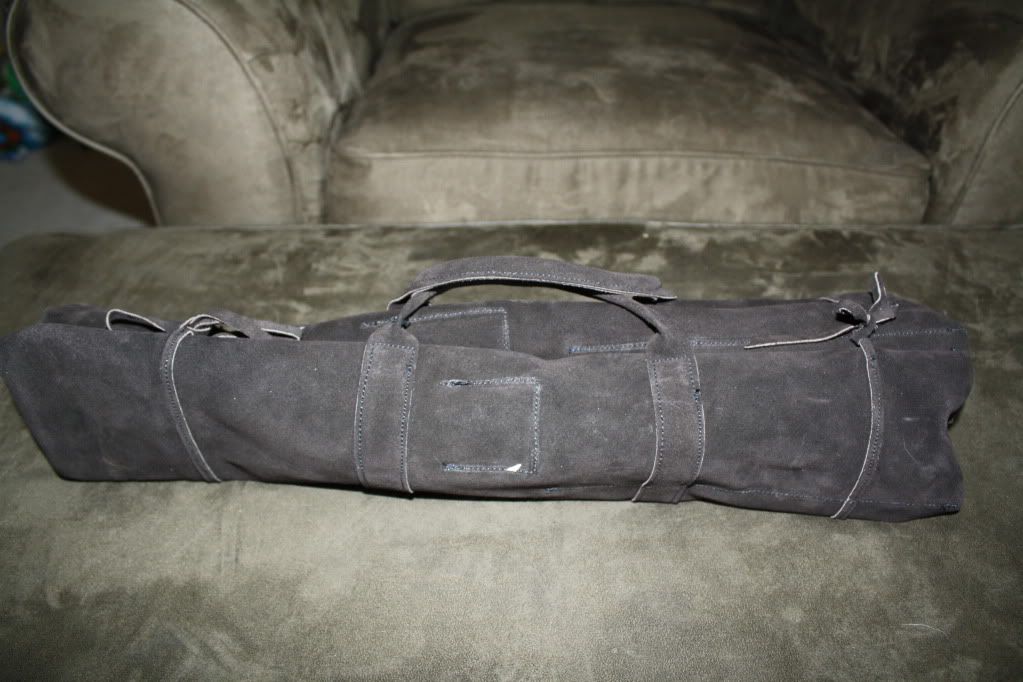 If this wasn't enough Rosie thought I might like a Leather BBQ apron so she went to work and made one up!
Both were treated to reduce staining and sent off.
I write this because it is rare today to find a vendor that works 100% for your complete satisfaction. Bob and Rosie are wonderful people who take great pride in what they do! If this wasn't enough these items were made in the US by two California retirees! I don't know if there is a market for these in the "Eggdom" but I thought I would share my experience and perhaps send some work to some great people who "bent over backwards" to make me a happy "egger!" These are amazing tools that feel great in your hand! Here is their contact information if you are interested. If you need any more details or want to talk about my experience please feel free to contact me via email or Ping!
Bob and Rosie Lewis
www.dustymustangleather.com
Dusty mustang leather shop @ www.etsy.com
Email -
[email protected]
I hope this finds everyone well!
Eddie