Some progress.
The bresaola just finished the dry cure. Here it is at the start. (Again, iPhone pics, with apologies)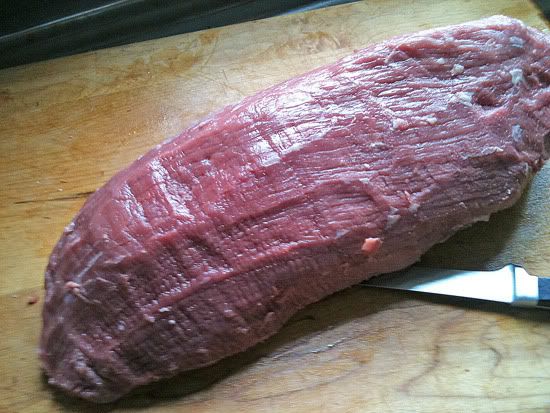 and today, week two, before the rinse:
Tied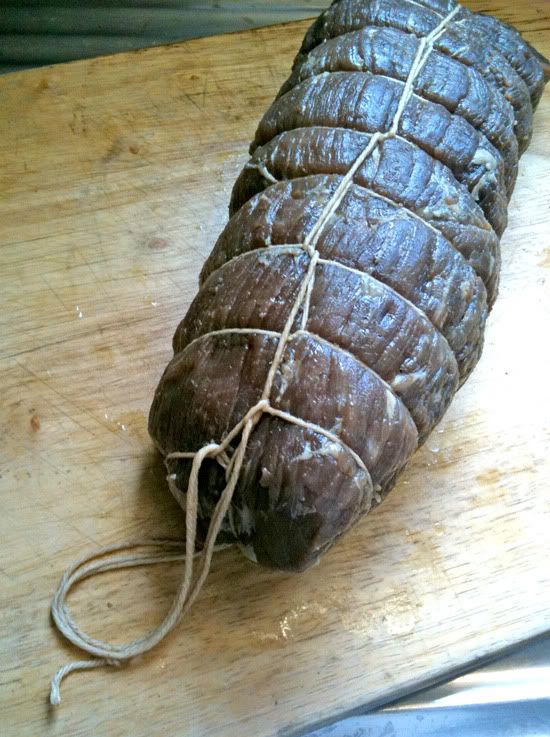 and Hung, to dry for three weeks minimum, perhaps a month.
Finally got a chance to start the Prosciutto and the Country Ham, both procured Fresh from the aptly named 'Blood Farm' of Groton, MA.
A nice 16.5# Pork Leg
Step 1, remove the Aitch Bone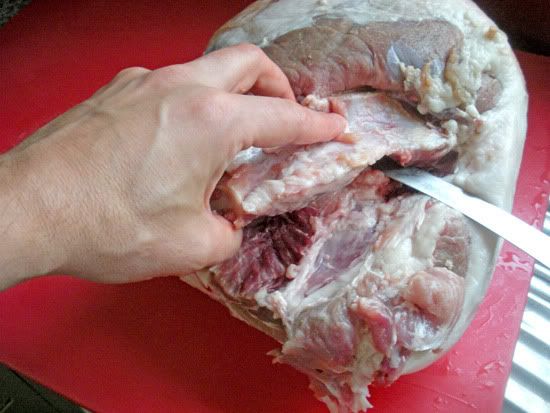 Step 2, create a salt pocket around the shank end, and perhaps under the skin at the hem of the fat
Also, a necessary, but not too pretty step. Actually did this first, but wanted to bury the pic in here so the squeamish would not see it right away :laugh: You must force (really work it, massage) the blood in the leg (arteries and veins) from the shank end out the severed end of the upper leg. People talk about 'blood' in their steak. There's none, really.
THIS
is blood.
The curing
Cheapest simplest cure so far of all. Three to Four pounds of salt.
Work it vigorously, very well, into the shank end and salt pocket, as well as in and around the bone and the joint where the Aitch bone formerly was. Jam it in, and then force in more. The salt sticks reluctantly to the skin, but do your best. Then, skin down into a roaster or pan large enough to catch the runoff, first few days it will be about a cup or so of 'water'.
Here's the leg in Old Faithful, our oval enamel roaster (non-reactive)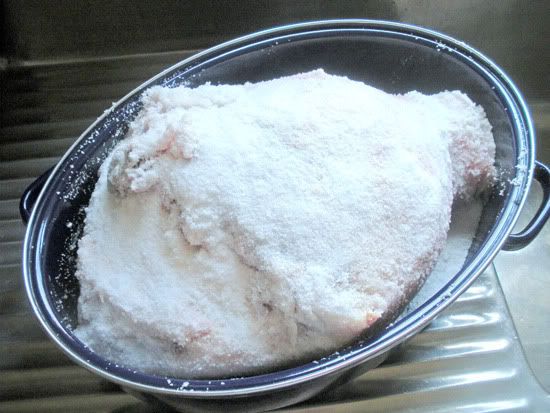 I turned the cover upside down, and placed it on top. Into the fridge with ten pounds or more of weight (I actually used the Country Ham, which follows)
The country ham was a matched pork leg that I got at the same time as the other. Here are the cure ingredients
All the dry ingredients mixed well with the molasses, and a veritable mortar of sorts was created
Applied the dry cure forcefully into the shank end and the joint (aitch bone also removed), and the remainder spread over the entire leg, skin included. Then bagged in a large ziploc bag, placed in the upside down lid, and both into the fridge. One day per pound.
Today, about a week along, I took the prosciutto out to check for progress and to drain off any free running liquid, and then to re-salt any exposed areas.
Here it is resalted. With about a 1/3rd of a cup of run off
Both hams are already very firm. In a way, the Country Ham is almost firmer. Sugar is as (or more) hygroscopic than salt. It's sucked quite a bit of water from the leg, and the leg is now in a semi-brine of the cure and its own liquid.
After a little over two weeks, these will get a rinse, have the exposed flesh larded and peppered, the country ham cold-smoked about 18 hours, and then hung next to each other in cheesecloth. If all goes well, the ham will be for Easter, the prosciutto for next summer