I needed a break from my usual diet of chicken and Boca Burgers and found some flank steaks at Sam's that were priced right. Yesterday I made up an experimental marinade of . . .
1/2 C Teriyaki Sauce
3/4 C Mirin
3/8 C Rice Vinegar
Juice of 3 Tangerines
Zest of 2 Tangerines
1 T grated fresh Ginger
1 T Texas Pete Garlic Hot Sauce
2 T Honey
1/2 t Dry Mustard
1/2 t Nutmeg
1/2 t granulated Garlic
1/4 t Black Pepper
Boiled briefly to work the flavors
. . . and marinated the flank steaks till this evening when I was ready to cook them. The egg was set with the CI grate low and dome was about 500º.
Side two . . .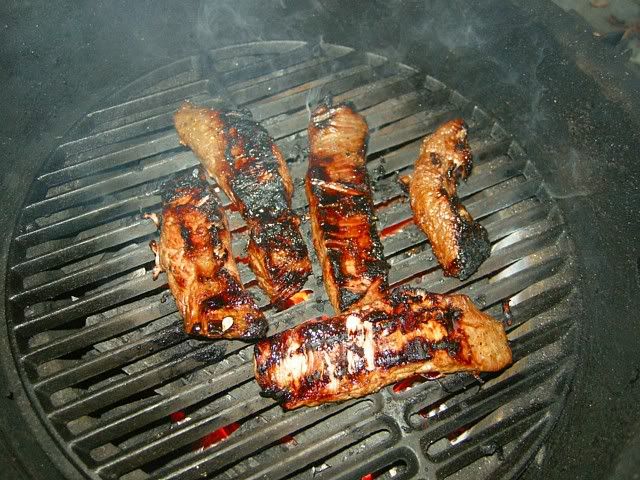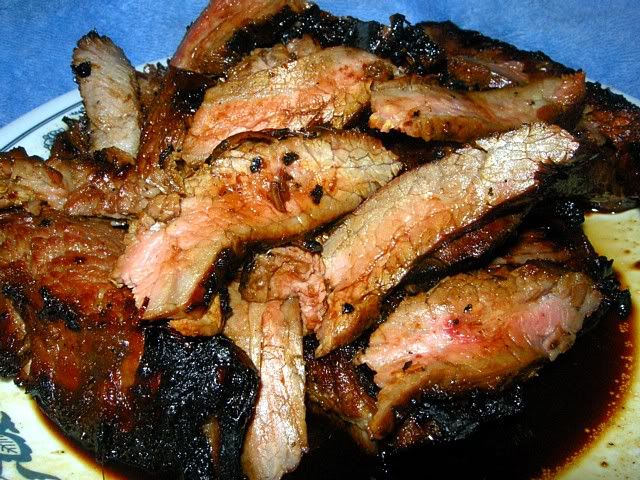 I have not used my CI grate in a long time and had forgotten just how efficient it is, the steaks were closer to medium then I normally like but at least they were not burnt. The char gave them great flavor and the marinade was a success. The dominant flavor from the marinade is the tangerines. I would have thought the teriyaki would have been stronger then it was. The tangerine flavor is not to bitter from all the zest nor is it to sweet but is quit pleasant with the steaky char going on with the meat. A tiny touch of salt at the table really rounded all the flavors together.
Happy Easter All,
Blair