I have an older Large Egg and when I added a new fire screen under the bottom vent cover, I had to pry the vent sliding channels out with a slot screwdriver, top and bottom, because the fit was too tight. Finally got it to work.
Last night I used the Guru adaptor on the vent to do my first overnight pork butt (I've always done them in the daytime) and at midnight in limited illumination I had the devil of a time closing off the adaptor with the vent door. I finally used the heat tape that Chubby gave Mickey who sent some to me, covered the open slot, and the butt was done late this morning.
I just went out there with a hammer and wide slot screwdriver to see what it would take to get the vent door closed. It took a lot! I pried out the sliding channels some more, banged into the right side of the adaptor (which knocks the sliding clip out of place...) with the slot and the hammer, and eventually got it closed.
I could never have done this at midnight! I just stuck in the kill plug and decided to ask you guys if there's any way way to slightly curve in the steel on the right side of the adaptor. I don't have a lot of hand strength and is that something a machine or other kind of shop could do without ruining it? Or some way I could do it at home?
This is as far as the door goes without beating it to death: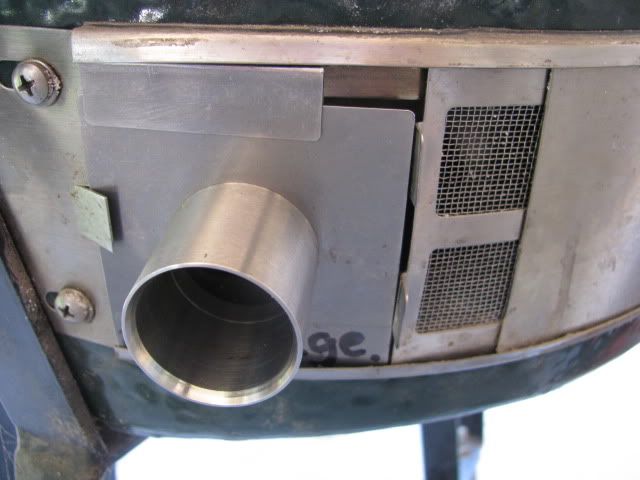 This as far as it would go just prying out the channels:
After a lot more prying got the door to catch up to the screen:
Finally got it to close after a lot of hammer and screwdriver work:
This is how I'm leaving it until I know what to do about the unbendable steel:
My tools: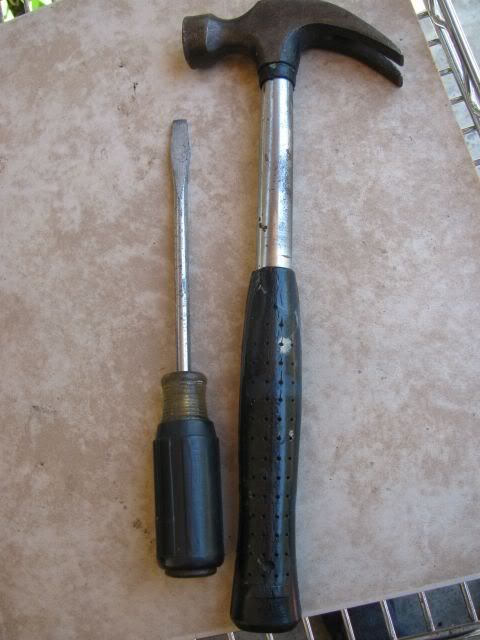 I can get the clip up in the groove, it just falls when I bang on anything. Any advice gratefully accepted.