Evening friends. Have been away a while due to a lot of over time. Only cooked one time in the last three weeks.That is what almost straight 12 hour shift work will do to you. Doesn't look to be letting up any time soon.
Haven't had it in me to post but I feel I need to as he was as much a fixture and part of the Forum as me.I regret to tell you that Jake, my little Nanday parrot and forum mascot, died Sunday morning at 3am. He was fine Saturday morning when we took Auron to Schutzhund training in Little Rock but knew he was bad sick when we got home that evening. I made arrangements to meet specialist vet out of town at 8am Sunday morning and Doreen was going to take him while I was at work. Alass it was not ment to be. He could not hold his head up off the bottom of the cage when I got up at 2:30 for work.
Twenty five years I had Jake. He was a scared, crazy little bird back in Oct. of 85' which I first moved out of La. Tech dorms into the frat house. He was for sale at Walmart for about $150 which was a lot of money back then for a college guy but I wanted him so I sold some school books, pocketed the money for them from my folks and bought Jake. I still have pics in my head of walking around in a loin cloth with Jake perched on a bamboo staff at frat parties!! Lol Nothing bothered him. People, strange places, noise he took it all in stride. Those who were at Oklahoma last year and were privileged to meet him know what I mean. He flew from person to person in Ann's room flapping his wings and screaching because he was happy. I don't think there has ever been a better adjusted bird any where.
For 25 years threw happyness and sorrow, college, first job and home, marriage and countless deaths of my other animal kids Jake was the only constant. All ways there, never changing. Now he's gone and the world is just a little smaller because of it. Advradge age of a Nanday is about 15 years and as the Bible says he was old and full of years and I have no regrets about his care or the way I treated him but sure miss my little buddy.
I all ways say Life is for the living and Jake would not want us to be sad. At 45 I'm old enough to know never is a long time but can't see a glass of tea with a plated food pic for a long time out of me. Just not right with out a little green bird on it. Good night friends.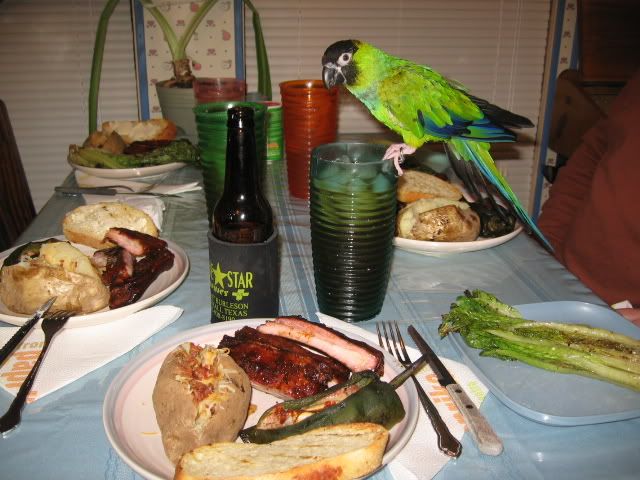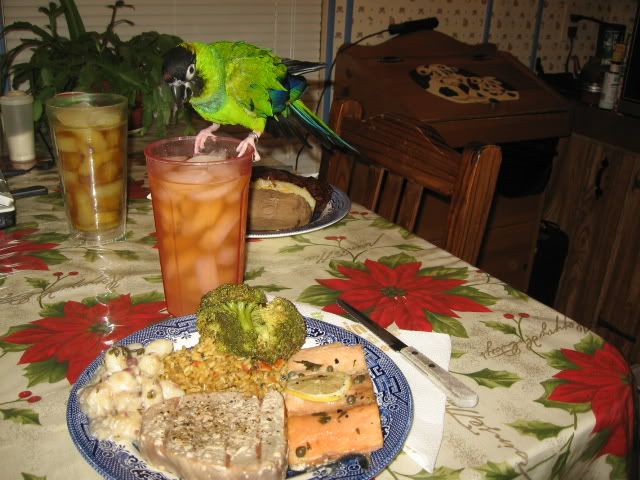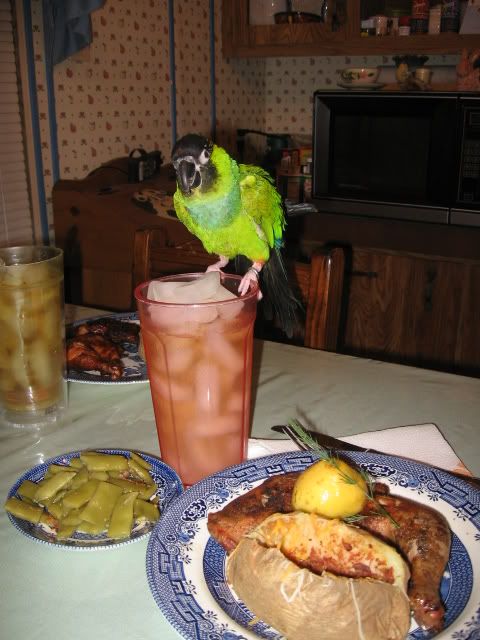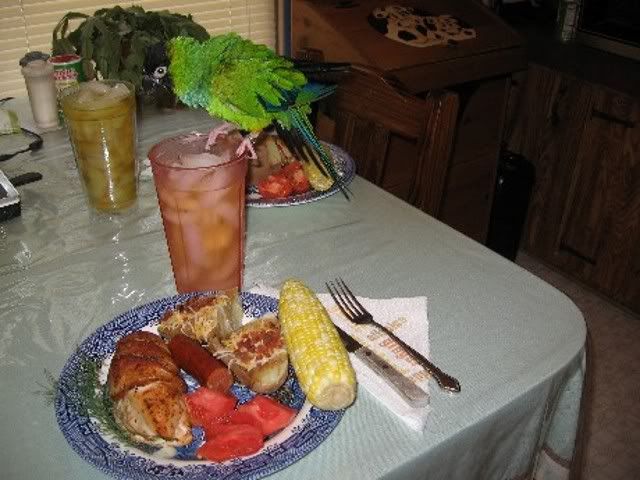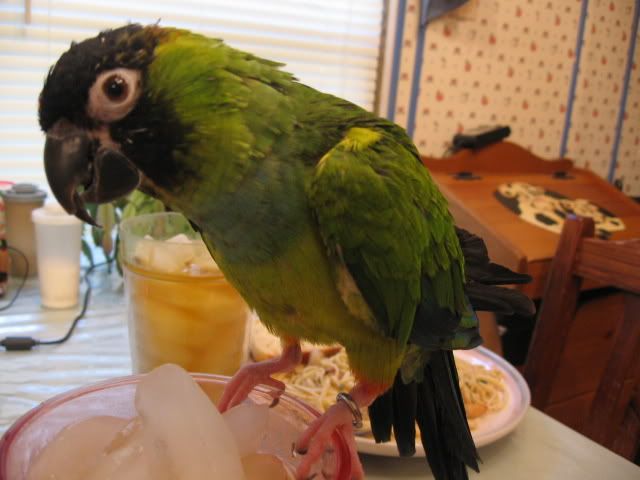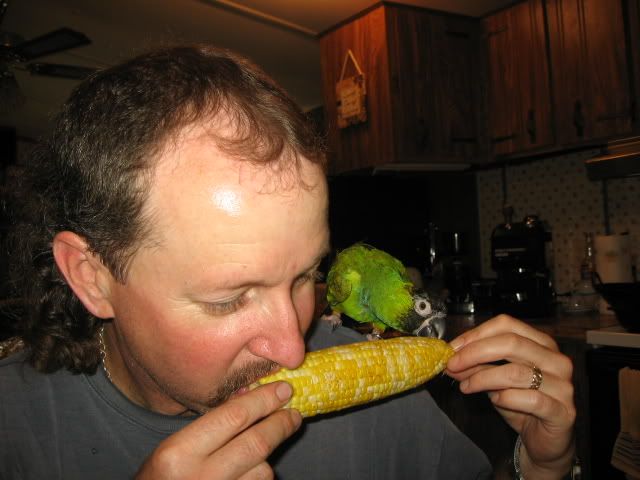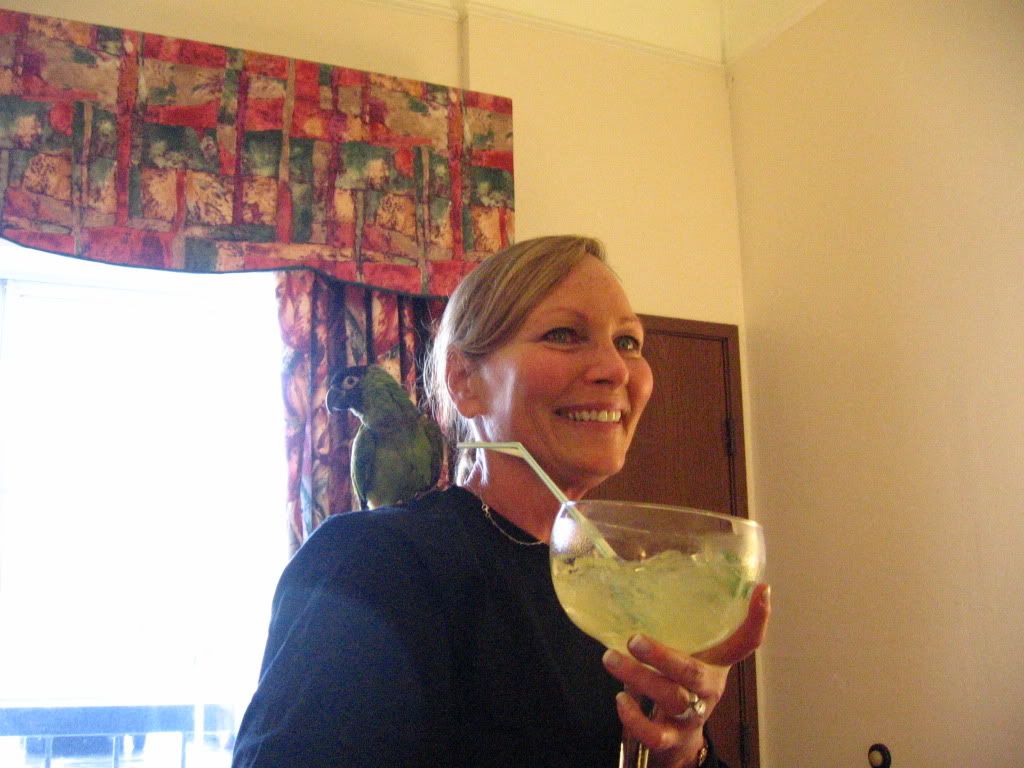 The last pic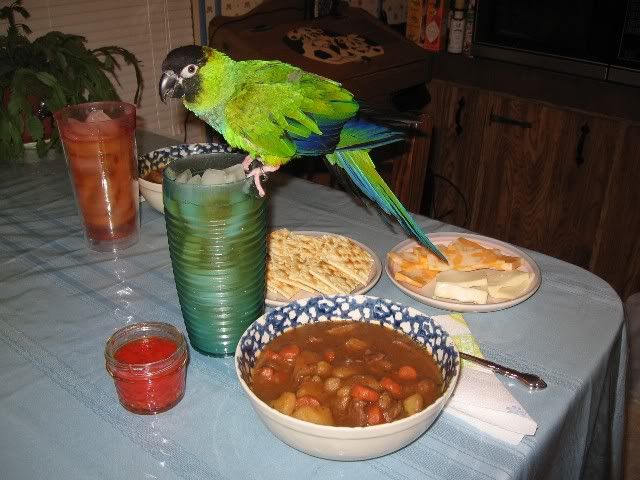 Rest in peace little buddy. :(