A month or so ago, I picked up a beautiful, bone in, frenched full loin of pork at Restaurant Depot. I brought it home, cut some into thick chops, and a couple roasts. Ate what we wanted for dinner, then vac packed and froze the balance. It just was not the same after freezing, and the cooks would come out tough and dry. And trust me, they weren't overcooked...I pull my uncured/fresh pork off at a lower temp than I would admit to.
Anyways, we had one 4 bone roast left in the freezer, which I almost chucked. Instead, I decided, WTH...wonder what will happen if I cure it? So I did. Sorry, no pics of it sitting in the cure...didn't have too much expectation of success. For the same reason, I have no Egg pictures, but trust me, it was egged. In fact, indirect, 225* grid temp (240* +/- dome) until it reached an internal of 145*.
Smoked with Minnesota's famous Harelson Apple wood, courtesy of Ripnem!! Thanks my friend, wonderfully sweet and smooth smoke! Awesome flavor! (this coming from someone that rarely likes smoked food...but this was some awesome wood!) Thanks again, Rip!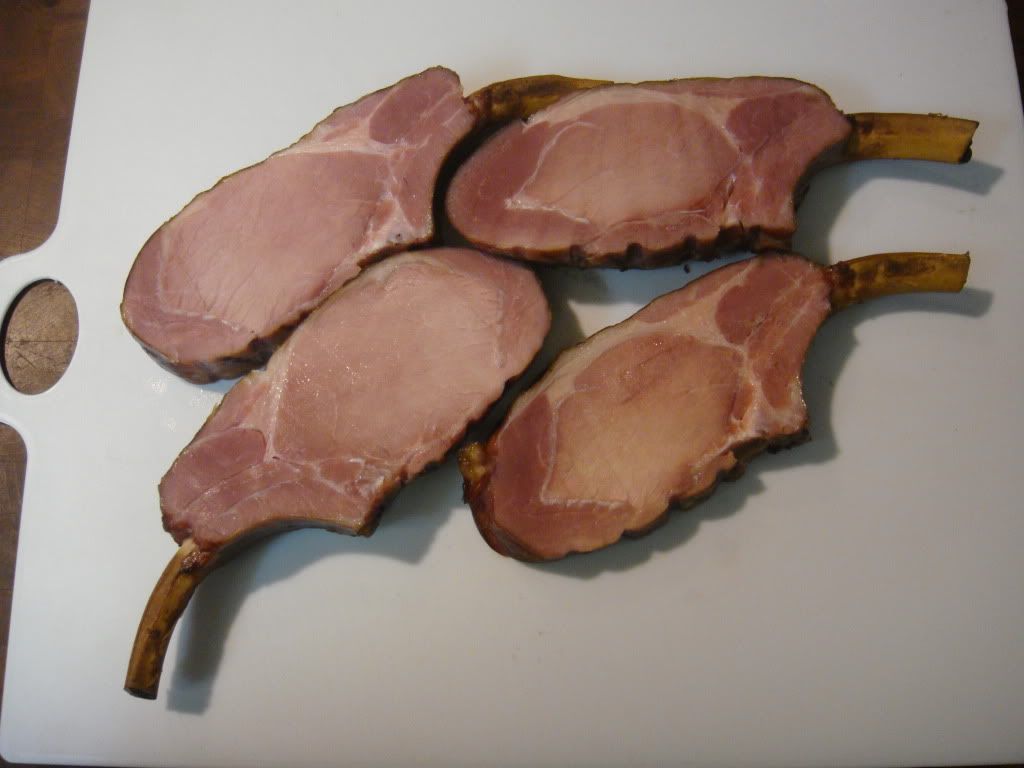 Four cured cut 'ham' chops....I beleive there is a German name for these, but darned if I can remember.
First time my Mom has visited Florida for Christmas this year, so I think these are destined for the Christmas brunch table!! :woohoo: A bit of cantelope and a poached egg or two...!
As a side note, as I know this has been discussed in prior threads...I honestly admit to completely forgetting this roast while it cured in the fridge. It was in the back corner of the bottom shelf for a good two weeks IN the cure. It had about a 3 hour soak yesterday with a couple water changes, then left to the air of the fridge to dry for about 18 hours. There was not a hint of oversaltiness, or over anything. Truly pleased with the product produced, very tender and flavorful!! (trust me, I sure wouldn't feed it to my Mother if I wasn't!) Osmosis is osmosis, and cured is cured. Looking forward to brunch!
Thanks for looking!