First time I've seen my ridding partner and little Sis in a month. They were gone on a ride to the Grand Canyon, Moab Ut. and Silverton Co. for two weeks and then the deal with Bit things just haven't worked out. 102 in the shade air temp today so lets cook!! :woohoo:
The required raws: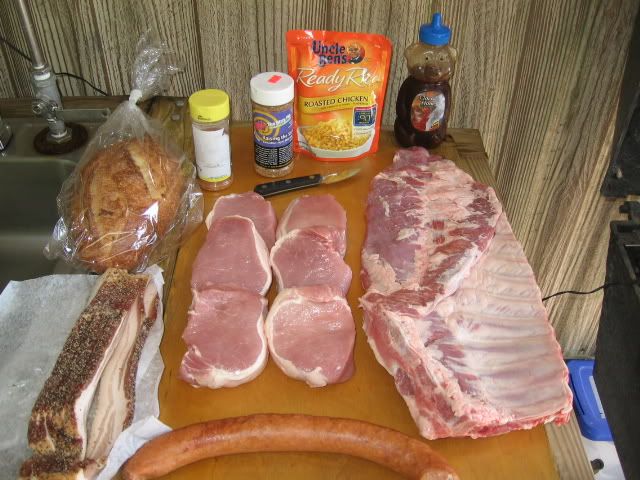 The only butcher shop in town got sold today. Really nurvous about it as the people who owned it were working class folk. Better meat than Walmart and local grocery but you could still affford it. New owners are some of the city money people. He started enjoying cooking a few years ago and is going to use the shop to get in what he needs. What I'm worried about is that since he's really not worried about making money with this store, it will be full of $25 each prime ribeye and $50 prime brisket and such great meats but I'll have to be back at Walmart for my day to day goods. I hate Walmart with there "sulution" meats but thats all there is unless I ride out of town and meat will be ruined untill it gets cooler weather. Global. Got to love it. Anyway all they had today was these spairs. Never done spairs CWM turbo before but turned out pretty good. The spairs ready to foil after a heavy smoke and aundui ready to break up.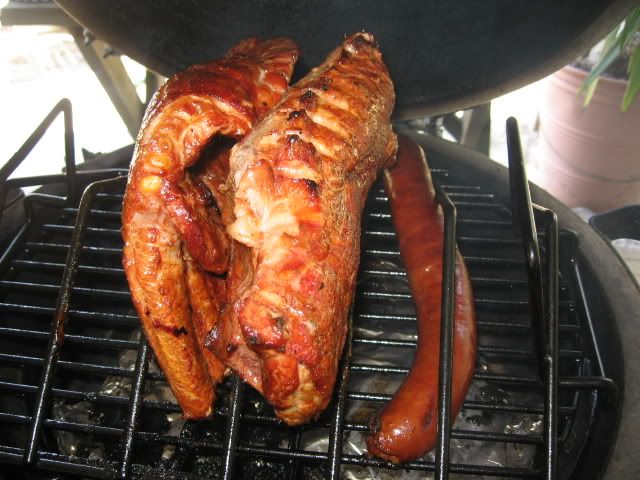 Ready to come off after a good sausing. Left them on 30 min. after removing the foil thick part to the outside of Egg to make sure they were done threw.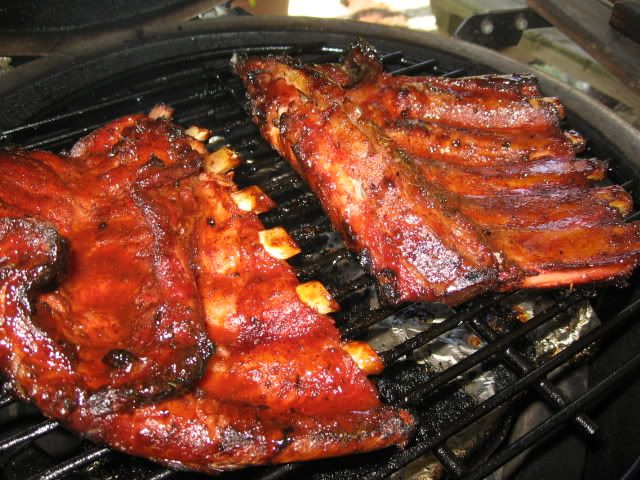 Next up crumbled the smoked aundui and removed the caseing.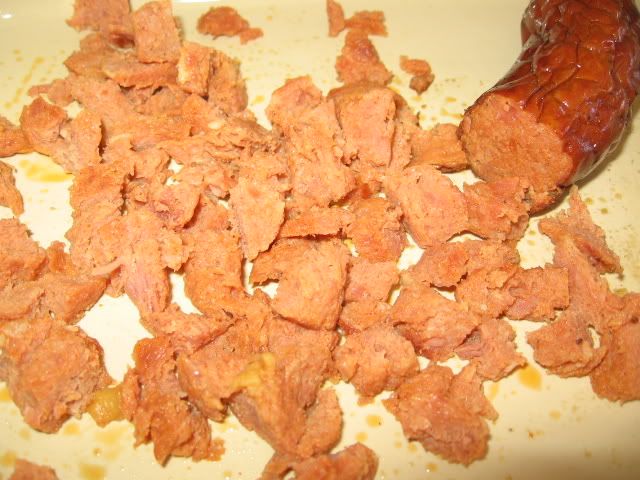 Nuked a package of Uncle Bens chicken flavored rice and mixed the aundui in with it. Started to say I made the rice from scratch and how wonderfully tinder each grain was but why lie to family?!! :laugh: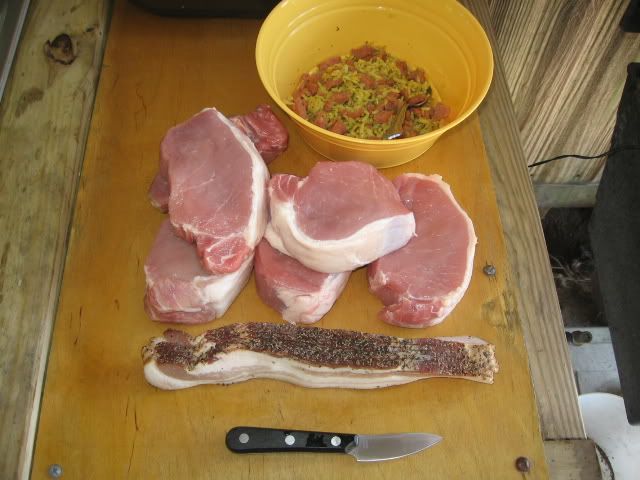 This is simple to the regulars but I can remember when it wasn't to me so bear w/ me.
Took a 1 3/4 inch boneless pork loin and made a small cut in the meat side. The membrain/fat on the otherside HELPS to keep you from cutting all the way threw. Work your blade almost threw to the right side of the loin then flip knife over and do the same to the left.
Stuff the loin with the rice/aundui mix then wrap with bacon pinning it with tooth picks.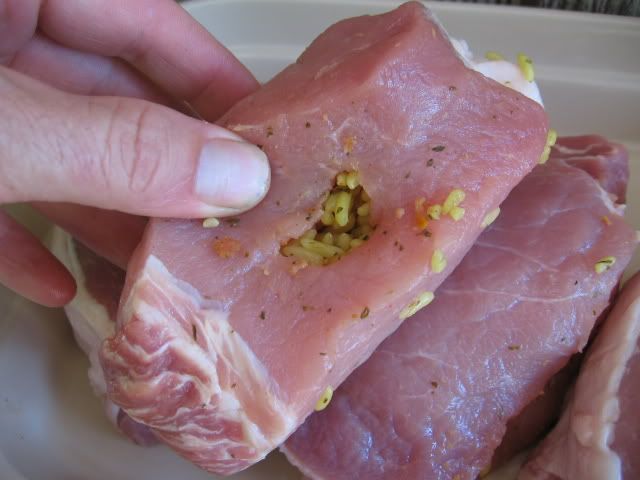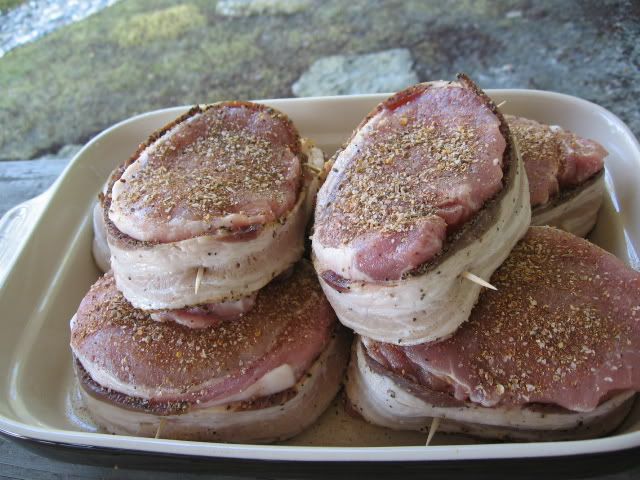 Indirect with presimmon at 300 till 135 internal temp.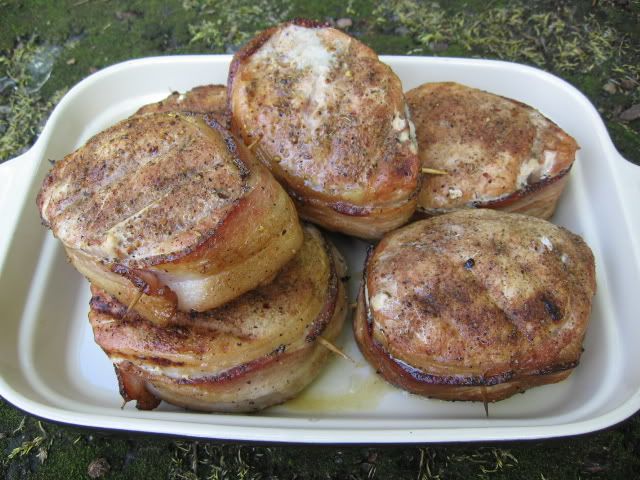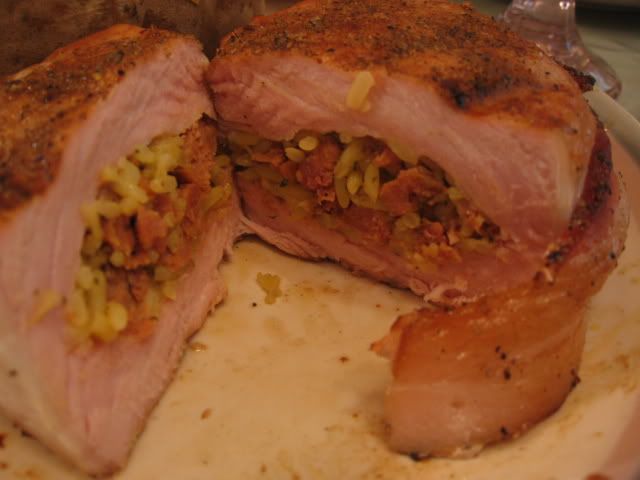 Some stuffed jelepenos and habeneros from the garden to round out the feed! :woohoo: