So I decided to try to do a piece of Chilean Sea Bass on the BGE. Perhaps in retrospect, I should have used my new Woo 2. I prepared some sliced lemon, coarsely chopped tomato, cilantro, black olive and scallion. Too bad you can't smell this plate (need smellnet like Emeril's smellovision for TV)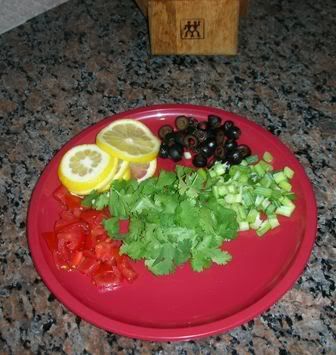 Got the fire going; was gonna shoot for about 350 to bake the fish. Plenty of lump left over from my weekend ribs; I added a little fresh charcoal and made sure the holes were open. After about 5 minutes, I close the lid and leave the vent open and the daisy wide open--temp shoots up to 350 pretty quickly, so I close down. Lots of smoke; temp hovering around 250*F with the vent about 1/4 open and all the petals open. Yogi impressed; glad he is upwind.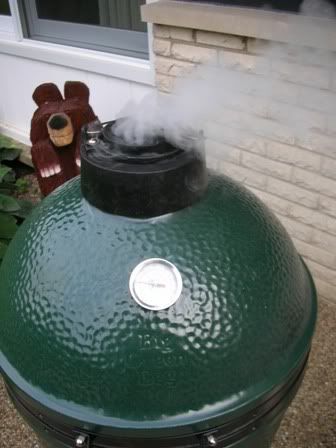 Son coming home from volleyball practice soon.
Newbies like me pay attention here.
Need higher temp, so I open the daisy wheel all the way, I think, and the bottom a little more and go inside to deal with liquid refreshment.
Quickly shake up a 4321 margarita--4 oz Herradura Anejo Tequila, 3 oz fresh squeezed lime juice, 2 oz Gran Gala orange liqueur, 1 oz simple sugar syrup (always on hand in the frig).
Go back out and yeah, I've got the temp up.
Up to 650 degrees.
Before snapping the pic, I close down daisy and vent; temp responds quickly, probably not a lot of heat build up in the ceramic yet. I get 2 good "burps"--I can see how you can burn your arm if you're not careful.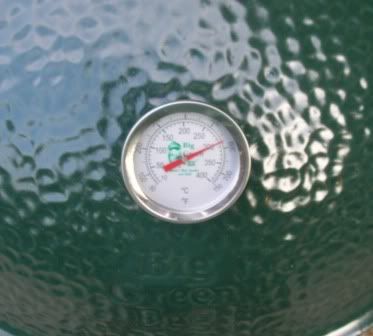 Salt and pepper on the bass. Drizzle some EVOO on the fish and pour some Sauvignon Blanc in the bottom of the pan; have the fish sitting on lemon slices; put the rest of the stuff on.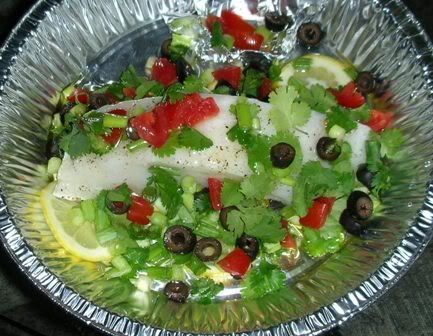 Covered it with foil and put it on the egg around 375.
We interrupt this cook to show you my other new toy. Please don't be mad. I'm gonna get a CI grid for searing on the BGE. My son's filet (and a Tuscan chicken sausage to use in a pasta dish for tomorrow) on the Solaire Infrared searing at over 1000*F.
The bass was only up around 100-110 and the steak was near ready. I had to put the bass on the grill to finish it off up to around 140. Had some oven baked mac n'cheese as a side. My wife would hear nothing of doing it in the egg.
Ravenous carnivore son barely able to allow me to snap a pic. The steak a perfect slightly moist pink medium: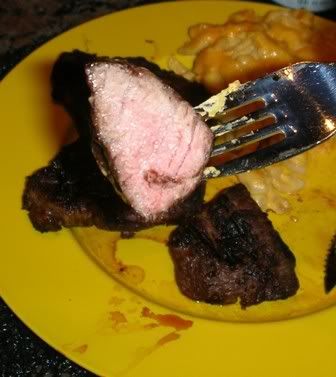 The bass with the chopped stuff:
Good, mild fish. The cooked tomato/olive/cilantro/scallion was tasty.
Still learning about timing and technique, obviously. I wanted to cook the fish with the chopped stuff and wine for flavor; maybe I didn't need the plate setter and should have used the Woo 2 with a higher temp, like 400-450, especially with the foil pan protecting the fish from burning. Or, simply, I should have put it on sooner, giving it 30-40 minutes to heat up slowly. Better luck next time--there will be a next time. I'm enjoying the learning process.
Comments and advice appreciated.