@Doc_Eggerton cottage pie post the other day has had me craving it something fierce. I knew I was going to have to make one. Some little part of my brain kept telling me to add some leftover brisket to it. I really wasn't sure how that was going to work out, though. Would it be too smokey? Would the texture be off? I finally decided to go 1lb ground beef and 1/2 lb brisket cubed up.
I've always thought that cottage pie was beef and shepherds pie was lamb. Did quite a bit of research on it and contrary to popular belief, that is not quite correct. Seems like the term cottage pie was coined in 1791 and the dish was a means of using leftover meat of any kind. The term shepherds pie didn't come around until 1870 and since then it has been used interchangeably with cottage pie. It has only a recent trend to specify shepherds pie with lamb and cottage pie with beef. And while we're on the topic of recent trends, the use of previously uncooked meat is a new addition as well. So maybe using brisket would not be a bad idea...
Everything in the skillet getting happy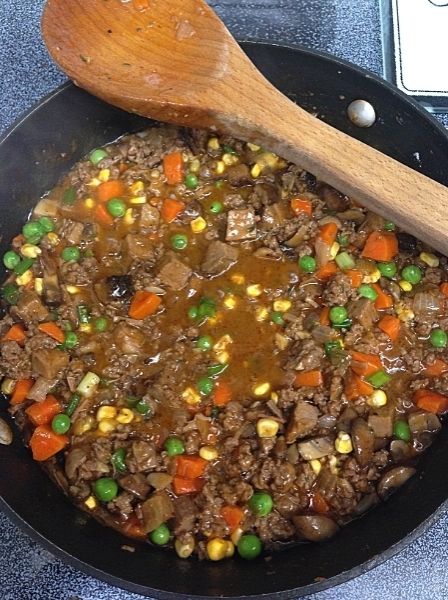 When scouring the ole interweb, I also noticed that a lot of recipes used an egg yolk in their mashed potatoes. I've never done that before nor heard of it. Tried it out, but not sure what it did for them. Ideas? Spreading out the taters.
While I could have cooked it on the Egg, I took the lazy way out and did it in the metal box in the kitchen at 400F for 25 minutes. Had a little leakeage, oh well.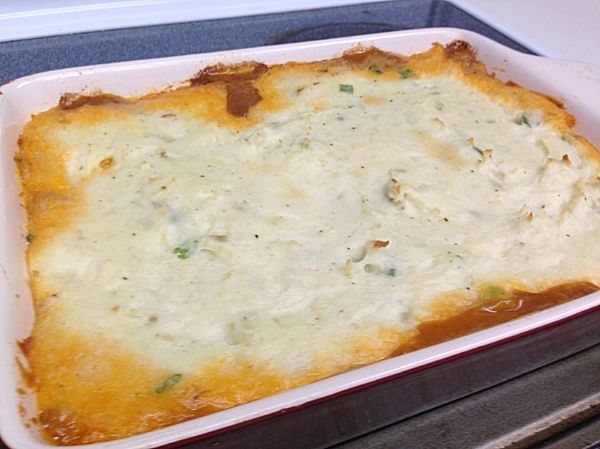 Ready to eat
We enjoyed the use of leftover brisket in the cottage pie. Wasn't too smokey and gave it a different/unique texture. I think I nailed it on the 1 lb ground to .5 brisket, but I'm sure it wouldn't hurt to go 50/50%. Or more. However much you like. Plus, it was a great way to use leftovers. Never really did get any answers to my question in Doc's post about what vegetables are traditionally used but considering it was probably invented by frugal peasant housewives looking to serve leftover meat, it only makes sense that they probably used whatever vegetables they had on hand. Whatever was in season. So I used what we had on hand.
BTW I have no idea why there are no pictures of the brisket smoking on the Egg. I blame it on on Jack. Or maybe somebody stole my phone and erased the pictures.
Richardson, Texas
Griffin's Grub or you can find me on Facebook
The Supreme Potentate, Sovereign Commander and Sultan of Wings