Life's been kinda busy for us lately. Things keep getting in the way of my grilling and smoking. Really wanted to do a brisket this weekend, but that wasn't gonna happen. Wasn't gonna let the whole weekend go without grilling up something, though, and SWMBO'ed wanted burgers Sunday night. Who am I to deny her? Nothing really special about them. About 1.25 lb of 80/20. Been reading about how some people put Ranch in their burgers. You know...the powder in the packets used to make dressing? Added 2 tsp of that as I wasn't really sure how much to add and 2 tsp of DP Raising the Steaks a long with some whatsthishere sauce. Got the Egg fired up to around 650.
When I lit the Egg, it was one of those "Do I have enough charcoal, should I add more?" moments. Not wanting to wait for the VOCs to burn off, I went ahead and chanced it. Barely pulled it off, kept opening the vents little by little to maintain my temp as the lump burned lower and lower. Still made it though. About 2 minutes on one side, flipped and added some Pepper Jack cheese.
Another two minutes and it was time to pull. While I was fiddling with the grill, Mrs. G made up some home made French fries. Not sure what temps she used, but she did the double fry method (Fry for a bit, pull out, raise temp, fry a second time)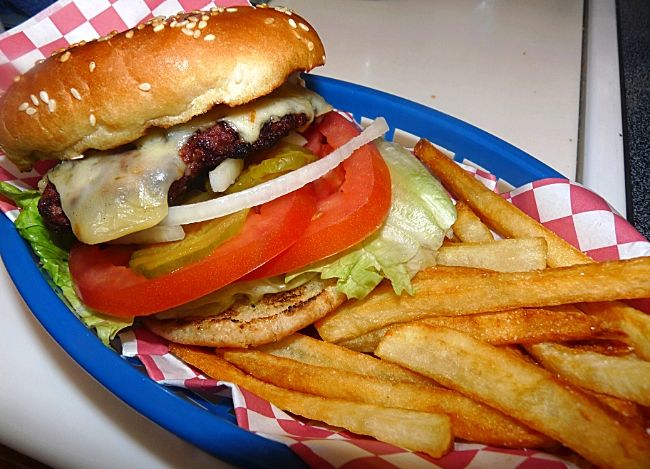 Burgers had the usual suspects: lettuce, tomatoes, pickles and 1015 SWEET ONIONS! Not sure if these are shipped nation wide or if its just a Texas thing, but love me some 1015s and they just came into season a few weeks back. Anyway, was good to get on the grill if it was only one night and quick cook at that.
Rowlett, Texas
Griffin's Grub or you can find me on Facebook
The Supreme Potentate, Sovereign Commander and Sultan of Wings