First off, thanks to all of those who posted pics, suggestions, tips, recommendations and links to helpful information on here. This forum has already been very helpful in the 4 short days I've owned my Large Egg.<?xml:namespace prefix = o ns = "urn:schemas-microsoft-com:office:office" />
Over the weekend I decided I wanted smoke a pork butt as a way of breaking in the Egg, and putting myself to the test. I read the Elder Ward methodology for smoking one of these beasties, and pretty much followed his instructions to a "T," with the only exception being how I seasoned the butt. Here's the link to his process for reference.
My major complaint is that it took ~19.5 hours to get the internal temp up to 195*, which seems way too long for a ~8pound piece of meat (at least based on what I've read here). I'm hoping that the collective wisdom here can help me figure out what I did wrong so I can improve the next time. I'm guessing that in order to do so, you'll need to know what I did, so here goes:
I bought an ~8 pound butt from Costco, slathered it in mustard and coated it in my seasoning of choice.
<?xml:namespace prefix = v ns = "urn:schemas-microsoft-com:vml" />
I started out by cleaning out the Egg from my two prior runs, and then followed Elder Ward's instructions on arranging the lump coal. By a few minutes after 11pm, I started the fire, inserted the plate setter, drip pan, grill grate and closed the lid. Got the temp up to ~250* on the dome thermometer and adjusted the vents to stabilize it. By midnight, the temp had been staying at ~250* for about 30-40 minutes, so I tossed Mr. Piggy on the grate.
I closed the lid, nursed an adult beverage or two, and kept an eye on the dome thermometer. It dropped a little bit, going from ~250* to ~225*, but stayed pretty stable there until I went to bed at 1am.
At 5:30am, I woke up and checked on the temp. It had dropped down to ~170*, so I opened up the vents a bit and got it back up to ~235* or so, and watched it "hang" there for about 30 minutes, so I went back to bed.
At 8:07am, I came back down and found the dome thermometer reading ~350*. Stuck a probe in there, which gave a reading of 165*. This is what the butt looked like at that time:
I closed the vents down, all the way, until the temp got back down to ~275* or so, which took about an hour.
I finally found (by noon or so) stability in dome temp at about the 250* mark. It was about this time that I put a remote probe thermometer into Mr. Piggy...I was shocked to watch the temp drop from ~173* all the way down to 164* over the course of an hour or so (no peaking/opening of the Egg), where it stayed until about 4pm or so. Knowing that I had guests coming over at ~6pm, I kicked the vents open a bit until I got a dome reading of ~275*, where it stayed until I FINALLY got the probe thermometer to read 195* at 7:30pm.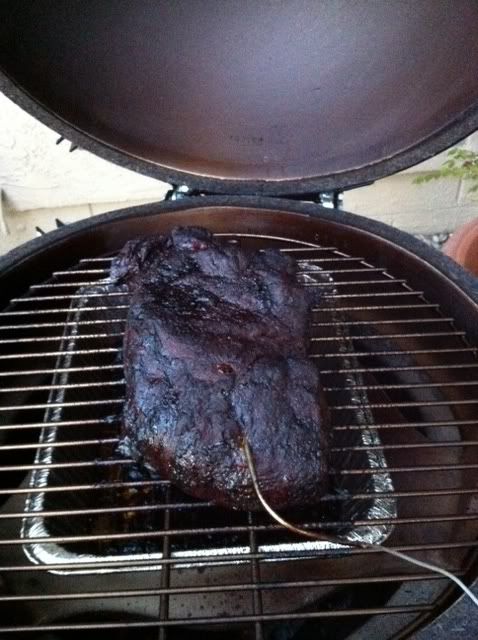 All in, this was a 19.5 hour process, which I suppose I am ok with, but it seemed way longer than what other threads suggested the total cook time should take for a piece of meat of that size and the general temp ranges I was within.
The general ask I have of you all is what should I have done differently? Did I react to the temps too much by adjusting the vents perhaps too frequently? Is it common for the Egg to drop all the way down to 170* with a cold piece of meat given the temps I was "stabilized" on?...I've read that it will drop due to introducing a cold mass of meat, but most folks seem to suggest that going below 200* is when to react.
As a side note, the meat was pretty tasty, though it almost seemed like it had been cooked for too long, even though the internal temp was spot on in the largest portion of the butt.