My butcher started carrying Wagyu beef. It was only a couple dollars more per pound than the ribeye I was planning to pick up, so I gave it a try.
Raw, it looked beautiful:
I brought my Egg up to 600 degrees and grilled it 2 minutes per side, with Jack Daniels woodchips for smoke. Served with tossed salad, sliced tomatoes, and grilled sweetcorn. (forgot to get a pic of the cooked steak)
It was... meh. It cooked perfectly, dark crust on the outside and dark pink throughout, but it tasted only okay and was just a tad tough. Wonder what went wrong... :S
Gotta share this sweetcorn spread with you that I tried, however (think I posted it earlier):
2 Tblspns mayo
1 tsp minced chipotle
1 tsp honey
1 tsp lime juice
heavy pinch of salt
Mix together, and keep cold until read to serve. It was
excellent
on sweetcorn, and the mayo really tames the heat of the chile (this recipe is very similar to what I use on smoked salmon).
While buying the steak I also noticed they had "black-n-bleu" burgers, patties with bleu cheese mixed in and quite a bit of black pepper on top, picked up a couple of these too.
Grilled up fine: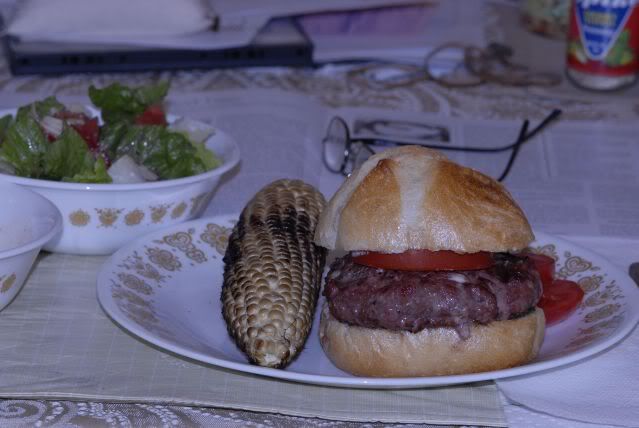 They were good, but not great. I also need to learn to make thinner burgers, buns, etc; I can't get my mouth around half the stuff I've made lately... :huh:
_____________________________________________
Live fast, die young, and leave a well-marbled corpse.
Ogden, Utard.