A few days ago I posted about the method City BBQ in Giddings, Texas uses to cook brisket. I said I was going to have to try it. Here's the link to the post:
http://www.eggheadforum.com/index.php?option=com_simpleboard&func=view&id=1033133&catid=1
Well, I tried it today. Turned out pretty good even though Spring Hen and I had to leave for over an hour right about the time I had planned to take it off the Egg.
Here's what I did... I purchased a trimmed brisket at Sam's Club yesterday. All fat had been removed. The flat and point were held together by a very thin area of connective tissue so I just made two individual pieces of it.
I rubbed it down thoroughly with some John Henry's Brisket Rub.
I set up Lily Large indirect, raised grid with a wet drip pan and used Mesquite lump. I cooked the brisket @ about 350° from 11:30 to 3:15 (3.75 hrs), basting a couple of times, then transferred it to a pan containing a regular size bottle of KC Masterpiece Original BBQ Sauce and about a gallon of water which I heated to about 150° before putting the meat in it.
I then placed the pan back on the Egg and was going to let it remain there until 5:30. I was looking for about 185-190 meat temperature. That's about when we had to leave. So I shut the Egg down and left. When we returned an hour an a half later it was still at 170° dome and looked good. The meat was 185°.
We only let it rest about ten minutes before slicing the point part for just a few sample slices.
Here's some photos: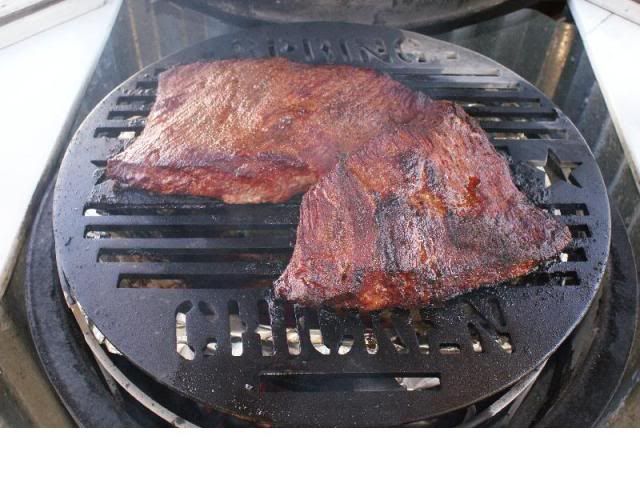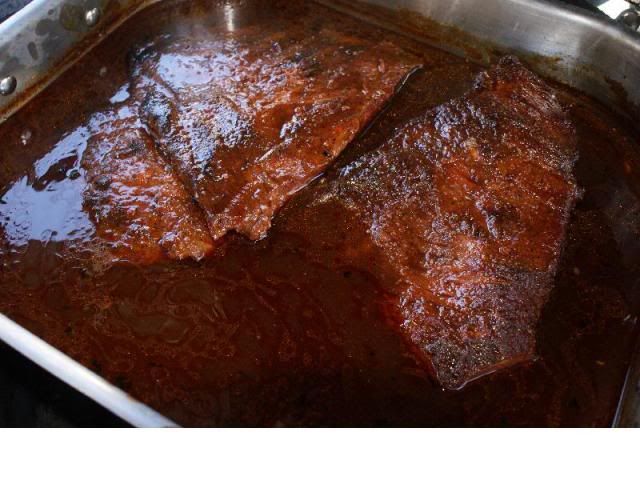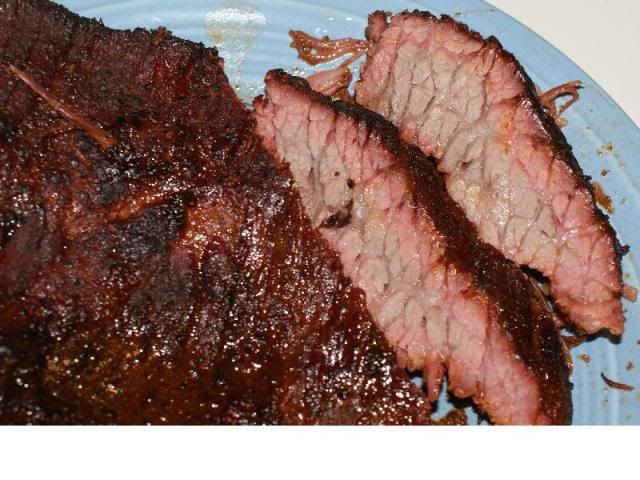 It was definitely tender and moist. Spring Hen said it was my best one so far. I wasn't excited about the flavor but it was one of my top five for sure.
I just thought it was a method of cooking briskets that I had to try. I may try again with a differet rub and a stronger concentration of water/sauce. And I won't walk away at the last minute.
Spring "Dark Water Brisket" Chicken
Spring Texas USA