So...this is your Birthday Chowder!!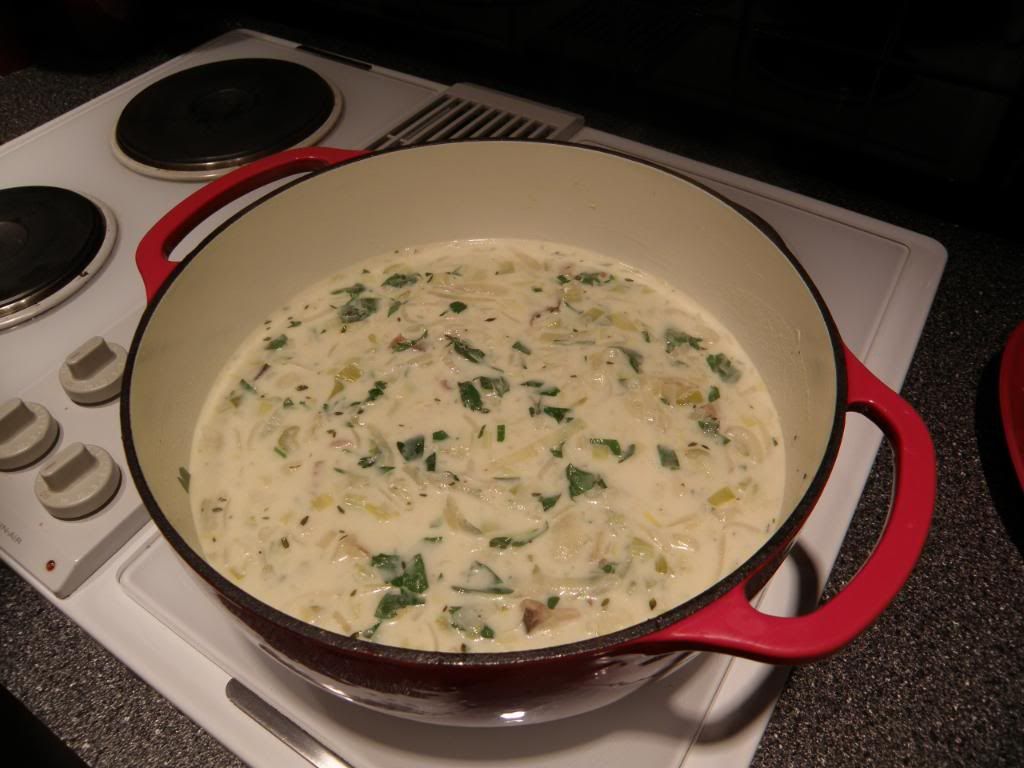 4 ounces pancetta/slab bacon, (cut in lardons)
2 cups yellow onion, (peeled and julienned)
2-3 med/large leeks, rinsed, white parts only, sliced into half moons
3 med/large shallots, (peeled and sliced)
1/3 cup celery, (diced)
2 cloves fresh garlic, (minced)
1 teaspoon fresh thyme, (minced)
1 bay leaf
1 cup white wine
2 cups chicken stock
2 cups half and half
3 or 4 medium yukon gold potatoes, (medium dice)
1 tablespoon Italian parsley,(shaved)
1 tablespoon fresh chives,
Kosher salt and fresh ground pepper
I used a 6 quart Dutch oven for this Judy.
* Add the butter and pancetta/bacon and place it over medium heat to render and carmelize.
* Once most of the fat has been released and the meat is carmelizing remove and reserve for later, (leaving the fat in the pan).
* Add the onions, shallots and celery. Saute until they are just becoming golden...(not brown)!! (Don't over cook as carmelizing will turn the finnished Soup dark).
* Add the leeks, garlic, and thyme and cook until the leeks are just becoming soft. Add the bay leaf, white wine and the chicken stock.
* Bring to a boil and add the half and half, reserved bacon or pancetta, and the potatoes.
* Bring the soup back to a boil and then immediately turn off the heat and cover the pot.
Allow it to rest for about 45 minutes..,stirring once.
Note: During the resting period... (after about 20 mins)..,this is where I stir the pot once, and add about a half of a pound of baby scallops.
You could substitute small peeled and deveined shrimp for the same "sweetness". About 15 or twenty minutes is all they need to "cook thru".
Srir in the shaved parsley right before serviong.
Then again, I'ts your Birthday, and you can do what you want...lol!!!
Have a wonderful day Judy!!!